133 New York Times #1 Best Seller Ryan Holiday On Stillness, Wisdom, Faith, Peter Thiel & More
Monday 25th September 2023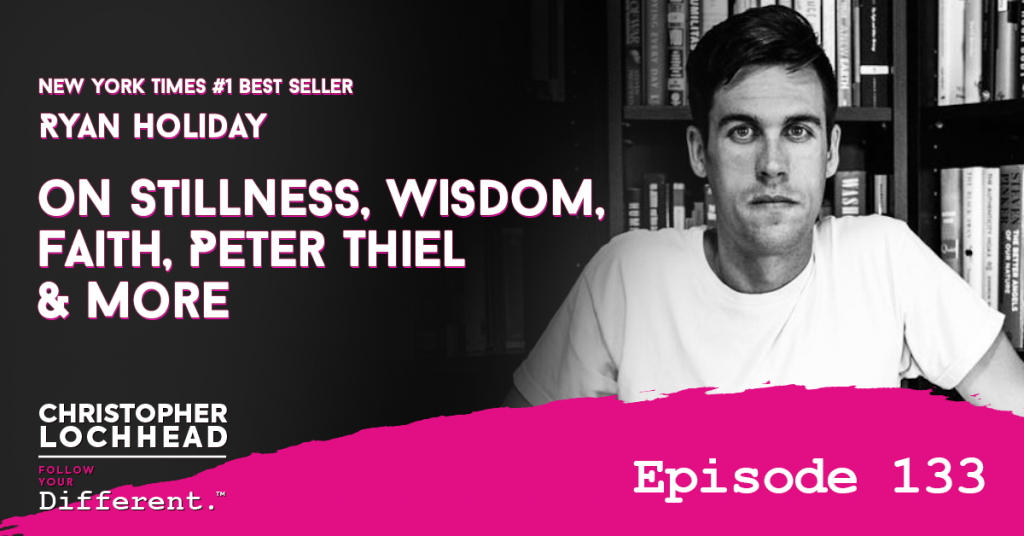 Podcast: Play in new window | Download (Duration: 54:26 — 75.0MB) | Embed
Subscribe: Apple Podcasts | Google Podcasts | Spotify | Pandora | Stitcher | RSS | More
We continue our run of legendary Authors and today, our guest is NYT #1 Best Selling author Ryan Holiday. Ryan is one of the most important writers of our time and hanging out in his brain, makes you a different person! We talk about stillness, wisdom, faith, Peter Thiel and more!
Interesting Topics
Ryan is the author of Conspiracy: Peter Thiel, Hulk Hogan, Gawker, and the Anatomy of Intrigue. The book is interesting enough as it is about how Paypal founder Peter Thiel took down Gawker Media, through a grand scheme that was founded on the issue with Hulk Hogan. Apparently, Gawker Media publicized an illicitly recorded home sex tape of Hogan.
He also authored the books The Obstacle is the Way, Trust Me, I'm Lying and Growth Hacker Marketing" Ego Is the Enemy. Today, he shares about his recent book Stillness is the Key.
"In stillness, I'm illustrating stoic ideas with stories from Zen philosophy and vice versa. I always want to be seeking out deeper ideas and diverse ideas. I think that's ultimately how you learn and how you triangulate real truths." – Ryan Holiday
Old Soul
Christopher remarked how Ryan reminds him so much about Adele, as he is an old soul stuck in a 30-something body. Christopher was astounded with his choice of topics ranging from Rome, Greece, Ancient History and the like. He is none like his contemporaries who are busy with social media and mindless online content.
"I got an advise a long time ago that you should write what you're afraid about, or write what you are unsure about." – Ryan Holiday
Probably one controversial part of the book is the discussion about faith.
"Part of this idea of surrender is saying 'you know what, I'm going to accept this uncertainty a little bit. I will accept that this isn't all about me, that I don't know everything. I'm going to accept that there is "something" operating behind the scenes that have an agenda or perspective, or indifference to a regular human problem or issue." – Ryan Holiday
Stillness
Ryan shares how his conversation went with the publishers for his new book. He says he does not claim it as The Ryan Holiday philosophy as he merely translated and popularized the tried and tested ideas of smart people
To listen more about what Ryan learned while doing marketing for fallen fashion brand "American Apparel" and more on faith, wisdom and stillness, download and listen to this episode.
Bio:
Ryan Holiday is one of the world's foremost thinkers and writers on ancient philosophy and its place in everyday life.
He is a sought-after speaker, strategist, and the author of many bestselling books including The Obstacle Is the Way; Ego Is the Enemy; and The Daily Stoic.
His books have been translated into over 30 languages and read by over two million people worldwide. He lives outside Austin, Texas, with his family.
Links:
Good Reads – Stillness is the Key
We hope you enjoyed this episode of Follow Your Different™! Christopher loves hearing from his listeners. Feel free to email him, connect on Facebook, Twitter, Instagram and subscribe on iTunes!