137 Sex & Intimacy w/ Alice Little #1 Companion At Moonlite Bunny Ranch
Monday 25th September 2023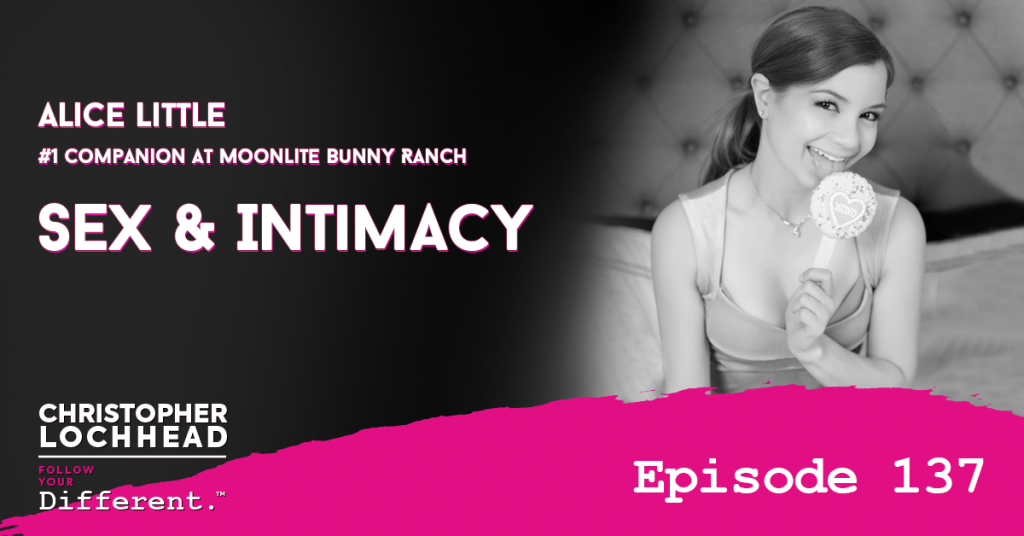 Podcast: Play in new window | Download (Duration: 43:02 — 59.4MB) | Embed
Subscribe: Apple Podcasts | Google Podcasts | Spotify | Pandora | Stitcher | RSS | More
This is a very special episode and a very different episode. Part 1 was with Intimacy Coach Allana Pratt. Today, for Part 2 in our series on Intimacy and Sex, we welcome Alice Little, legal sex worker and #1 Luxury Companion at the Moonlite Bunny Ranch in Carson City, Nevada USA.
We get into it! Why Alice loves her job, why she says it's all about connection, communication, and intimacy, what it's like to use her service and why nothing is too kinky!
Job Unlike Any Other
Alice describes herself as a legal sex worker, sex educator, and intimacy expert. She used to travel in the Midwest, educating about sex until she was introduced to brothels. She found out that brothels are a unique place to work. All other sex workers have different work experiences from each other
"My job very much so isn't just sex. It's so much more than that. It's communication, connection, intimacy and teaching people how to love themselves." – Alice Little
Radical Self-Acceptance
From a different perspective, she shares that one of the things she does is to teach people how to connect to their bodies, through radical self-acceptance. Through the acts of connection with clients, Alice shares it gives them the ability to connect deeper with themselves and appreciate who they are.
When asked what it is liked to have sex with her, Alice nonchalantly shared it's life-changing.
"Oftentimes it changes the entire way people have sex moving forward. Like when is the last time you asked your partner and say 'show me what feels nice' and people say 'oh shit, I have literally never uttered those words in the bedroom. I barely had sex with the lights on, let alone had a conversation while getting into that' and I enable people to do that. It is really eye-opening." – Alice Little
Stigma With Sex
Alice continued to share her views about sex, and she says it is something highly stigmatized in this country. A brothel is a safe place for Alice, where people can ask questions and expect not to be judged. Nothing is taboo and there is no judgment in brothels.
"I'm very, very comfortable helping people and enabling them to explore things that they probably couldn't in their day to day lives." – Alice Little
Alice shared a lot about the process of booking appointments, touring the ranch and the types of experiences she offers. Pay special attention to her advice on how we can improve our sex lives. She even talks about how she markets herself and her marketing advice for you.
To listen more about Alice's advice on intimacy and sex, download and listen to this episode.
Bio:
Alice Little is the highest-earning sex worker in the United States. Little wrote in a Huffington Post op-ed that she makes $1 million per year from working in Nevada.
Little is a native of Ireland and moved to the U.S. at the age of 5 and grew up in Lond Island, New York. Thanks to her 2017 article, "A Week as a Legal Sex Worker In Mound House, NV, On A $267,000 Salary, and appearances on Tim Ferris's podcast, Little has become a well-known advocate for sex workers across the world.
Little began her career as a sex worker at the Sagebrush Ranch in 2015. In 2017, Little moved to the Moonlite Bunny Ranch where she was the most booked sex worker in the United States for two years in a row.
Links:
Youtube: Moonlite Bunny Ranch Tour with Alice Little
We hope you enjoyed this episode of Follow Your Different™! Christopher loves hearing from his listeners. Feel free to email him, connect on Facebook, Twitter, Instagram and subscribe on iTunes!