127 How To Get & Stay Fit w/ Joey Wolfe
Monday 25th September 2023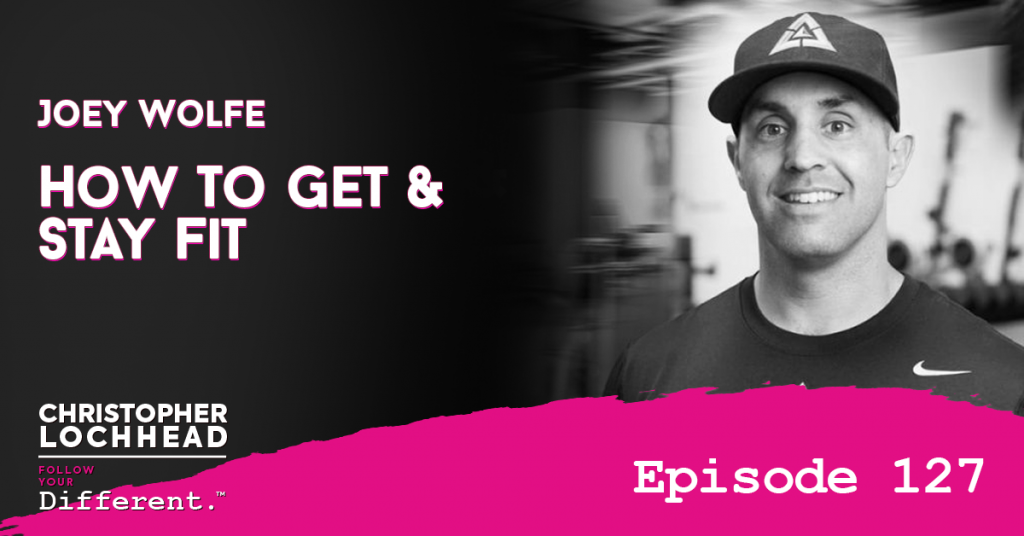 Podcast: Play in new window | Download (Duration: 52:10 — 71.8MB) | Embed
Subscribe: Apple Podcasts | Google Podcasts | Spotify | Pandora | Stitcher | RSS | More
For our first episode this year 2020, we hang out with professional athlete fitness trainer and founder of Paradigm Sport in Santa Cruz, CA, Joey Wolfe.
Today we go beyond all of 7-minute abs BS, get fit quick, scams and shams and have a real, different conversation about making fitness and wellness stick in your life.
Trainer of Champions and Weekend Warriors
The last time Joey Wolfe had a conversation with Christopher was a year ago. Joey's episode remains one of our most popular ever. We're definitely sure, listeners will get practical ideas for well-being improvement,
He has trained superstar athletes like Mitch Haniger of the Seattle Mariners. Additionally, he has worked with former UFC champion Luke Rockhold. World Surf League rookie of the year Nat Young and a lot of regular weekend warrior type like us have trained with him.
"We all know what to do. We all know that going and exercising in the gym for a min of 30 min is a good thing. But for a lot of people, there's something preventing them from doing that. So just try to get clear on what their motivating factor is" – Joey Wolfe
New Year's Resolutions and Diet Crazes
One of the reasons why people hit the gym is its part of their New Year's resolution. Joey says that although it is a good reason, it doesn't qualify as a great one as it cannot s sustain through the rest of the years.
"Just getting clear what their goals are and then, really trying to start off easy with their habit change. Trying to get them to do something that I know they're gonna be successful with." – Joey Wolfe
He also shares how he tried intermittent fasting, keto, paleo diet, vegan, blood typing diet and what works faster, what works slower and what doesn't work at all.
"Try to educate yourself on this stuff and then try it. Everybody is different. There are polarizing ideas in terms of what's right and even someone like me in the health and fitness profession, its hard to know what's right." – Joey Wolfe
Recommendations and What Nots
Christopher loves Joey's POV that everyone is an athlete. We all have an athlete inside us. Designing a legendary life entails being active, fit and healthy. With this said, he shares how athletes and weekend warriors alike can follow the same set of principles for fitness and health.
Joey shares adding more habits is better than removing some. He says there is science behind developing habits. For example, it is better to drink more water, take more protein, add more supplements, among others, rather than cutting down sugar and carbs.
To hear more information about Joey Wolfe and to listen to his tips on how to get and stay fit,, download and listen to the episode.
Bio:
Joey is a lifelong athlete. He is the founder and CEO of Paradigm Sport, located in Santa Cruz, CA
Early in his career he played professional baseball and was on track to be a major league catcher when injures took him out.
Never a quitter, Joey dedicated his life to empowering others to be fit, healthy and make their athletic dreams come true.
He's trained countless pro-baseball players, UFC fighters, pro-surfers and regular folks who want to take their game up in life.
A native of the Central Coast of California, his talent and passion for baseball took him to the professional level where he worked with some of the country's best trainers. As an ACSM-certified trainer he now shares his experience and enthusiasm with world-class athletes and fitness clients alike.
Joey has built a business with the goal of bringing the most advanced techniques and the highest levels of individualized athlete training to the Central Coast community.
The local environment has shaped his interests and defined sport-specific training in two disciplines: competitive surfing, for which Santa Cruz is world-renowned; and baseball, which launched his career.
Links:
We hope you enjoyed this episode of Follow Your Different™! Christopher loves hearing from his listeners. Feel free to email him, connect on Facebook, Twitter, Instagram and subscribe on iTunes! Get amazing, different stories on business, marketing, and life. Subscribe to our newsletter The Difference.