146 13 Strategic Assumptions for Entrepreneurs, CEOs, CMOs and Executive Leaders
Wednesday 20th September 2023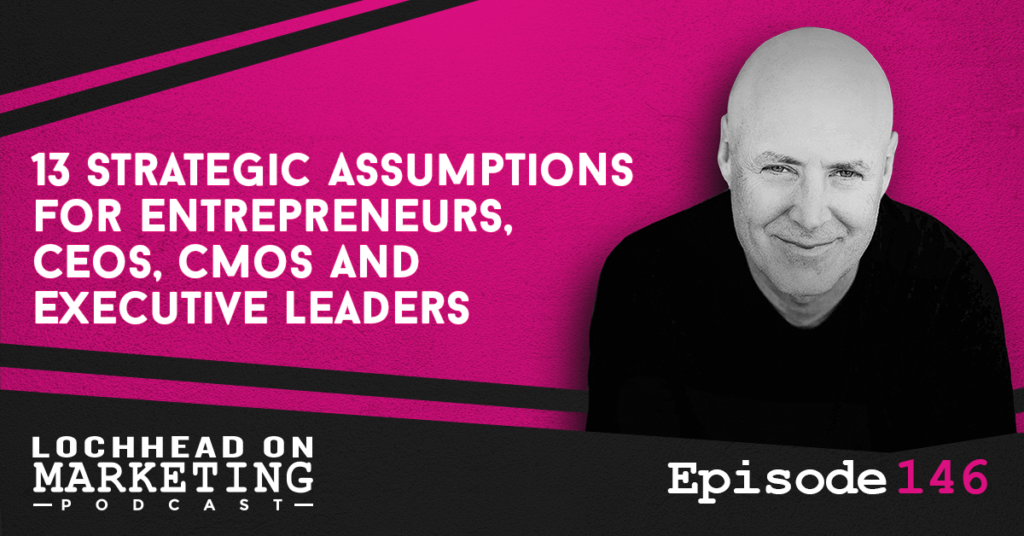 Podcast (lochheadonmarketing): Play in new window | Download (Duration: 14:06 — 9.7MB) | Embed
Subscribe: Apple Podcasts | Google Podcasts | Spotify | Stitcher | RSS | More
On this episode, let's talk about some of the smart assumptions we can make about the rest of 2022.
Of course, this is based on the numerous dialogues I've had in the past months with some of the smartest entrepreneurs, VCs, CEOs, and executives in Silicon Valley. If you're interested in those conversations, check out Christopher Lochhead: Follow Your Different in your podcast feed today.
Welcome to Lochhead on Marketing. The number one charting marketing podcast for marketers, category designers, and entrepreneurs with a different mind.
Assumptions for 2022
Without further ado, here are the assumptions that could happen during the rest of 2022:
A Recession will happen – Most of the smart people in Silicon Valley and beyond are strategically planning for a recession, both in their business and in their personal lives. If it doesn't happen, great. But it's still better to have options should it be the case.
Inflation will continue – The US government and the US Treasury trying to grapple with it right now. Wages are also going up, and supply lines are still challenged in many categories and industries.
The Ukraine-Russia War will continue, and it will be long – David Gergen (FYD 266) said that he thought they would likely be sort of punch-drunk fighters before this thing ended. But we also had Dmitri Alperovitch (FYD 269), a renowned security expert, say that the war, or at least the major aspects of it, would be over within the month. Though there are still possibilities of digital skirmishes between the two. Regardless, the effects of this war will be far-reaching, and have humanitarian and economic impacts even after the war.
David Sacks (FYD 267) says that there might be a GOP landslide in November – Right now, Biden's approval ratings are some of the lowest in history, and Democrats don't seem to have a way to rally themselves, or show a specific point of view or plan to hold their position.
People are Hurting – People are on the edge. You can see it all over the place. People's mental health seem a little fragile right now. These past couple of years have really taken its toll, and you can feel that fights could break out at the drop of a hat.
It will take at least 5 years' time before Native Analog CEOs, CMOs and C-level executives to understand that Native Digitals are the new category of human – A great example of this is you hear people talking about returning to work. We're not returning to work, people might go back to physical offices, but we're not returning to work native, Digital's want to live in a native digital world. As long as Native Analogs executives do not recognize this, there will be a disconnect with the old and new categories, and those who fail to cope could be left behind.
Variations and Market Caps will almost certainly continue to come down – That is what smart VCs are saying right now. So right now, they are "adjusting their thinking". Given the data they have received over the past 12-24 months, they are expecting that there will be down runs that will happen.
As a result of no. 7, raising money will be harder, and going public will also be harder – Most companies may very well have a tough time going public in the relative near term. But that should not discourage those who think that they have a new category opportunity to pursue them. It might just be the thing that helps you gather resources to go public.
Cash is King again! (So manage it carefully) – This is also the result of both no. 7 and 8, so wise executive teams are managing their assets carefully.
No one ever cost cut themselves to greatness – While it's all well and good that you are able to manage your resources carefully, don't be parsimonious.
Recessions are not fun, but they can make good companies legendary – It is wise in tough economic times, to look for the growth opportunities to look for ways to make changes, and to look for ways to take your good company and make it legendary.
Now is a great time to launch new categories – Given that now is a great time to launch new categories, if there are companies that are most companies are retrenching and look, the reality is most company leaders are like penguins. They follow whatever all the other penguins are doing. So if you want to create a new category, now is the best time to do so, while others are still retrenching or trying to "rebrand" their company.
Now is a great time to do legendary work: tough times call for tough people – This is a tough time. It's a scary time, the war is terrifying. The pain and suffering is horrible. The challenge in the economy is real and tough times call for tough people to stand up and do legendary work now is a great time to make the commitment to be that kind of legendary person.
Bio
Christopher Lochhead is a #1 Apple podcaster and #1 Amazon bestselling co-author of books: Niche Down and Play Bigger.
He has been an advisor to over 50 venture-backed startups; a former three-time Silicon Valley public company CMO and an entrepreneur.
Furthermore, he has been called "one of the best minds in marketing" by The Marketing Journal, a "Human Exclamation Point" by Fast Company, a "quasar" by NBA legend Bill Walton and "off-putting to some" by The Economist.
In addition, he served as a chief marketing officer of software juggernaut Mercury Interactive. Hewlett-Packard acquired the company in 2006, for $4.5 billion.
He also co-founded the marketing consulting firm LOCHHEAD; the founding CMO of Internet consulting firm Scient, and served as head of marketing at the CRM software firm Vantive.
We hope you enjoyed this episode of Lochhead on Marketing™! Christopher loves hearing from his listeners. Feel free to email him, connect on Facebook, Twitter, Instagram, and subscribe on iTunes!