267 David Sacks: All In Podcast "Rain Man" & Top Tech VC on Ukraine/Russia, Biden, The Coming "Red" GOP Wave, The Economy, California Politics, Venture Capital & What Startups Should Do Now
Wednesday 27th September 2023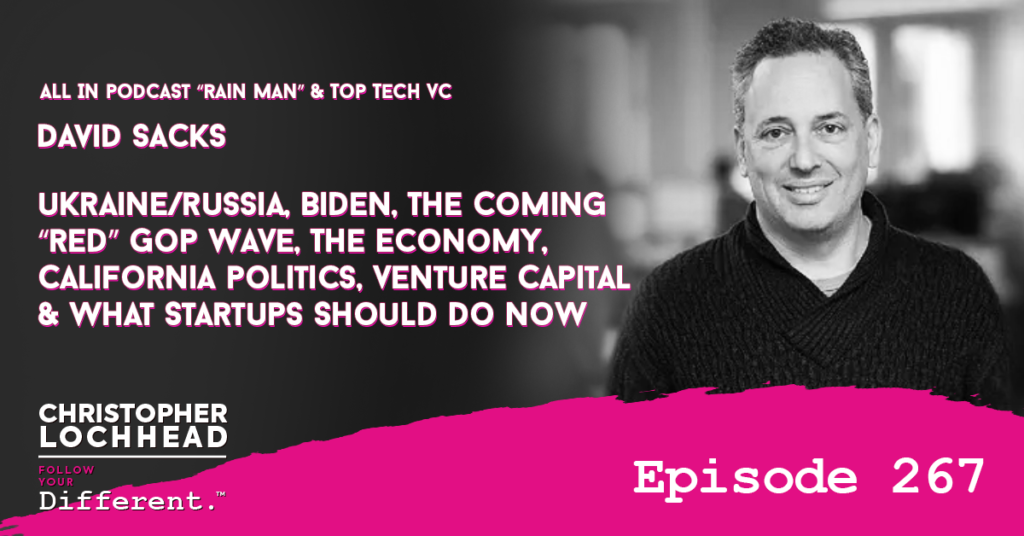 Podcast: Play in new window | Download (Duration: 1:50:04 — 75.6MB) | Embed
Subscribe: Apple Podcasts | Google Podcasts | Spotify | Pandora | Stitcher | RSS | More
On this episode of Christopher Lochhead: Follow Your Different, we continue our focus on the current situation in the world and in the United States. Because in times of great change and great uncertainty, we turn to great, though in some cases, counterintuitive minds. Today, we talk to one of the great minds of today, David Sacks.
David Sacks is a legendary entrepreneur, category, and company builder – and now, venture capitalist. He is the founder of Craft Ventures. In Silicon Valley, David is a living legend. You see, he was the co-founding CEO of Paypal, founder and CEO of Yammer, which sold to Microsoft for over a billion dollars. He has been an early investor and advisor to companies like Facebook, Twitter, Uber, SpaceX, Airbnb, Slack, and so much more. He's also co-hosting an amazing podcast called All In, which has become one of the most popular dialogue podcasts in the world.
So if you want to listen to the thoughts of this legendary individual, stay tuned to this episode. If you want to check out our past dialogues with David Sacks, you can check them out here.
This episode was recorded on March 29th, 2022
David Sacks Goes All In
The conversation starts off with what's new with David, particularly, his relatively-new podcast. David explains that it started out as a conversation pod with his "besties". It was something they did to pass the time during COVID. Little did they know, it would grow into what it is today.
"It's been kind of a surprise. We started doing it at the beginning of COVID when we were all trapped in our houses and had nothing else to do. So it's me and three friends, the four besties as we ironically say, and yeah, we've been doing this weekly pod. Amazingly, it's climbed the charts. I think the new episodes tend to be in the top 30 or 40 podcasts. And it's done really well." – David Sacks
David shares that at first, they tried to focus on talking business and markets, as well as private investing in VC. But there was only so much you could talk about that without circling back on itself. So they eventually started talking about current events, politics and world affairs, and how it can affect the world of business.
Having a Healthy Conversation
David muses that what makes them different from other business and marketing podcasts, except for their discussion on current affairs, is that they get to have a healthy conversation. Unlike your typical podcast that has the host and maybe one or two guests to discuss a certain topic, the four of them talk it out amongst themselves, and sometimes even lead to heated discussions. Because it's not simply an echo chamber, it's a place where ideas are presented, and confirmed or challenged by the other hosts.
"One of the things people say they like about it is the fact that we can get into debates, vigorous debates about politics, and yet we're all still friends. There's that vibe to it. But there's also people on the show breaking each other's balls, that kind of stuff. And they like that vibe, too." – David Sacks
Since it's the same four people having the conversation each week, each episode feels like a continuation of the last. Which makes you want to listen to it and look forward to the next.
David Sacks on the War in Ukraine
When asked about his thoughts on the current situation in Ukraine, David responds that it can be difficult to say what exactly is happening at a particular time. Despite technology giving us easier access to information, there is just too much conflicting information being touted around.
That said, he felt that some US media is escalating the current situation to the point that as if we are already at the brink of World War III. As a man who preaches for peace rather than an escalation of conflict, David hopes that our politicians and leaders steer clear of the war and help pursue for peace in the region.
To hear more on David Sacks and his thoughts on the current affairs of the world, download and listen to this episode.
Bio
David Sacks is co-founder and general partner at Craft. He has been a successful founder and investor for over two decades, building and investing in some of the most iconic companies in tech. He has invested in over 20 unicorns, including Affirm, AirBnB, Bird, ClickUp, Eventbrite, Facebook, Houzz, Lyft, OpenDoor, Palantir, Postmates, Reddit, Slack, SpaceX, Twitter, Uber, and Wish.
David is also co-host of the popular "All-In Podcast" with Chamath Palihapitiya, David Friedberg, and Jason Calacanis.
David first got involved in the technology industry in 1999 when he joined early-stage startup Confinity, later renamed PayPal. Serving as the company's first product leader and then as COO, David built and ran many of the company's key teams, including product management and design, sales and marketing, business development, international, customer service, fraud operations, and HR. He pivoted the product from beaming money on Palm Pilots to emailing money on the web, and introduced the business model. When the company IPO'd on the Nasdaq in 2002, David was 29 — the median age of the "PayPal Mafia" executives listed on the S-1. PayPal was later acquired by eBay and eventually spun back out into a publicly traded company (under ticker symbol PYPL).
In 2008, David founded enterprise collaboration company Yammer, which was one of the first SaaS startups to apply consumer growth tactics to enterprise software. Yammer's viral approach made it one of the fastest-growing SaaS startups in history, exceeding eight million enterprise users in just four years. As Founder/CEO of Yammer, David grew the company to roughly $60 million in sales and 500 employees. In July 2012, Microsoft acquired Yammer for $1.2 billion. It remains one of the fastest unicorn exits in SaaS.
Since Yammer, David has continued to be involved in the SaaS world, with an emphasis on "Bottom Up SaaS," the strategy he pioneered at Yammer by combining product-led growth with B2B sales. Bottom-up SaaS companies combine the growth potential of B2C with the enterprise budgets of B2B, leading to explosive outcomes when ARR goes viral.
David is well known in Silicon Valley for his product acumen. AngelList's Naval Ravikant has called David "the world's best product strategist." David likes to begin pitch meetings by seeing a product demo.
Links
Connect with David Sacks
Website | Bottom Up | All In Podcast | Twitter | LinkedIn
We hope you enjoyed this episode of Christopher Lochhead: Follow Your Different™! Christopher loves hearing from his listeners. Feel free to email him, connect on Facebook, Twitter, Instagram, and subscribe on Apple Podcast! You may also subscribe to his newsletter, The Difference, for some amazing content.