078 Oceanspray's Radically Generous Marketing TrendJack
Monday 25th September 2023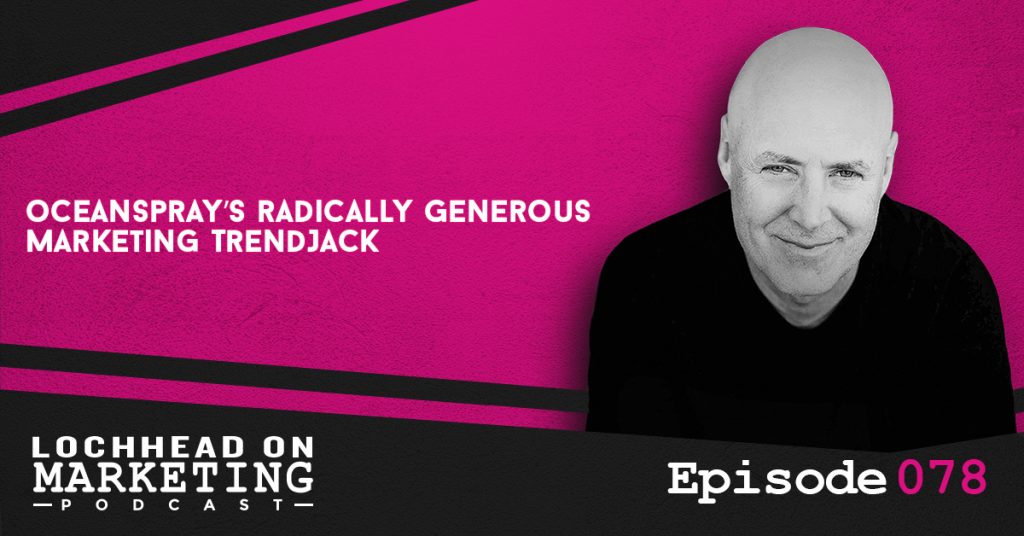 Podcast (lochheadonmarketing): Play in new window | Download (Duration: 12:26 — 8.5MB) | Embed
Subscribe: Apple Podcasts | Google Podcasts | Spotify | Stitcher | RSS | More
This is a super fun episode. Christopher Lochhead talks about what was almost for sure, the most fun marketing trendjack of 2020. On September 25th, Nathan Apodaca was going to work when his truck broke down. He grabbed his longboard skateboard and his bottle of Oceanspray and shot a video of himself going to work, drinking his juice while smiling and singing Fleetwood Mac's classic song "Dreams." The video went viral and Oceanspray and Fleetwood Mac just pulled off a feel-good trendjack of 2020.
Trendjacking In Past Episodes
If you're a long time listener, you might remember Episode 23 with the legendary Paul Maher from Positive Marketing in the UK. He's the godfather of trendjacking. In that episode, we popped the hood on this powerful marketing concept called the trendjack. Moreover, on Episode 26, we looked at how actor Ryan Reynolds and his gin company, Aviation trendjacked a Peloton ad. Ultimately, he sold it for $160 million. 
"Part of what got Ryan there was being creative and doing things like trendjacks. A trendjack is a simple, powerful idea, where you look at what's going on in the world of news and you find a creative way to put yourself in the middle of it." – Christopher Lochhead 
The Viral Video
Nathan Apodaca's video has been viewed 61 million times on TikTok alone. His video started to go viral which led people to recreate his video while skateboarding or driving a bike or doing something with movement singing this song, including Mac Fleetwood and Stevie Nicks, herself and other celebrities, and normal, regular people. 
"It created an absolute phenomenon on social media. Of course, the company Oceanspray was paying attention. Oceanspray CEO Tom Hayes got into the fun and he recorded his own version of Apodaca video. Now, as all of this was happening Fleetwood Mac's 1977 classic 'Dreams,' as billboard says, thundered into the Top 10. Think about that for a second. Fleetwood Mac, 1977 with a top 10 hit, thanks to a viral video from Nate." – Christopher Lochhead
Oceanspray's Radical Generosity
Ocean spray decided to get radically generous and thoughtfully aggressive with this incredible opportunity. They proceeded to buy Nathan a new truck because his truck had broken down and they made sure they got him one that they called "Oceanspray Red." Of course, they stuffed it with juice. 
"Recently, CEO Hayes said 'we have about 15 billion media impressions.' You think that's going to help sales. You think that's going to help grow the category and the brand for ocean spray. Fascinatingly, Hayes has only been the CEO for about three months of Oceanspray. So for a brand new CEO to mobilize the company to take action on this, I think is pretty extraordinary." – Christopher Lochhead
To know more about Christopher's thoughts on this recent trendjacking of Oceanspray, download and listen to this episode.
Bio:
Christopher Lochhead is a #1 Apple podcaster and #1 Amazon bestselling co-author of books: Niche Down and Play Bigger.
He has been an advisor to over 50 venture-backed startups; a former three-time Silicon Valley public company CMO and an entrepreneur.
Furthermore, he has been called "one of the best minds in marketing" by The Marketing Journal, a "Human Exclamation Point" by Fast Company, a "quasar" by NBA legend Bill Walton and "off-putting to some" by The Economist.
In addition, he served as a chief marketing officer of software juggernaut Mercury Interactive. Hewlett-Packard acquired the company in 2006, for $4.5 billion.
He also co-founded the marketing consulting firm LOCHHEAD; was the founding CMO of Internet consulting firm Scient, and served as head of marketing at the CRM software firm Vantive.
We hope you enjoyed this episode of Lochhead on Marketing™! Christopher loves hearing from his listeners. Feel free to email him, connect on Facebook, Twitter, Instagram, and subscribe on Apple Podcast! You may also subscribe to his newsletter, The Difference, for some amazing content.