023 Trendjacking Marketing and Public Relations w/ Paul Maher
Monday 25th September 2023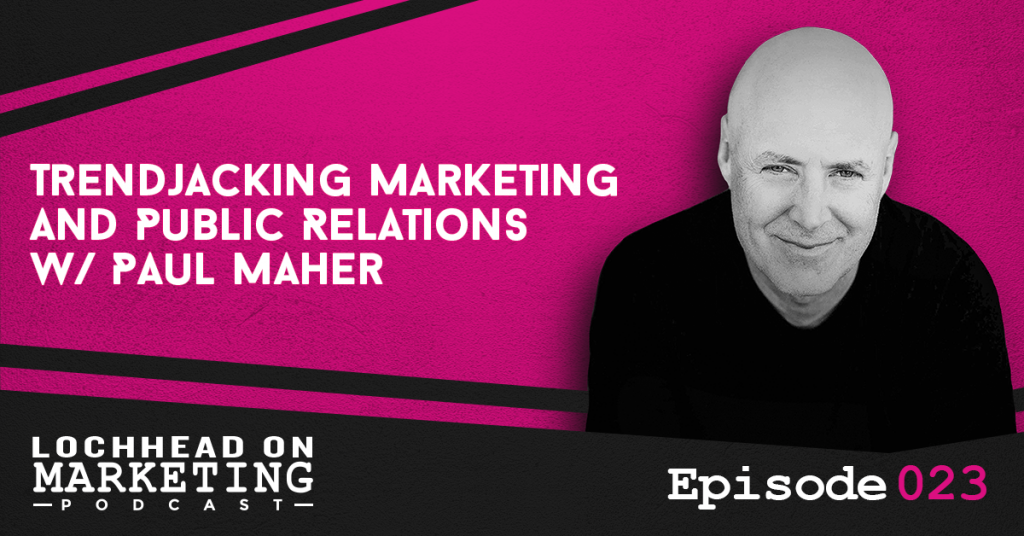 Podcast (lochheadonmarketing): Play in new window | Download (Duration: 27:54 — 38.5MB) | Embed
Subscribe: Apple Podcasts | Google Podcasts | Spotify | Stitcher | RSS | More
Today is another special episode of Lochhead on Marketing as
Paul Maher
, Founder of Positive Marketing (UK) joins us to talk about Trendjacking Marketing and Public Relations. His firm, Positive, won the SABRE Award for Best-earned Media Agency in Europe, Middle East, and Africa.
Trendjacking
Paul Maher discusses the secret black art of marketing, PR, communications, and media called the
trendjacking.
This PR strategy is widely used nowadays as marketers aim to position themselves to become consistently relevant to their market.
"Trendjacking is all about how do we take what's happening in the news and attach ourselves to that, use that as an advantage to become an expert, to become known, to position ourselves effectively." – Paul Maher
Christopher and Paul have worked in several projects in the past and have actually the promulgators of
trendjacking
when they diverted a mergers and acquisition news of a competitor in the past.
Seven Secrets of Trendjacking
1. BE POSITIVE 
The news happens anyway, why not be in it? Category leaders make rather than observe the news.
2. BE PROVOCATIVE
To do this you need to recognize the very definition of news is what you DIDN'T know, or as William Randolph Hearst, the biggest news baron of the pre-Facebook world famously said, 'WHAT SOMEONE ELSE DOES NOT WANT YOU TO KNOW'. Get creative and find out who does not want to know what you want to say.
3. PREDICT (IT'S CALLED A NEWS CYCLE FOR A REASON)
As well as great content, you need great timing. To know when is the optimal time to drop your bomb, you need to read patterns and become a news junkie, not an expert on everything from Celebrity Diets to Robot Brain Surgery, but at least stay across what's going on in your sector. Preferably twice or more a day. Alternatively hire help, in the form of an agency or consultant who will.
4. PREPARE, PREPARE, PREPARE
Set the trap and give yourself options. So perhaps have a set of pitches for each eventuality. England's new Prime Minister Boris Johnston, also until recently one of the UK's highest-paid newspaper columnists wrote two versions of an opinion piece, one for and one against Brexit. This way he hedged his bets and prevented a last-minute rewrite, we do this often for clients who want to trendjack major Government data announcements, such as Non-Farm jobs, GDP, etc. This brings us to.
5. BE PROMPT – ONLY EARLY BIRDS CATCH WORMS
As a former journalist, dealing with hundreds of inbound calls each day, I would react to the 'News no one else wants you to hear' positively the first time. I also understand the second time a fresh angle is pitched, it is just plain old. Many of those who work on flagship news programs start their day earlier than the rest of the world. As the news rolls 24×7 it makes sense to make that early morning call or speak to Planning Departments the night before you drop.
6. BE PRAGMATIC – ORIGINAL BUT READY TO FLEX YOUR ANGLES
Ambitious and original trendjackers are luckier trendjackers. Flip your angle, be more counter-intuitive, find the perfect image to accompany your trendjack. Smartest of all, chalk up your failures, wait for the news cycle to roll around and point to a 'Told you so' prediction when it does. We regularly issue 'Open Letters' to regulators, government bodies or even the entire tech industry when we scratch on a trendjack, just SO WE CAN GO BACK. Predictions are hard, especially in the future. So better to make them early and forget those which don't come off.
7. BE PERSISTENT
Recognize these perennial stories? They are not going away.
Users disappointed by tech outage
Record good/bad holiday retail sales
Sales of hot new thing break records
CEO under pressure from board members
Employment figure up/down last quarter
Notice how predictable these stories are? Not succeeding the first time is to be expected, but more is more. Remember there are a lot of newspaper pages to it and an infinite amount of blogs and social media which need killer, provocative content. The news happens anyway, you may as well have your say.
Links:
Linkedin UK: Paul Maher
Positive Marketing
We hope you enjoyed this episode of Lochhead on Marketing™! Christopher loves hearing from his listeners. Feel free to 
email
 him, connect on 
Facebook
, 
Twitter
,
 Instagram
 and subscribe on 
iTunes
! You may also subscribe to his newsletter,
 The Difference
, for some amazing content.