053 Little Marketing Ideas, Legendary Results | Marketing PodStorm 15
Monday 20th November 2023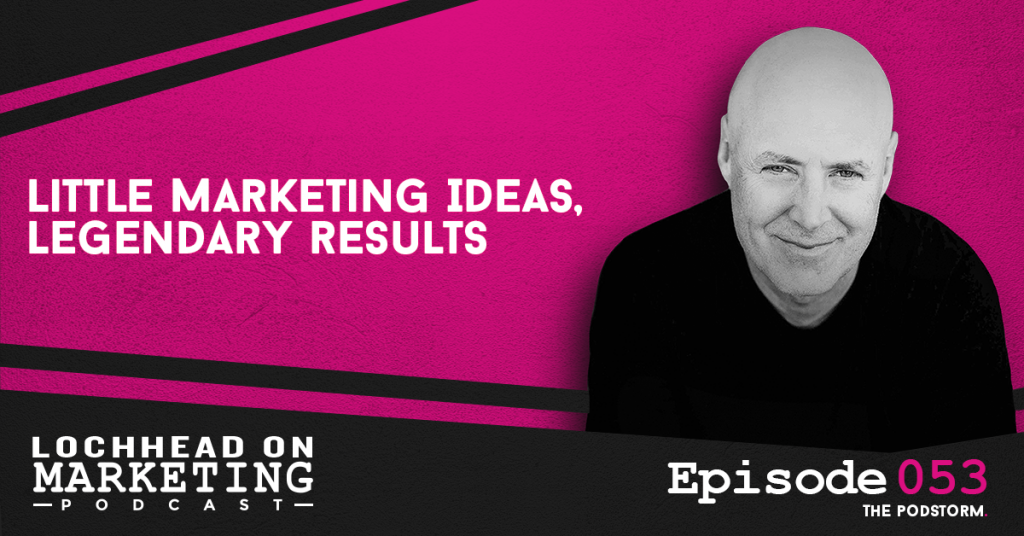 Podcast (lochheadonmarketing): Play in new window | Download (Duration: 9:38 — 6.6MB) | Embed
Subscribe: Apple Podcasts | Google Podcasts | Spotify | RSS | More
In this episode of the PodStorm, let's talk about some little marketing ideas that can produce legendary results. Christopher shares two stories to depict this: the first, about how legendary guitar brand Fender got 500,000 emails almost overnight during the pandemic, and how Colgate got kids to brush their teeth with ice cream.
Fender Got 500,000 Emails During C19
Christopher narrates stories from his friend and copywriter Cole Shaefer of Honeycopy.com about Fender, a legendary guitar company that makes guitars and amps and other various musical equipment. Recently, they proved that radical generosity and thoughtfully aggressive can produce legendary results.
"You need to manufacture guitar players because there ain't no guitar-buying if there ain't no guitar players. So what Fender has done over time is they transform themselves from a hardware company into a software company. In doing so, they built their own data flywheel." – Christopher Lochhead
The hardware company set up a software platform called Fender Play, designed to teach people to play guitar. Listen to the episode to find out what else happened when Fender decided to give access to its software, for free.
Don't Forget About Colgate
Another story Cole Schaffer told Christopher happened way back in 2009. Colgate was devising of marketing efforts to get kinds onboard with the whole "brush your teeth twice a day" movement.
"Imagine you're the CEO or the CMO of Colgate, and you're trying to get kids to brush their teeth. What's the opposite of what most people would do? Well, give them ice cream, but that's exactly what Colgate did. So imagine instead of a generic stick inside, it's a stick that looks a lot like a toothbrush. It's in the shape of a toothbrush. It's a wooden Ice cream stick in the shape of a toothbrush with a copy on it that says, 'Don't forget', and Colgate started handing out Ice cream, ice cream bars to kids." – Christopher Lochhead
Key Takeaway
These are both legendary examples of simple ideas that are very thoughtfully aggressive and radically generous at the same time. So how might that apply to your business?
"Think small, think simple, think cheap, sometimes not having much of a budget drives creativity. And ask yourself what is an insanely simple, cheap, thoughtfully aggressive, radically generous idea that we could pull off fast and then go do that?" – Christopher Lochhead
To hear more about how to devise little marketing ideas with legendary results, download and listen to this episode.
Bio:
Christopher Lochhead is a #1 Apple podcaster and #1 Amazon bestselling co-author of books: Niche Down and Play Bigger.
He has been an advisor to over 50 venture-backed startups; a former three-time Silicon Valley public company CMO and an entrepreneur.
Furthermore, he has been called "one of the best minds in marketing" by The Marketing Journal, a "Human Exclamation Point" by Fast Company, a "quasar" by NBA legend Bill Walton and "off-putting to some" by The Economist.
In addition, he served as a chief marketing officer of software juggernaut Mercury Interactive. Hewlett-Packard acquired the company in 2006, for $4.5 billion.
He also co-founded the marketing consulting firm LOCHHEAD; was the founding CMO of Internet consulting firm Scient, and served as head of marketing at the CRM software firm Vantive.
Links:
Fender wants to teach you guitar (for free) during quarantine
How Colgate reminded kids to brush their teeth by feeding them ice cream
024 The Difference Between a First Mover and a Category Creator w/ Eddie Yoon
We hope you enjoyed this episode of Lochhead on Marketing™! Christopher loves hearing from his listeners. Feel free to email him, connect on Facebook, Twitter, Instagram and subscribe on iTunes! You may also subscribe to his newsletter, The Difference, for some amazing content.