045 Questions and Cocktails: Facebook Live Q & A (Part 2) | Marketing PodStorm #7
Monday 20th November 2023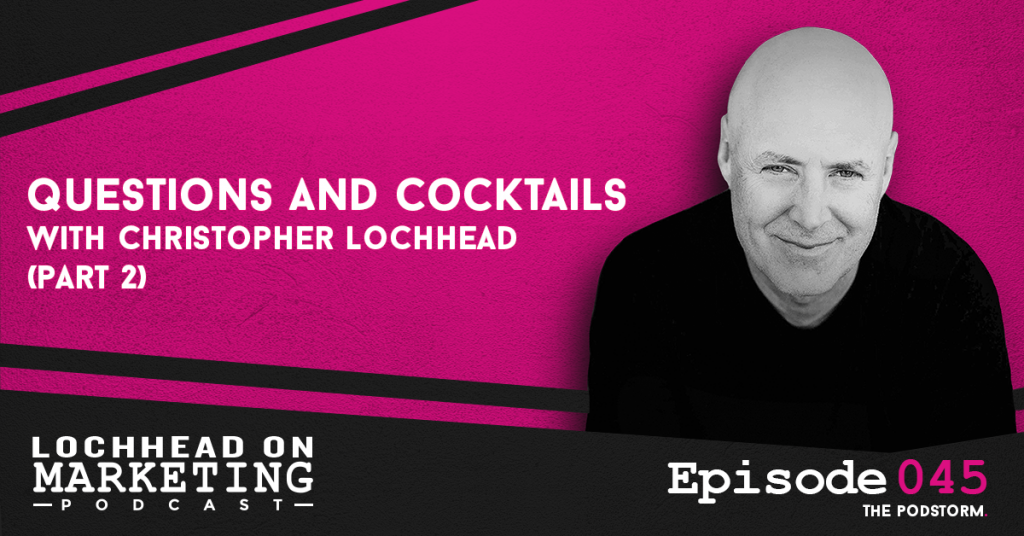 Podcast (lochheadonmarketing): Play in new window | Download (Duration: 21:45 — 14.9MB) | Embed
Subscribe: Apple Podcasts | Google Podcasts | Spotify | RSS | More
During the PodStorm, were doing a live Facebook Question and Answer session, every Friday, 11:30 a.m. PST. Here is the second part of our recording, for Q&A about marketing and category design. We talk about all things ranging from new category creation, how to craft problems positively, and creating demand during a crisis.
How to know if you have a new category?
As counterintuitive as it might sound, now is a great time to launch a new category. Christopher encourages you to ask yourself a couple of key questions: number 1, "what problem do I solve?" or "do I solve that in a different or unique way?" and "What kind of market insights do you have?" If you don't think of it as a problem, maybe you create an opportunity.
"Nobody buys a solution unless they see a problem. You might consider asking what kind of insights do you have. One is technical insight. Somebody creates a new algorithm or somebody creates hardware. Another one is Market Insight, for example, 'I want to be able to hire somebody to do an odd job, takes something from point a to point b, come over and help me with something.' Do you have a technical insight or do you have a market insight? Regardless of what it is, begin to evangelize that insight, that difference." – Christopher Lochhead
How do you talk about problems in a positive way?
Evangelizing a problem in a positive way can lead to mass differentiation and category creation. Christopher advises legendary marketers to frame the problem as deeply relatable. This way, we want to be seen as a hero, mobilizing people to come together to solve said problem.
"Here's what I've learned, what you want to do in the way you talk about problems is, do it such that you create 'us.' You make the problem an enemy, a 'them.' You want to define the problem very powerfully, in a way that resonates with people, and then you say, this aggression will not stand, man." – Christopher Lochhead
How do you create demand in a situation where your revenue is dropping?
Christopher chides that this is one tough question. We know many companies are having this problem. He drops a bunch of ideas that although might not exactly answer this question, but hopefully might stimulate some thinking.
"The first idea, take a handful of your smartest people and lock them and brainstorm 3-5 things that you go near term to stimulate revenue. If you are in the B2B space, create a white space analysis. What you do, you take your existing customer base, do a quick analysis to find out which of your products and services they are currently using. Once you know what they are using, then you immediately target existing customers. If you're in the B2C, be visible in your neighborhood." – Christopher Lochhead
To hear more about the Facebook live Q&A session (Part 2) with Christopher Lochhead, download and listen to this episode.
Bio:
Christopher Lochhead is a #1 Apple podcaster and #1 Amazon bestselling co-author of books: Niche Down and Play Bigger.
He has been an advisor to over 50 venture-backed startups; a former three-time Silicon Valley public company CMO and an entrepreneur.
Furthermore, he has been called "one of the best minds in marketing" by The Marketing Journal, a "Human Exclamation Point" by Fast Company, a "quasar" by NBA legend Bill Walton and "off-putting to some" by The Economist.
In addition, he served as a chief marketing officer of software juggernaut Mercury Interactive. Hewlett-Packard acquired the company in 2006, for $4.5 billion.
He also co-founded the marketing consulting firm LOCHHEAD; was the founding CMO of Internet consulting firm Scient, and served as head of marketing at the CRM software firm Vantive.
We hope you enjoyed this episode of Lochhead on Marketing™! Christopher loves hearing from his listeners. Feel free to email him, connect on Facebook, Twitter, Instagram and subscribe on iTunes! You may also subscribe to his newsletter, The Difference, for some amazing content.