018 Personal Branding is Bullshit
Friday 1st December 2023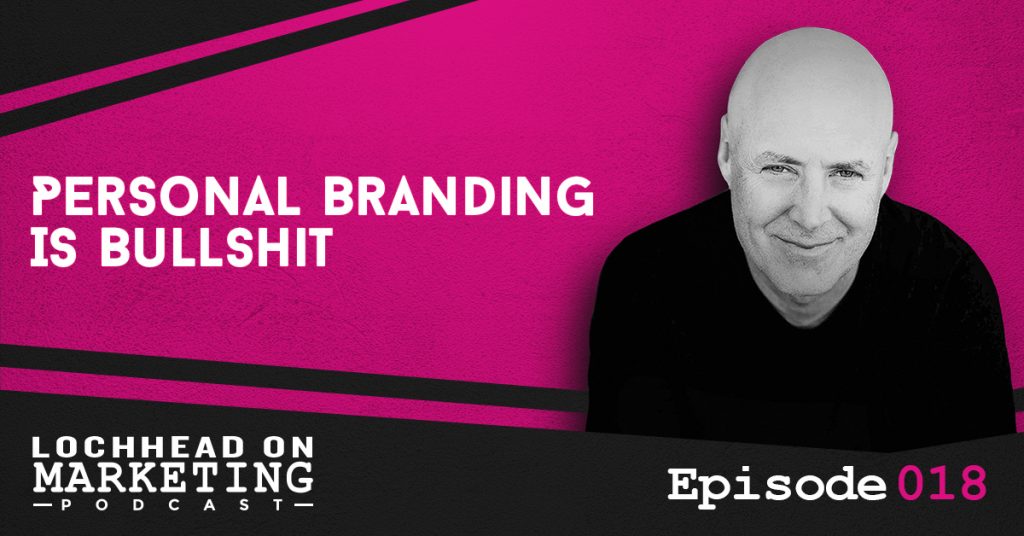 Podcast (lochheadonmarketing): Play in new window | Download (Duration: 10:03 — 9.3MB) | Embed
Subscribe: Apple Podcasts | Google Podcasts | Spotify | RSS | More
In this episode, Christopher Lochhead talks about a giant topic in business today, personal branding. He further shares the difference between a brand and a person. Moreover, he discusses why legendary executives and marketers don't give weigh to personal branding much.
Personal Beef with Personal Branding
Personal branding has become a giant issue in business today. It seems like people cannot fire up their social media, such as Linkedin and even Amazon, without personal branding. The idea started around the late 80s or early 90s and has become effed up overtime.
Christopher lays out his argument on the difference between a brand and a person. People have a mental connection with a brand while with a person, people develop relationships.
"I have a very different relationship with my friend Sue Barsamian. She's the most effective exec I know. Guess how much time she spent thinking about and working on her personal brand? Zero!" – Christopher Lochhead
Developing A Reputation
Sue Barsamian was the guest on Follow Your Different Episode 083. She has a solid 36-years in Silicon Valley, working with Startups and multinationals such as HP. Christopher shares that she has zero efforts in maintaining a personal brand, instead, she aims to develop a reputation.
Silicon Valley respects Sue for producing legendary results and creating massive value. Moreover, she dominated her own niche: "Legendary Enterprise Tech Executive, who scales." In developing a reputation, Christopher poses the following questions:
"What's your personal Niche Down? Where are you going to focus your talent? What results are you going to produce? Who are the kinds of people you want to surround yourself with?" – Christopher Lochhead
Rethink this Personal Branding Bullshit
Christopher encourages everyone to re-think this idea of personal branding because he believes that what people prefer is a reputation.
"Reputations come from producing legendary results. Personal branding, by definition, is contrived and inauthentic." – Christopher Lochhead
People would best be deemed as a person of character, who produces results and is doing legendary work. In conclusion, Christopher advises everyone to spend zero time on personal branding and focus, instead, on the following:
1) Your personal Niche Down – what niche do you want to be known for owning
2) Producing legendary results – people who produce legendary results are highly sought after in business. They are unique by definition and they hang out with people who also do legendary things.
3) and making a difference.
"Because in my experience, people who do that, get the most valuable thing in business: a reputation." -Christopher Lochhead
To hear more about why personal branding is bullshit and more relevant information from Christopher Lochhead, download and listen to the episode.
Bio:
Christopher Lochhead is a Top 25 podcaster and #1 Amazon bestselling co-author of books: Niche Down and Play Bigger.
He has been an advisor to over 50 venture-backed startups; a former three-time Silicon Valley public company CMO and an entrepreneur.
Furthermore, he has been called "one of the best minds in marketing" by The Marketing Journal, a "Human Exclamation Point" by Fast Company, a "quasar" by NBA legend Bill Walton and "off-putting to some" by The Economist.
In addition, he served as a chief marketing officer of software juggernaut Mercury Interactive. Hewlett-Packard acquired the company in 2006, for $4.5 billion.
He also co-founded the marketing consulting firm LOCHHEAD; was the founding CMO of Internet consulting firm Scient, and served as head of marketing at the CRM software firm Vantive.
Links:
Follow Your Different Episode 083: Sue Barsamian
We hope you enjoyed this episode of Lochhead on Marketing™! Christopher loves hearing from his listeners. Feel free to email him, connect on Facebook, Twitter, Instagram and subscribe on iTunes! Get amazing, different stories on business, marketing, and life. Subscribe to our newsletter The Difference.