083 A Legendary Executive, Sue Barsamian
Sunday 1st October 2023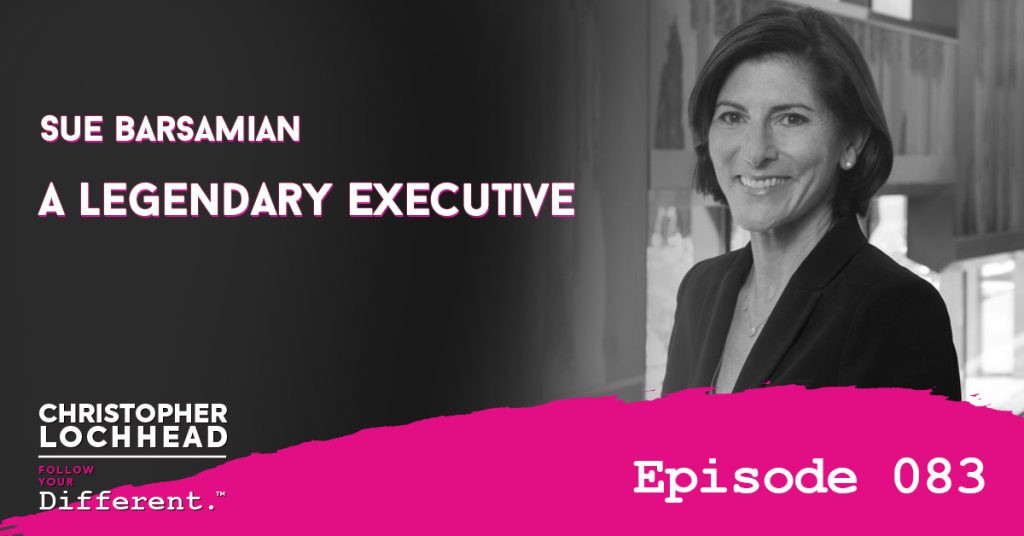 Podcast: Play in new window | Download (Duration: 1:31:33 — 84.0MB) | Embed
Subscribe: Apple Podcasts | Google Podcasts | Spotify | Pandora | Stitcher | RSS | More
Today, we hang out with an amazing and effective executive, Sue Barsamian. Sue recounts the early beginnings of her career, her challenging job at Mercury Interactive with Christopher and her not-really-a-retirement retirement. In this episode, find out why people dream about having her career.
Challenges After Challenges
Sue has an engineering background that might have contributed to her natural passion for creating, building and solving things. She worked with Christopher at Mercury, which was sold at $5B to HP. She stayed with HP and was assigned to run a billion-dollar cybersecurity business.
"HP gave me a chance to test myself at a scale that I have never tested myself, 'can you lead 4000 people, can you do 10,000 at P&L?' Its a different ball game and you'll never know until you tried it, so that was fun, I had a blast." – Sue Barsamian
She went ahead to become the head of Sales and Marketing for Software at HP⁠—a role that is unusually given to a single executive. At present, she's on the board of Symantec ($15B), Box ($2.5) and privately held Gainsight, Xactly. She retired from the operations side of the business but still held a seat at the board.
Keep on Evolving
Sue admits she had a good run in her 36 years in the business. She worked with 8 companies have had around 25 roles overall.
"Nothing in my resume that would say 'she could do that.' One of the things about staying in a company is, companies take a risk on people they could stretch and that benefitted me tremendously through my career." – Sue Barsamian
Other than staying with a company, she stressed the importance of working well with people. She admits that she loves working with different people of different cultures, surviving different situations. She has learned how to understand people and help them become successful
Career Tips to Ponder
Sue Barsamian shares a lot of career tips in this episode. She gives special importance to understanding people and how they have a part to play on the path to success. Giving due credit and acknowledging employees as heroes also do wonders.
"In order to get things done in a company, you need to move mountains that don't report you. At the end of the day, if you are not about other people's success, if its all about you and you taking credit to all of your work personally, you'll crash and burn." – Sue Barsamian
To hear more about the legendary executive Sue Barsamian and more relevant information from Sue, download and listen to the episode.
Bio:
Sue Barsamian is a seasoned technology veteran with experience in both startups and major public enterprises.
Her background spans in general management, marketing, sales and engineering.
She serves on the boards of Symantec, Box, Gainsight, and Xactly.
Previously she served as the Executive Vice President, Chief Sales and Marketing Officer of Hewlett Packard Enterprise Software, successfully spinning the division out from HPE and merging with Micro Focus International, plc to form the 7th largest software company in the world.
From 2006 to 2016, Ms. Barsamian served in various executive roles at Hewlett Packard including SVP and GM of Enterprise Security Products, the company's cybersecurity portfolio and SVP of Worldwide Indirect Sales.
Prior to joining Hewlett Packard, Ms. Barsamian was Vice President, Global Go-to-Market at Mercury Interactive Corporation and held various leadership positions at Critical Path, Inc. and Verity, Inc.
She received a Bachelor of Science degree in Electrical Engineering from Kansas State University and completed her post-graduate studies at the Swiss Federal Institute of Technology.
Links:
We hope you enjoyed this episode of Follow Your Different™! Christopher loves hearing from his listeners. Feel free to email him, connect on Facebook, Twitter, Instagram and subscribe on iTunes!