001 Who is this podcast for?
Monday 25th September 2023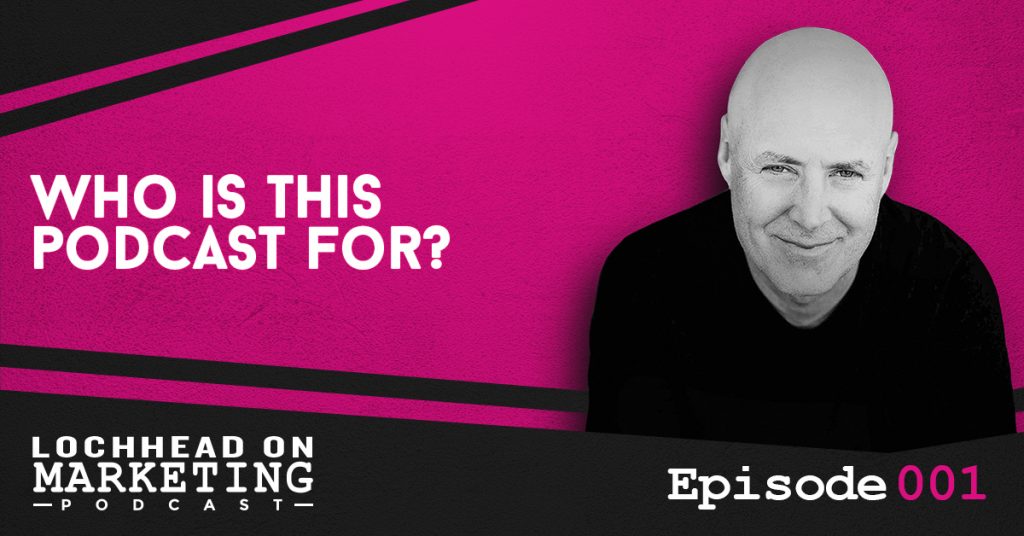 Podcast (lochheadonmarketing): Play in new window | Download (Duration: 13:14 — 12.2MB) | Embed
Subscribe: Apple Podcasts | Google Podcasts | Spotify | Stitcher | RSS | More
It's an awesome day to be legendary! This is the first episode of our new podcast, Lochhead on Marketing, hosted by our very own, Christopher Lochhead. In this episode, he talks about who is this podcast for and what sets it apart from other marketing podcasts.
Join us as we define what makes this podcast, different⁠—ultimately, what makes it legendary!
Who's Who in Marketing
Entrepreneur and VC partner Christopher Lochhead is an advisor to over 50 venture-backed startups. He is a former three-time Silicon Valley public company CMO and co-author of two bestsellers: Niche Down and Play Bigger.
To add, he a dyslexic high school drop-out who started his own company at the age of 18. Christopher sees his setbacks as his springs to success—the farther he's pulled down, the higher he is launched to the top.
"I have a unique perspective in working with early-stage companies, being an entrepreneur myself. Since then I have done a lot of advising and investing and I focused a lot on podcasting." – Christopher Lochhead
Who is this podcast for?
This is the podcast for the pirates, dreamers, and innovators⁠—those who want to introduce the world to new ways of doing things. These people want the world to be different. They want to explore what it takes to produce legendary results. Basically, this podcast is for anybody who wants the world to be different.
Entrepreneurial marketers, Founders, CEOs—of course, CMOs and business leaders who want to design and dominate their own market categories—would benefit highly from this podcast.
"This is for people who give a sh*t about winning! People who want to create the game, not play someone else's.  People who want to move the world from the way it is, to the way they want it to be" – Christopher Lochhhead
What more should you expect?
The show Lochhead on Marketing will examine the strategies behind what makes legendary marketing, legendary. Moreover, this podcast will share not only the strategies but the mind-set required for winning. Most of the episodes will be short and practical and will have simple take-aways.
"Having some marketing savvy, particularly around designing and dominating categories is an incredibly important skillset, regardless where you are in the C-suite" – Christopher Lochhead
Who is this podcast for? It will be for both B2B and B2C markets, especially now that these two concepts are merging in terms of marketing ideas. We will feature technology as well, as it is one of the key drivers of the industry. Technology enables marketers to be precise in measuring reach and accessing new mediums, just like podcasting.
To hear more about who this podcast is for and more relevant information from Christopher Lochhead, download and listen to the episode.
Bio:
Christopher Lochhead is a Top 25 podcaster and #1 Amazon bestselling co-author of books: Niche Down and Play Bigger.
He has been an advisor to over 50 venture-backed startups; a former three-time Silicon Valley public company CMO and an entrepreneur.
Furthermore, he has been called "one of the best minds in marketing" by The Marketing Journal, a "Human Exclamation Point" by Fast Company, a "quasar" by NBA legend Bill Walton and "off-putting to some" by The Economist.
In addition, he served as a chief marketing officer of software juggernaut Mercury Interactive ⁠— which was acquired by Hewlett-Packard in 2006 for $4.5 billion.
He also co-founded the marketing consulting firm LOCHHEAD; was the founding CMO of Internet consulting firm Scient, and served as head of marketing at the CRM software firm Vantive.
Links:
We hope you enjoyed this episode of Lochhead on Marketing™! Christopher loves hearing from his listeners. Feel free to email him, connect on Facebook, Twitter, Instagram and subscribe on iTunes!