003 What is category creation?
Wednesday 20th September 2023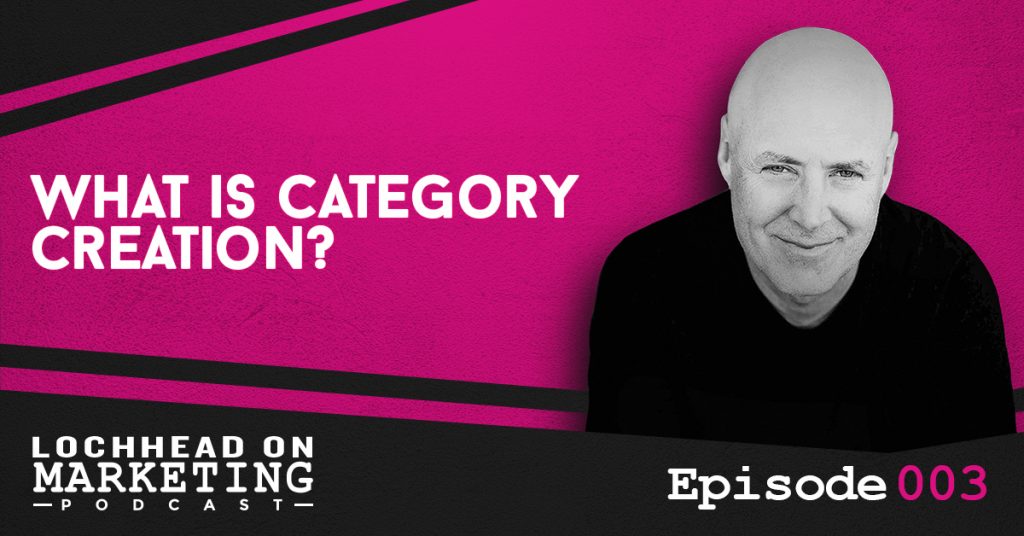 Podcast (lochheadonmarketing): Play in new window | Download (Duration: 8:54 — 10.2MB) | Embed
Subscribe: Apple Podcasts | Google Podcasts | Spotify | Stitcher | RSS | More
On today's episode of Lochhead on Marketing, Christopher Lochhead delves into the concept of category creation. He discusses why legendary entrepreneurs, CEOs, and marketers see category creation or category design as the new approach to winning.
What is it?
Category design is a new management discipline that is focused on creating and monetizing new markets. Moreover, Lochhead sees category creation or category design as a radical differentiation of oneself.
"Winning today is not about beating the competition. The most legendary entrepreneurs, CEOs and marketers are the people who invent a whole new game by defining a new market category, developing that market category and ultimately executing, so that they dominate it over time." – Christopher Lochhead 
Distinguishing Oneself
Legendary marketers and innovators refuse to be in comparison to what came before them. Due to this, customers look at legends as unique, or someone who broke or took a new ground.
Most importantly, legendary marketers want others to be compared to them. They are the agenda setters. They're the ones defining the game and the rules.
Moving the World
Legendary marketers educate the world about an idea or a problem. Therefore, they provide a solution in a completely different way. They also have the ability to create value and urgency around the idea or problem.
"When the world accepts your point of view about a problem and solution, you change everything. That is what category design is about." – Christopher Lochhead
Lochhead also discusses the fact that categories are everywhere. Further, he states that category comes first and the brand comes second. According to him, "category is the human filing system that we have, so we can relate to things and most importantly, value things."
In the end, Lochhead poses the question any marketer should ask oneself, "are you playing someone else's game or do you have the courage in creating and designing your own category?"
To hear more about category creation and more relevant information from Christopher Lochhead, download and listen to the episode.
Bio:
Christopher Lochhead is a Top 25 podcaster and #1 Amazon bestselling co-author of books: Niche Down and Play Bigger.
He has been an advisor to over 50 venture-backed startups; a former three-time Silicon Valley public company CMO and an entrepreneur.
Furthermore, he has been called "one of the best minds in marketing" by The Marketing Journal, a "Human Exclamation Point" by Fast Company, a "quasar" by NBA legend Bill Walton and "off-putting to some" by The Economist.
In addition, he served as a chief marketing officer of software juggernaut Mercury Interactive ⁠— which was acquired by Hewlett-Packard in 2006 for $4.5 billion.
He also co-founded the marketing consulting firm LOCHHEAD; was the founding CMO of Internet consulting firm Scient, and served as head of marketing at the CRM software firm Vantive.
Link:
We hope you enjoyed this episode of Lochhead on Marketing™! Christopher loves hearing from his listeners. Feel free to email him, connect on Facebook, Twitter, Instagram and subscribe on iTunes!