134 The Problem With Most Marketing Plans
Monday 25th September 2023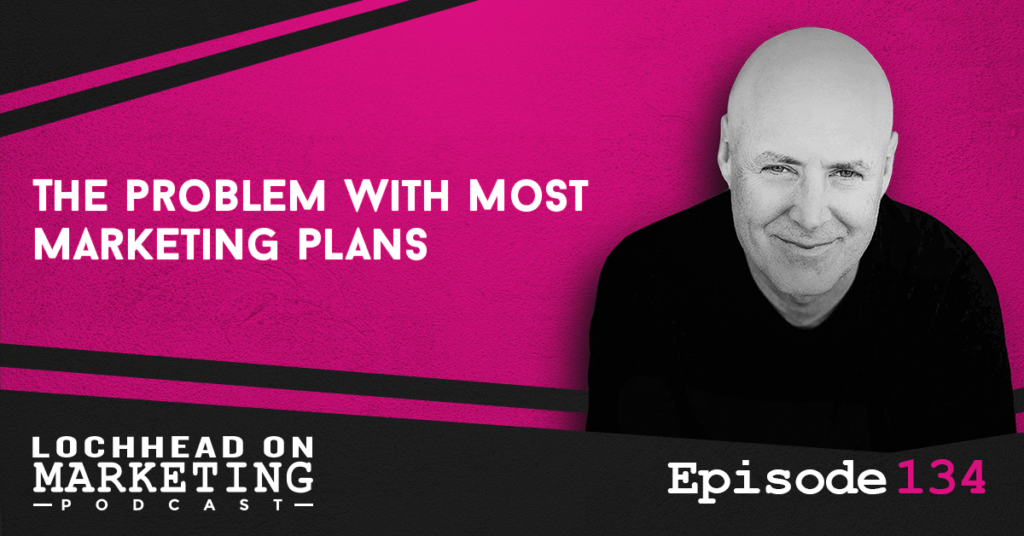 Podcast (lochheadonmarketing): Play in new window | Download (Duration: 11:17 — 7.8MB) | Embed
Subscribe: Apple Podcasts | Google Podcasts | Spotify | Stitcher | RSS | More
In this episode, let's talk about the problem with most marketing plans, and what you can do about it.
Welcome to Lochhead on Marketing. The number one charting marketing podcast for marketers, category designers, and entrepreneurs with a different mind.
Planning Based on the Past
Let's talk about the problem with most marketing plans: mainly, most of them start with last year's template.
The big problem with most marketing plans is they take last year's marketing plan and they extend it forward. In category design, one of our favorite expressions is to reject the premise. In the end, we challenge ourselves to push and poke and stretch our thinking. Also, just because it worked in 2020 or 2021, it is not evidence that it will work in 2022.
More importantly, when you start your planning by rejecting the premise, you create a blank sheet of paper.
Crowding Out Innovation
It is also difficult to create a different future when the past is your lens. So if a prior marketing plan is the start point for a plan for the future, by definition you're taking the past and figuring out how to re-implement it going forward.
That might be feasible for maintaining certain market margins and the like, but it risks crowding out innovation in your marketing plan.
We're also not telling you to reject the past and just YOLO your future. Going forward, you should have a dialogue on what worked and not worked based on the data from the past, find a way to highlight those points, but at the same time look for things that have not been explored in the market. That way, you can produce a breakthrough in a new field or even create a new category out if it, without having to go for broke.
Three Pillars of a Great Marketing Plan
Once you have rejected the premise and open yourself up to thoughtful data-centric analysis of what works and doesn't, it's time to think about going forward. How do you design a marketing plan that creates the future of your choosing?
To do so, try to anchor it around these three pillars.
Information Wars: This is what sets the strategic context. It's the combination of ways in which you educate the world about the category you're designing, and learning from your Superconsumers to accelerate your effectiveness both in the air and on the ground. This is more focused on POV marketing / word of mouth than anything else.
Air Wars: In many ways, marketing is "Sales at scale." Air Wars are the high-level strategic marketing you do in service of the new and different category you are creating in the world. All the while positioning yourself as the leader. These efforts are more focused on demand creation.
Ground Wars: This is tactical marketing (often at the point-of-sale and heavily integrated with sales) that supports your strategic efforts marketing the category and driving near-term revenue. These efforts are more focused on demand capture and lead generation.
If you want to learn more about these three pillars, check out this Category Pirates article about it.
Conclusion
So in closing, what would I leave you with?
Don't use the past as a template for creating the future.
Allow yourself to think in unconstrained, super creative, super innovative ways around "what is the strategic context?" "What's the POV that you are using to drive your category and your brand and ultimately, the success of the company?" How are you scaling through air wars, so that you begin to make your strategic point of view move from being a new thing to an of course. And the ground Wars is all about how you make the cash register sing and drive near-term revenue. And guess what? To succeed, you got to get all three right.
Bio
Christopher Lochhead is a #1 Apple podcaster and #1 Amazon bestselling co-author of books: Niche Down and Play Bigger.
He has been an advisor to over 50 venture-backed startups; a former three-time Silicon Valley public company CMO and an entrepreneur.
Furthermore, he has been called "one of the best minds in marketing" by The Marketing Journal, a "Human Exclamation Point" by Fast Company, a "quasar" by NBA legend Bill Walton and "off-putting to some" by The Economist.
In addition, he served as a chief marketing officer of software juggernaut Mercury Interactive. Hewlett-Packard acquired the company in 2006, for $4.5 billion.
He also co-founded the marketing consulting firm LOCHHEAD; the founding CMO of Internet consulting firm Scient, and served as head of marketing at the CRM software firm Vantive.
We hope you enjoyed this episode of Lochhead on Marketing™! Christopher loves hearing from his listeners. Feel free to email him, connect on Facebook, Twitter, Instagram, and subscribe on Apple Podcast! You may also subscribe to his newsletter, The Difference, for some amazing content.