038 The Future Needs You
Sunday 1st October 2023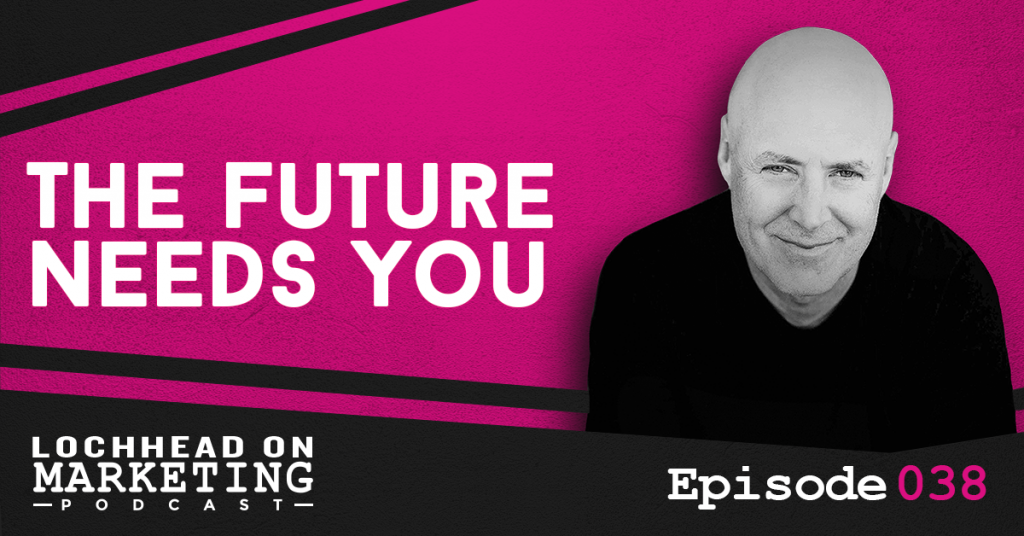 Podcast (lochheadonmarketing): Play in new window | Download (Duration: 7:11 — 4.9MB) | Embed
Subscribe: Apple Podcasts | Google Podcasts | Spotify | Stitcher | RSS | More
Today, let's talk about why the future needs you and frankly, why the future needs some legendary marketing. Entrepreneurs, pay attention to this episode because the future needs you and your innovations to move the human race forward.
Going Back To How It Was
We hear a lot of discussion about how the business people plan to reopen businesses and how the entire workforce will get back to work. Christopher candidly gives his viewpoint for this: there is no going back to how it was before.  
"I think frankly, there is nothing to go back to. It's not about going back to work, it is about creating the future and I think that is where legendary marketing comes in." – Christopher Lochhead
What Greatest Marketers Do
Christopher says the greatest marketers over time are the ones who move the world from the way it is now, to the way they want it to be. Further, he shares that legendary marketing is about making an exponential difference as opposed to creating an incremental change.
"I think we are witnessing the very beginning of the creation of a new future. Much is going to be different as we move forward. Work, the way we knew it, is different, Society, the way we knew it is different. I think people's priorities are going to shift. I think what they value is going to shift. I think, therefore, what they are interested in buying is going to shift." – Christopher Lochhead
The Power of Entrepreneurship
As a strong believer in the power of entrepreneurship and innovation to move the human race forward Christopher shares that most legendary marketers in the world have done exceptional work in doing exactly that.
"I think as we come out of this crisis there is a chance that we will begin to see the emergence of a whole new set of technologies, services, products and categories that design a more human future, frankly, a world that works for more of us, in a way that it never did before."  – Christopher Lochhead
To hear more about Why The Future Needs You and more information about Christopher, download and listen to this episode.
Bio:
Christopher Lochhead is a #1 Apple podcaster and #1 Amazon bestselling co-author of books: Niche Down and Play Bigger.
He has been an advisor to over 50 venture-backed startups; a former three-time Silicon Valley public company CMO and an entrepreneur.
Furthermore, he has been called "one of the best minds in marketing" by The Marketing Journal, a "Human Exclamation Point" by Fast Company, a "quasar" by NBA legend Bill Walton and "off-putting to some" by The Economist.
In addition, he served as a chief marketing officer of software juggernaut Mercury Interactive. Hewlett-Packard acquired the company in 2006, for $4.5 billion.
He also co-founded the marketing consulting firm LOCHHEAD; was the founding CMO of Internet consulting firm Scient, and served as head of marketing at the CRM software firm Vantive.
We hope you enjoyed this episode of Lochhead on Marketing™! Christopher loves hearing from his listeners. Feel free to email him, connect on Facebook, Twitter,Instagram and subscribe on iTunes! You may also subscribe to his newsletter,The Difference, for some amazing content.