135 Sales Kick Off: The 2 Questions You Must Answer for Your 2022 Kick Off Event
Sunday 1st October 2023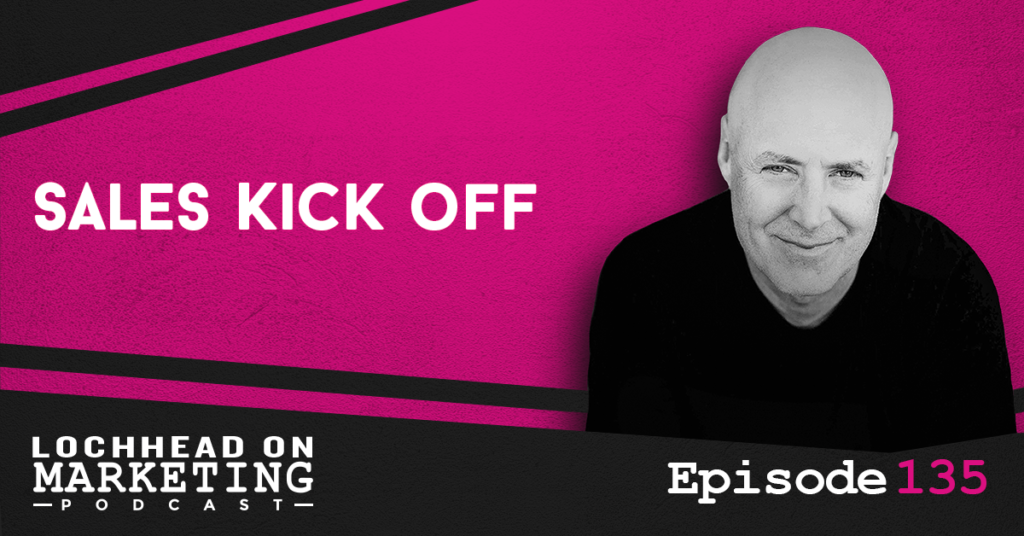 Podcast (lochheadonmarketing): Play in new window | Download (Duration: 8:50 — 6.1MB) | Embed
Subscribe: Apple Podcasts | Google Podcasts | Spotify | Stitcher | RSS | More
In this episode, let's talk about Sales Kick Off. Since it's that time of the year where most sales, marketing, and executive teams are working on sales kickoff events for the new year and/or a company kickoff event.
While most people work on the practical and tactical aspect of things, there's a strategic question that we need to address. If we get the answer right, it can lead to a very successful sales kickoff and a successful year.
Welcome to Lochhead on Marketing. The number one charting marketing podcast for marketers, category designers, and entrepreneurs with a different mind.
Sales Kick Off Events
Like most companies, you are also probably working on this as early as the 4th quarter of the year. If you're in a well-established company, you probably have all the basics down, in terms of systems, workflows, and all related processes.
While those parts are also important, the focus in these kinds of kickoffs is the context that it operates in. Why are you doing this sales kickoff? Is it for something new, or maybe an important change in your company that will affect how you interact with your clients and customers?
Why Should I Stay?
That said, we have a very unique context going into 2022. You have probably heard about the "Great Resignation". People have been quitting their jobs to find better work or pursue other careers. Those who stayed are probably getting recruitment emails from competition due to this sudden lack of high-value individuals in certain industries.
So heading into 2022, the context of your sales kickoff needs to answer the question, "Why should I stay?"
In order to answer that question, you should look on what truly motivates people. The first point is, people who are invested in the company are motivated by a mission. They want to feel like they're a part of something greater than themselves. That what they do for the company makes a difference.
The second point is that they want to feel connected to their colleagues. Granted, this is harder nowadays due to COVID and social distancing. So instead of being physically around people, find a way to align people's goals, so that they get to interact with each other while having the same mission. This ties to the first point as well.
If your company is still on a full remote capacity right now, you can also be creative with technology. Instead of socializing in the pantry like before, set up zoom meetings for your team where you can just talk about the recent activities you have done outside of work. Or maybe share what you have been doing lately, so that other people in the team are aware of your contributions and could help with your struggles.
In the situation where we're primarily using a digital first native digital way to do that, think about using the technology and creative ways to bond people to each other into the mission and point of view.
Bio
Christopher Lochhead is a #1 Apple podcaster and #1 Amazon bestselling co-author of books: Niche Down and Play Bigger.
He has been an advisor to over 50 venture-backed startups; a former three-time Silicon Valley public company CMO and an entrepreneur.
Furthermore, he has been called "one of the best minds in marketing" by The Marketing Journal, a "Human Exclamation Point" by Fast Company, a "quasar" by NBA legend Bill Walton and "off-putting to some" by The Economist.
In addition, he served as a chief marketing officer of software juggernaut Mercury Interactive. Hewlett-Packard acquired the company in 2006, for $4.5 billion.
He also co-founded the marketing consulting firm LOCHHEAD; the founding CMO of Internet consulting firm Scient, and served as head of marketing at the CRM software firm Vantive.
We hope you enjoyed this episode of Lochhead on Marketing™! Christopher loves hearing from his listeners. Feel free to email him, connect on Facebook, Twitter, Instagram, and subscribe on Apple Podcast! You may also subscribe to his newsletter, The Difference, for some amazing content.