051 Questions and Cocktails: FB Live Q & A (Part 3) | Marketing PodStorm 13
Friday 1st December 2023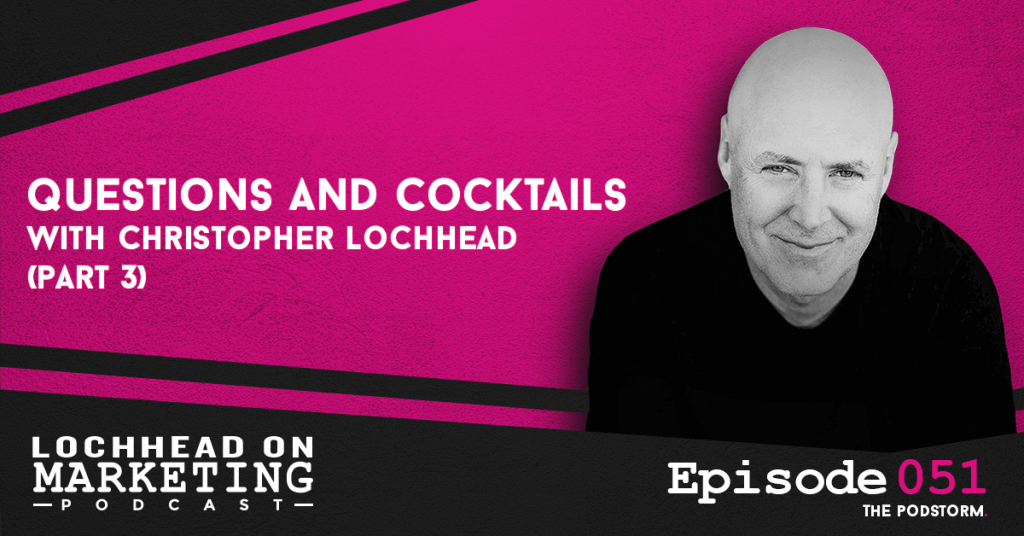 Podcast (lochheadonmarketing): Play in new window | Download (Duration: 22:59 — 15.8MB) | Embed
Subscribe: Apple Podcasts | Google Podcasts | Spotify | RSS | More
During the PodStorm, we're doing a live Facebook Question and Answer session, every Friday, 11:30 a.m. PST. We did our first and second one last week. We're going to share with you our third one in this episode. Today, podcast living legend Jason DeFillippo of Grumpy Old Geeks joins us to answer some questions about podcasting, creativity and a whole lot more!
Podcasting at home
Christopher, together with Jason, answers a question posted in Follow Your Different Facebook Group asking if "this is the right time to go podcasting." Both went into an interesting discussion about content creators levelling up the playing field and why there is no other time than now to start your own podcast.
Internet-produced podcasts sound way better now than studio-produced because of readily available internet solutions and movie-grade software, such as Squadcast.fm.
"We've got a little more experienced than they do. I mean, they're used to their million-dollar studios, we're used to a laptop and some software and flying by the seat of our pants. We got to make it sound good. Once you take away their studio, they just don't know what to do." – Jason DeFillippo
Should we start a podcast now?
Jason shares the only reason not to start a podcast is because microphones are unavailable. There is no barrier to entry and he believes everybody is welcome to start one to get the industry booming.
"The more people that are podcasting, you know, a rising tide lifts all boats, because you're going to know people that have never listened to a podcast before which means that you are going to be out there beating the drum, teaching people how to listen." – Jason DeFillippo
Creativity: Nature vs. Nurture
Christopher answers the question about how to be creative under pressure. He had an interesting exchange of conversation with Jason since Jason believes creativity can be taught and there is a formula to follow while Christopher believes it is innate to someone.
"At least in my experience, particularly with marketing and category design, often the first idea is directly right and then you have to, sort of, water it." – Christopher Lochhead
To hear more about the Facebook Live Q&A with Christopher Lochhead, with Jason DeFillippo, download and listen to this episode.
Bio:
Christopher Lochhead is a #1 Apple podcaster and #1 Amazon bestselling co-author of books: Niche Down and Play Bigger.
He has been an advisor to over 50 venture-backed startups; a former three-time Silicon Valley public company CMO and an entrepreneur.
Furthermore, he has been called "one of the best minds in marketing" by The Marketing Journal, a "Human Exclamation Point" by Fast Company, a "quasar" by NBA legend Bill Walton and "off-putting to some" by The Economist.
In addition, he served as a chief marketing officer of software juggernaut Mercury Interactive. Hewlett-Packard acquired the company in 2006, for $4.5 billion.
He also co-founded the marketing consulting firm LOCHHEAD; was the founding CMO of Internet consulting firm Scient, and served as head of marketing at the CRM software firm Vantive.
We hope you enjoyed this episode of Lochhead on Marketing™! Christopher loves hearing from his listeners. Feel free to email him, connect on Facebook, Twitter, Instagram, and subscribe on iTunes! You may also subscribe to his newsletter, The Difference, for some amazing content.