067 Peanut Butter & Lightning Sandwich A New Model For Marketing Execution | Marketing PodStorm #29
Monday 25th September 2023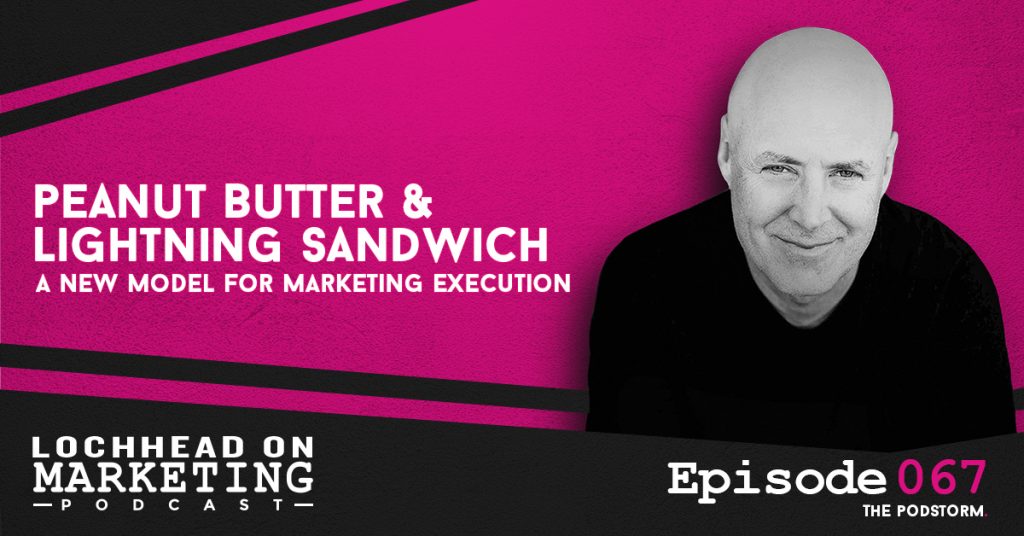 Podcast (lochheadonmarketing): Play in new window | Download (Duration: 14:45 — 10.1MB) | Embed
Subscribe: Apple Podcasts | Google Podcasts | Spotify | Stitcher | RSS | More
We get a shit ton of marketing messages a day. Some experts say we get 40 to 60,000 messages a day if you include everything — from banners on the internet emails, logos on coffee cups, t-shirts, you name it.
Today, let's talk about the typical marketing execution. It's predicated on a model called reaching frequency. It's a very old idea that states the more people see our brand, hears our message, hears our point of view, the better. Let's find out what peanut butter and lightning sandwich is and why that's a new model for marketing execution.
Frequency and Reach
If you've ever been to Cuba, you'll realize how much we are bombarded with advertising in the Western world. In Cuba, there are no billboards, no giant signs, no logos in coffee cups. This only shows that frequency and reach are not applicable to everyone.
"You are either rising above the noise, or you're just part of the noise." – Christopher Lochhead
Lightning Strike
Christopher dedicated one episode of Lochhead on Marketing on Peanut Butter vs Lightning Strikes. Lightning strikes are a concentrated set of marketing activities in a very short period of time, against a very tightly defined audience or target market.
"I would rather dominate somebody's mind space for a day or two, then be mostly irrelevant most of the time." – Christopher Lochhead
Peanut Butter
Christopher notes the mistake he sees in virtually every marketing plan and every marketing budget. A disproportionate amount of investment and effort is spread equally over time, over product lines, and so forth.
"You can't stand out if you do that. You're going to disappear the noise if all you do is reach and frequency inspired." – – Christopher Lochhead
To hear more about peanut butter and lightning sandwich as the new model for marketing execution, download and listen to this episode.
Bio:
Christopher Lochhead is a #1 Apple podcaster and #1 Amazon bestselling co-author of books: Niche Down and Play Bigger.
He has been an advisor to over 50 venture-backed startups; a former three-time Silicon Valley public company CMO and an entrepreneur.
Furthermore, he has been called "one of the best minds in marketing" by The Marketing Journal, a "Human Exclamation Point" by Fast Company, a "quasar" by NBA legend Bill Walton and "off-putting to some" by The Economist.
In addition, he served as a chief marketing officer of software juggernaut Mercury Interactive. Hewlett-Packard acquired the company in 2006, for $4.5 billion.
He also co-founded the marketing consulting firm LOCHHEAD; was the founding CMO of Internet consulting firm Scient, and served as head of marketing at the CRM software firm Vantive. яндекс
We hope you enjoyed this episode of Lochhead on Marketing™! Christopher loves hearing from his listeners. Feel free to email him, connect on Facebook, Twitter, Instagram, and subscribe on iTunes! You may also subscribe to his newsletter,The Difference, for some amazing content.