061 Market Categories Are Not Like The Weather | Marketing PodStorm 23
Monday 25th September 2023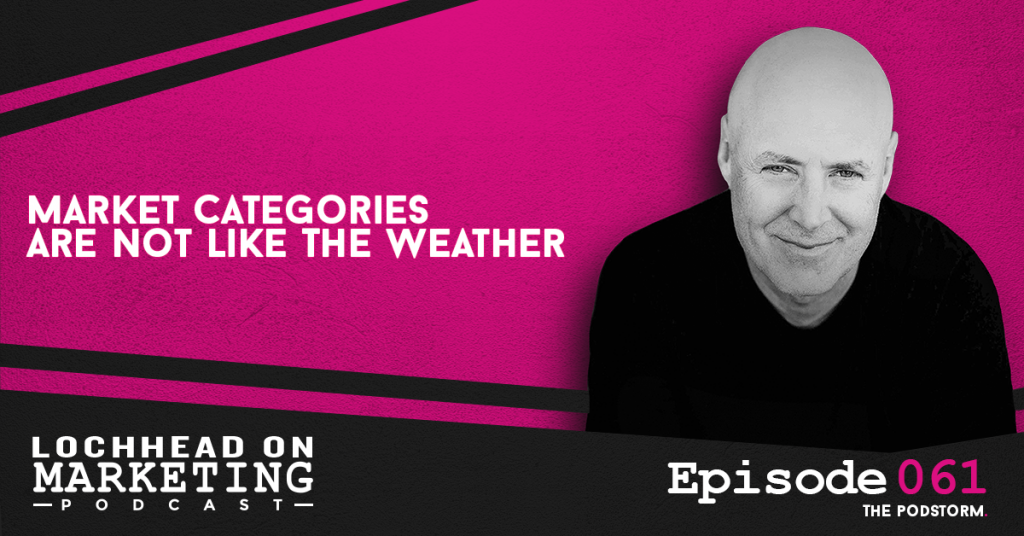 Podcast (lochheadonmarketing): Play in new window | Download (Duration: 11:44 — 8.1MB) | Embed
Subscribe: Apple Podcasts | Google Podcasts | Spotify | Stitcher | RSS | More
Have you ever noticed how people talk about market categories? People involved with the business perpetuate one of the biggest lies in business. As published in a lot of major publications, these "business writers" say market categories are like the weather, we cannot control it.
Today, we will dig into why Christopher thinks its a lie standing in plain sight. We're going to talk about how we can actually design market categories and not be the victim of them.
This Kind of Paradigm
Christopher cites several examples stating that market categories are not like the weather.
Here's a WSJ story about IBM from Oct 2019: "IBM's overall revenue still slipped by 4% to $18.03 billion in the quarter, coming in below Wall Street's estimates and led mainly by the slowdown in global technology services."
"You and I can't do shit about the weather but we can, in this case, the global technology services market category." – Christopher Lochhead
Here is Why it's Bullshit
There was zero demand for bubble gum until Walter Diemer created both the product and the category in 1928. Today, bubble gum is a $28.9 Billion category.
Another example is the e-sports category. Statista.com cites "in 2018, the global eSports market was nearly 865 million U.S. dollars and will reach 1.79 billion U.S. dollars in 2022. Andy Stout suggests that 106 million people viewed the 2017 Worlds Esports competition eSports scholarships grew an astonishing 480% in 2018. The final prize pool for 2016 League of Legends World Championship, was $6.7 million.
Before Marc Benioff, founder of Salesforce, there was no cloud. In 2019 it was a $266.0 billion category and it's growing at 15%. Market categories are not the weather. Every category exists because someone designed it.
What's The Point
Christopher could give you a million examples. We are living in a cocoon time and somebody is designing or redesigning the future of your market category. The question for you is, is it you?
"Our businesses are not victims, we are not victims of the market. We have the ability to affect how the market categories behave. Legends, by definition, do not accept the way it is." – Christopher Lochhead
To know more about why market categories are not like the weather, download and listen to this episode.
Bio:
Christopher Lochhead is a #1 Apple podcaster and #1 Amazon bestselling co-author of books: Niche Down and Play Bigger.
He has been an advisor to over 50 venture-backed startups; a former three-time Silicon Valley public company CMO and an entrepreneur.
Furthermore, he has been called "one of the best minds in marketing" by The Marketing Journal, a "Human Exclamation Point" by Fast Company, a "quasar" by NBA legend Bill Walton and "off-putting to some" by The Economist.
In addition, he served as a chief marketing officer of software juggernaut Mercury Interactive. Hewlett-Packard acquired the company in 2006, for $4.5 billion.
He also co-founded the marketing consulting firm LOCHHEAD; was the founding CMO of Internet consulting firm Scient, and served as head of marketing at the CRM software firm Vantive.
We hope you enjoyed this episode of Lochhead on Marketing™! Christopher loves hearing from his listeners. Feel free to email him, connect on Facebook, Twitter, Instagram, and subscribe on iTunes! You may also subscribe to his newsletter, The Difference, for some amazing content.