021 Is Your Brand Blue?
Monday 20th November 2023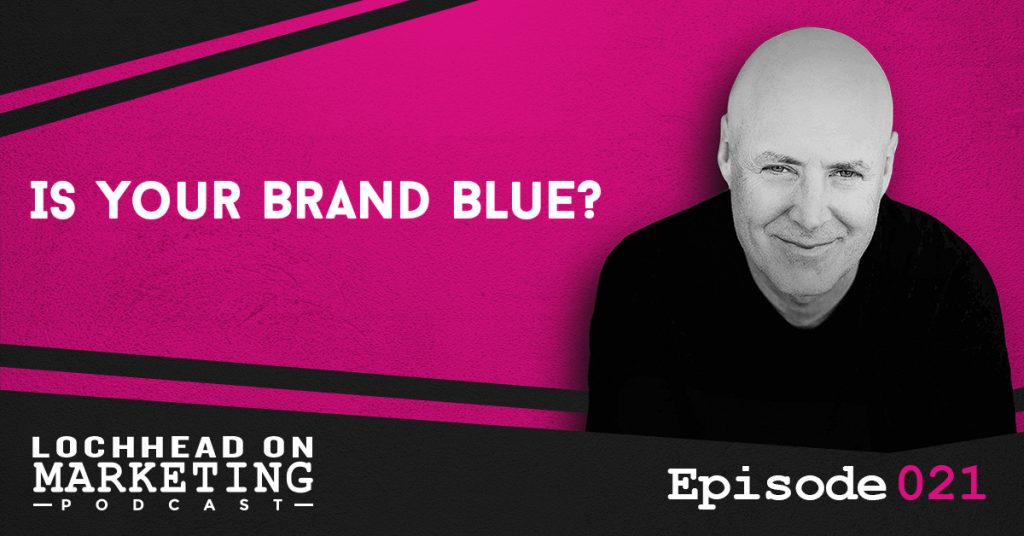 Podcast (lochheadonmarketing): Play in new window | Download (Duration: 11:05 — 10.2MB) | Embed
Subscribe: Apple Podcasts | Google Podcasts | Spotify | RSS | More
In today's episode, Christopher Lochhead dives down deep into the power of colors and how it affects your brand marketing. In a world where almost all brands are Blue (and some are red), how do you make your brand different and stand out?
What's With Color Blue?
Christopher recently represented a tech company with a stand-out logo, it's color pink and orange. According to this company, 70% of B2B company logos are blue.
Christopher researched this claim and indeed found out, 33% of the world's top brands companies are blue. Some 29% are red, 28% are black or grey and 13% are yellow or gold.
"A big part of doing legendary marketing is standing out, being different, being unique. Then for the most part, if you're gonna be blue, you're not going to stand out and frankly if you're gonna be red, you're probably not gonna stand out, too." – Christopher Lochhead
Colors and Lack Thereof
One of the guests of Follow Your Different David Rendall, Ph.D., author of Freak Factor, is one unique example. He embraced the color pink. In fact, he wears pink shirts, pink suits and even his eyeglass frames are pink.
As a public speaker, he wears pink not only to stand out but to send a message to the world that its okay to express oneself and let go of what others might think of you. Another example is Max Temkin, the creator of Cards Against Humanity. He shared that he has no eye for color so he just went with black and white, with a distinct font.
"If you think about brands how many brands do you know that actually are strategic in their use of color?" – Christopher Lochhead
An Underexploited Opportunity
Legendary companies and legendary brands stand out because they are different. Color is an underexploited opportunity to stand out. Christopher encourages marketers and designers to think strategically about color.
"If you are involved with the re-brand or brand launch, I would encourage you to take a look at all of the brands in your near-space categories and hold it against the wall and look at what they look like [against your brand]" – Christopher Lochhead.
Christopher further asks, "how can you use color as part of your brand, as part of your logo to stand out? Ultimately, he asks what color or colors can you own? This is a great opportunity to gain a strategic advantage over the competition.
Bio:
Christopher Lochhead is a Top 25 podcaster and #1 Amazon bestselling co-author of books: Niche Down and Play Bigger.
He has been an advisor to over 50 venture-backed startups; a former three-time Silicon Valley public company CMO and an entrepreneur.
Furthermore, he has been called "one of the best minds in marketing" by The Marketing Journal, a "Human Exclamation Point" by Fast Company, a "quasar" by NBA legend Bill Walton and "off-putting to some" by The Economist.
In addition, he served as a chief marketing officer of software juggernaut Mercury Interactive. Hewlett-Packard acquired the company in 2006, for $4.5 billion.
He also co-founded the marketing consulting firm LOCHHEAD; was the founding CMO of Internet consulting firm Scient, and served as head of marketing at the CRM software firm Vantive.
Links:
Follow Your Different – Max Temkin
Follow Your Different – David Rendall
We hope you enjoyed this episode of Lochhead on Marketing™! Christopher loves hearing from his listeners. Feel free to email him, connect on Facebook, Twitter, Instagram and subscribe on iTunes! You may also subscribe to his newsletter, The Difference, for some amazing content.