105 The Freak Factor w/ David Rendall
Wednesday 20th September 2023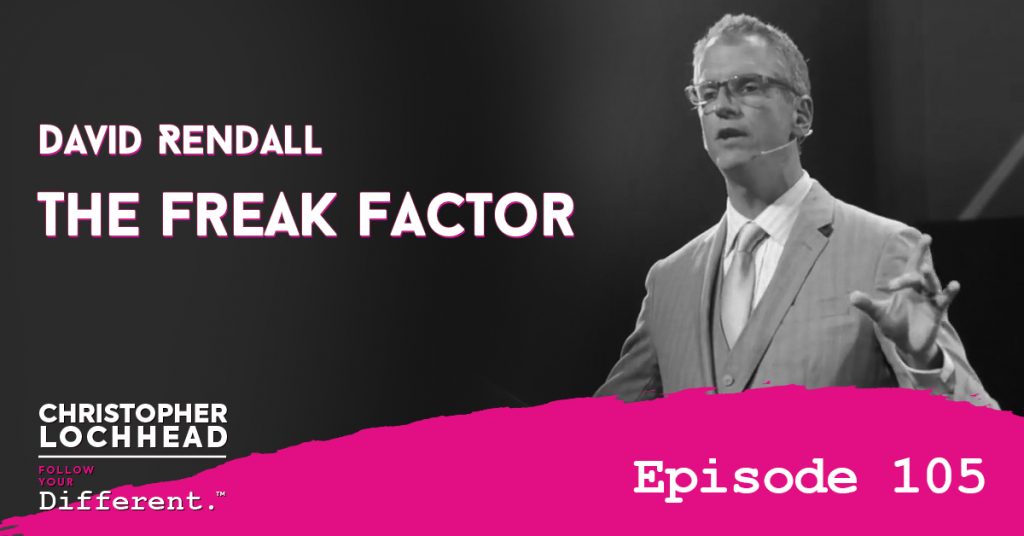 Podcast: Play in new window | Download (Duration: 1:22:41 — 76.0MB) | Embed
Subscribe: Apple Podcasts | Google Podcasts | Spotify | Pandora | Stitcher | RSS | More
Today's guest is David Rendall—a standup comedian, with a doctorate in organizational leadership and author of The Freak Factor—gives us a run-down on self-acceptance which benefits our personal and business life. He talks about how our weaknesses can become strengths and why finding people who are weird like you is a good thing.
The Good and the Bad
Twiggy. Stickman. Ladder. These are some of the nicknames of David Rendall during his younger years. He was unusually skinny when he was young and was working odd jobs, something that most people of his age would not even bother to try. However, David turned his life around and embraced his inner freak.
The word freak usually has dual meanings. If people dub someone as a control freak or a neat freak, it usually means they are overdoing it and they need to tone it down. On the other hand, being called a freak in a sporting context means you have outside of ordinary skills.
"Freak is often a term we use for criticism but its also a term we use positively. I want both of those associations. I want it to remind people of something negative and positive at the same time." – David Rendall
Embracing The Freak in You
David encourages people to be different in a very specific way. People should be willing to be themselves and to disregard the idea that they need to hide their weaknesses. Most of the time, people suppress who they are because of the pressures from their parents, teachers, employers, friends, and society.
"I'm trying to get people to see themselves differently and finding their strength in spite of that weakness and be willing to amplify and embrace those parts of themselves." – David Rendall
Oftentimes, David says that people sacrifice uniqueness for acceptance. In his book, he discusses the importance of affiliation. He defines it as finding other people who are a freak in their own ways.
"Partner with people who are strong where you are weak. Look for the people who are different from you, but the other side of that is, finding the right spot and finding the right people." – David Rendall
Be Weird and Different.
As he encourages people to find others who are also weird, he reminds people to not expect acceptance, love, and connection from everyone. He advises people not to force themselves everywhere, instead, to find people who will accept them as they are.
"You're not gonna win everybody over. Ultimately it's about finding people like youfor the weird person that you are, instead of 'they'll like you once you've changed.'" – David Rendall
He also shares the reason why people get stuck hiding who they are: because they thought people around them know better than them. These people—parents, teachers, employers—are often bound by rules of success and they thought imposing these will also ensure success.
To hear more about The Freak Factor, and more information about David, download and listen to the episode.
Bio:
David Rendall. Randall. Randell. Rendell. Reynolds. Whatever.
No one knows how to pronounce his last name.
David's mission in life is to be hilarious and helpful.
He's a standup comedian with a doctorate in management.
A class clown turned leadership professor, he went from disrupting classes to teaching classes to disrupting companies and conferences from Portland to Paris to Pakistan.
After being criticized and punished his whole life for being hyperactive, he now channels his frantic energy to compete in Ironman triathlons and ultramarathons.
He wears more pink than the average middle-aged man. Well, actually, he wears more pink than an eight-year-old princess.
As a nonprofit executive, he built businesses to employ people with disabilities.
During the last fifteen years, David Rendall has spoken to audiences on every inhabited continent.
His clients include the US Air Force, Australian Government, and Fortune 50 companies such as Microsoft, AT&T, United Health Group, Fannie Mae, and State Farm.
In addition to his doctorate in organizational leadership, David has a graduate degree in psychology.
He is the author of four books: The Four Factors of Effective Leadership, The Freak Factor, The Freak Factor for Kids and
• Pink Goldfish
Links:
Freak Factor: Discovering Uniqueness by Flaunting Weakness
We hope you enjoyed this episode of Follow Your Different™! Christopher loves hearing from his listeners. Feel free to email him, connect on Facebook, Twitter, Instagram and subscribe on iTunes!