095 How To Secure Your Financial Future
Wednesday 24th February 2021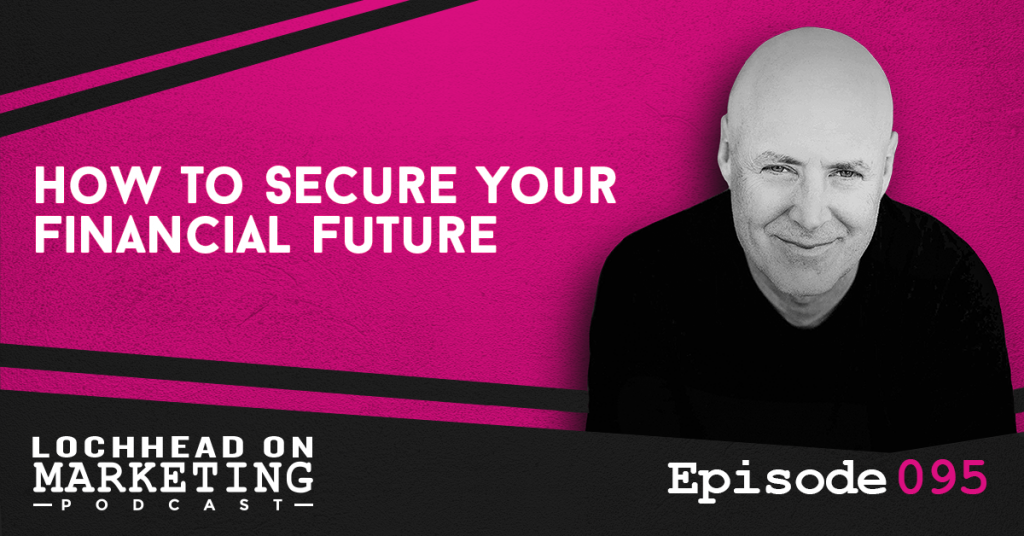 Podcast (lochheadonmarketing): Play in new window | Download (Duration: 18:53 — 13.0MB) | Embed
Subscribe: Apple Podcasts | Google Podcasts | Spotify | Stitcher | RSS | More
In 2019, CNBC reported that 27% of Americans "would have to borrow or sell something to pay for a $400 emergency. Further, Nation.com reports in 2018, 4% of American adults reported not having enough food and by July of 2020, that figure had exploded to 11% and they say it will probably continue to increase as the pandemic worsens.
Most recently, Pew Research finds that one in four American adults have had trouble paying their bills since the coronavirus outbreak started. So the reality is, this pandemic has exposed how financially vulnerable many of us are.
So in this episode, let's talk about your career and how you can become financially free.
You Can Turn Your Situation Around
Christopher has his fair share of financial struggles growing up. He was raised in a single-parent household and experienced business failure in his early 20s. It was the most challenging financial situation of his life, as he describes.
"The goal here is a very simple one to understand when your investment income pays your living expenses, you're financially free. That's a very powerful day in a person's life. So I want to share with you a few things I've learned along the way. It's also important to know I am in no way, shape or form a financial advisor accountant or anything of the, like. I'm just a guy that's learned a few things along the way, and I've been taught a few things by some legendary folks." – Christopher Lochhead
Build A Financial Egg Nest
Ultimately, the objective is to build a financial nest egg. The concept is over time, you convert getting paid for your time to getting paid from your investments. In simpler terms, you have to find a way to earn income while you are asleep. As Tim Rhode, founder of One Life Fully Lived, calls it, its horizontal income.
"In order to create a nest egg that starts producing horizontal income, you can, A. Lower your expenses or B. Increase your after-tax income. If you do both, then you'll have even more money to build your nest egg." – Christopher Lochhead
Don't Buy Shit You Can't Afford
Christopher shares his observation among the younger generation nowadays and gives a reminder, to not buy shit you can't afford. He also mentions listening to financial planning experts, as they say, credit card debt is a sure-fire way to keep yourself enslaved.
"Get out of credit card debt as quickly as you can. Don't buy shit you can't afford and, uh, and save up." – Christopher Lochhead
To know more how to secure your financial future, download and listen to this episode.
Bio:
Christopher Lochhead is a #1 Apple podcaster and #1 Amazon bestselling co-author of books: Niche Down and Play Bigger.
He has been an advisor to over 50 venture-backed startups; a former three-time Silicon Valley public company CMO and an entrepreneur.
Furthermore, he has been called "one of the best minds in marketing" by The Marketing Journal, a "Human Exclamation Point" by Fast Company, a "quasar" by NBA legend Bill Walton and "off-putting to some" by The Economist.
In addition, he served as a chief marketing officer of software juggernaut Mercury Interactive. Hewlett-Packard acquired the company in 2006, for $4.5 billion.
He also co-founded the marketing consulting firm LOCHHEAD; was the founding CMO of Internet consulting firm Scient, and served as head of marketing at the CRM software firm Vantive.
Links:
Covid-19 and the Nightmare of Food Insecurity
Economic Fallout From COVID-19 Continues To Hit Lower-Income Americans the Hardest
Tribe of Millionaires: What If One Choice Could Change Everything?
Wealth Can't Wait: Avoid the 7 Wealth Traps, Implement the 7 Business Pillars, and Complete a Life Audit Today!
The Wealthy Barber, Updated 3rd Edition: Everyone's Commonsense Guide to Becoming Financially Independent
Rich Dad Poor Dad: What the Rich Teach Their Kids About Money That the Poor and Middle Class Do Not!
We hope you enjoyed this episode of Lochhead on Marketing™! Christopher loves hearing from his listeners. Feel free to email him, connect on Facebook, Twitter, Instagram, and subscribe on Apple Podcast! You may also subscribe to his newsletter, The Difference, for some amazing content.