030 How To Make Marketing Decisions
Sunday 1st October 2023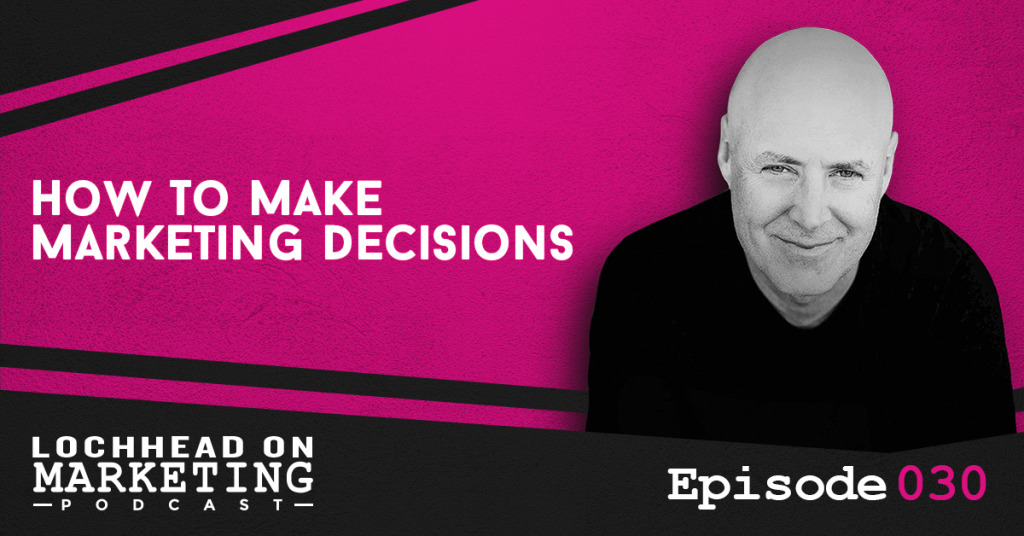 Podcast (lochheadonmarketing): Play in new window | Download (Duration: 7:21 — 10.1MB) | Embed
Subscribe: Apple Podcasts | Google Podcasts | Spotify | Stitcher | RSS | More
In this episode, let's talk about the strategic lens required to make marketing decisions.
Marketing Decisions
Marketers, over and over again, continue to make this big mistake: they come up with marketing decisions without having a discussion around its context. Context, in terms of the "lens" they will use to come up with the decision. 
"If you're a regular listener and if you know me, you know one of my favorite expressions is, thinking about thinking is the most important kind of thinking." – Christopher Lochhead
Overly Simplistic Lens
When people go and make a decision, they have an implied assumption that everyone on their team are on the same page. This holds true in different types of teams, whether its a department or a board room discussion. 
In marketing, in particular, people use different kinds of lenses. Christopher points out that most people, even seniors executives, board members or giant public companies, use an overly simplistic lens in making a decision.
"Do I like it or do I not like it? Essentially the same lens that they use for naming a cat." – Christopher Lochhead
Strategic Thinking
Christopher emphasizes that asking the questions whether you like something or not like something is just the same approach to naming a pet cat. This shouldn't be done, especially when we're talking about picking a category or designing a creative campaign or anything in between.
Hence, he is proposing the following lens when coming up with a marketing decision:
1) When you're looking at any kind of marketing strategy or execution, ask, is this legendary?
2) Does this, execution, strategy or campaign enable us to design and dominate our category?
3) Does this decision drive near both term and long term revenue and customer loyalty?
To hear more about how to make marketing decisions, download and listen to the episode.
Bio:
Christopher Lochhead is a #1 Apple podcaster and #1 Amazon bestselling co-author of books: Niche Down and Play Bigger.
He has been an advisor to over 50 venture-backed startups; a former three-time Silicon Valley public company CMO and an entrepreneur.
Furthermore, he has been called "one of the best minds in marketing" by The Marketing Journal, a "Human Exclamation Point" by Fast Company, a "quasar" by NBA legend Bill Walton and "off-putting to some" by The Economist.
In addition, he served as a chief marketing officer of software juggernaut Mercury Interactive. Hewlett-Packard acquired the company in 2006, for $4.5 billion.
He also co-founded the marketing consulting firm LOCHHEAD; was the founding CMO of Internet consulting firm Scient, and served as head of marketing at the CRM software firm Vantive.
We hope you enjoyed this episode of Lochhead on Marketing™! Christopher loves hearing from his listeners. Feel free to email him, connect on Facebook, Twitter, Instagram and subscribe on iTunes! You may also subscribe to his newsletter, The Difference, for some amazing content.