139 How To Inspire Legendary Marketing Work
Friday 1st December 2023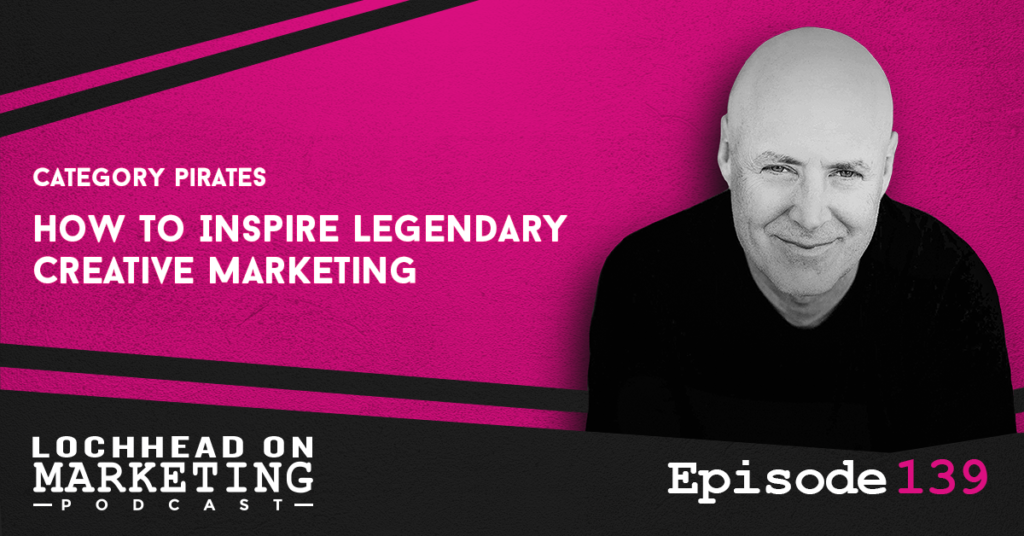 Podcast (lochheadonmarketing): Play in new window | Download (Duration: 11:22 — 7.8MB) | Embed
Subscribe: Apple Podcasts | Google Podcasts | Spotify | RSS | More
On this episode, let's talk about how to inspire legendary creative marketing people to do their legendary creative marketing work.
Welcome to Lochhead on Marketing. The number one charting marketing podcast for marketers, category designers, and entrepreneurs with a different mind.
Letting Legendary Creative Marketing People Do Legendary Creative Marketing Work
Years ago, I was the head of marketing for a red-hot internet company called Scient. We had engaged with a group of creative marketers, designers, and copywriters led by the legend himself, John Bielenberg.
At the beginning of the project, this is what I said to him:
"Look, I know you guys are standalone, in terms of the incredible legendary marketing creative you guys create. So what I'm asking you to do is go away, and design the most legendary piece of work you've ever done."
In this case, it was a brochure that will serve as "grenade": it was the kind of piece that when you got it, you knew you got it, and you never forgot getting it.
They did just that. So when they came back a week or two to present their work, I asked the question that I always ask, "Do you think what you're about to show us is legendary work?" John smiled and looked at me and said, "Yes, we do," and he showed us this most legendary brochure that he created.
Acknowledge Your Legendary Creative Marketing Team's Efforts
Another thing to address is to let your creatives know that you are aware that their best works don't usually see the light of day. This is either due to poor follow-through by the higher-ups, or poor feedback from people who weren't involved in the project, but higher up the food chain.
So acknowledge this and then tell them, that once they deliver a legendary creative marketing piece that will blow away everyone, you will fight tooth-and-nail for it to see the light of day.
Once they do so, remind them to remind you to not fuck it up.
The Takeaway
So what's the lesson here?
First, when you're talking to creative people about doing creative work, let them know that you want them to do their most legendary work. Feedback and instructions are good, but it's best to let their creative juices run wild.
Second, let them know that you also know that most of their most legendary work has never seen the light of day. This is because most of the companies they worked for or the clients that they had didn't have the courage to execute their legendary work. They didn't have the courage to say to them, once they presented truly legendary work, "Don't let us fuck this up."
Now, here's the other AHA about this. If you as a marketing leader/CEO/CMO get a reputation with the creative people in your company for A) inspiring it and asking them to do legendary work, and then B) with very few modifications, actually execute the legendary work, guess what happens the next time they have to do something creative. They know that you want their most legendary work. Also, they know that if they put the thinking and their heart and their soul and their blood, sweat, tears and whiskey into that work, that you are not going to be the leader who takes that legendary work and lets it get crushed and watered down so that it never sees the light of day.
And when legendary creative people know that you want them to do their legendary work and that you're actually going to implement it, guess what?
They're going to keep giving you legendary work.
Bio
Christopher Lochhead is a #1 Apple podcaster and #1 Amazon bestselling co-author of books: Niche Down and Play Bigger.
He has been an advisor to over 50 venture-backed startups; a former three-time Silicon Valley public company CMO and an entrepreneur.
Furthermore, he has been called "one of the best minds in marketing" by The Marketing Journal, a "Human Exclamation Point" by Fast Company, a "quasar" by NBA legend Bill Walton and "off-putting to some" by The Economist.
In addition, he served as a chief marketing officer of software juggernaut Mercury Interactive. Hewlett-Packard acquired the company in 2006, for $4.5 billion.
He also co-founded the marketing consulting firm LOCHHEAD; the founding CMO of Internet consulting firm Scient, and served as head of marketing at the CRM software firm Vantive.
We hope you enjoyed this episode of Lochhead on Marketing™! Christopher loves hearing from his listeners. Feel free to email him, connect on Facebook, Twitter, Instagram, and subscribe on Apple Podcast! You may also subscribe to his newsletter, The Difference, for some amazing content.