114 2 Legendary Questions (Part 1)
Monday 25th September 2023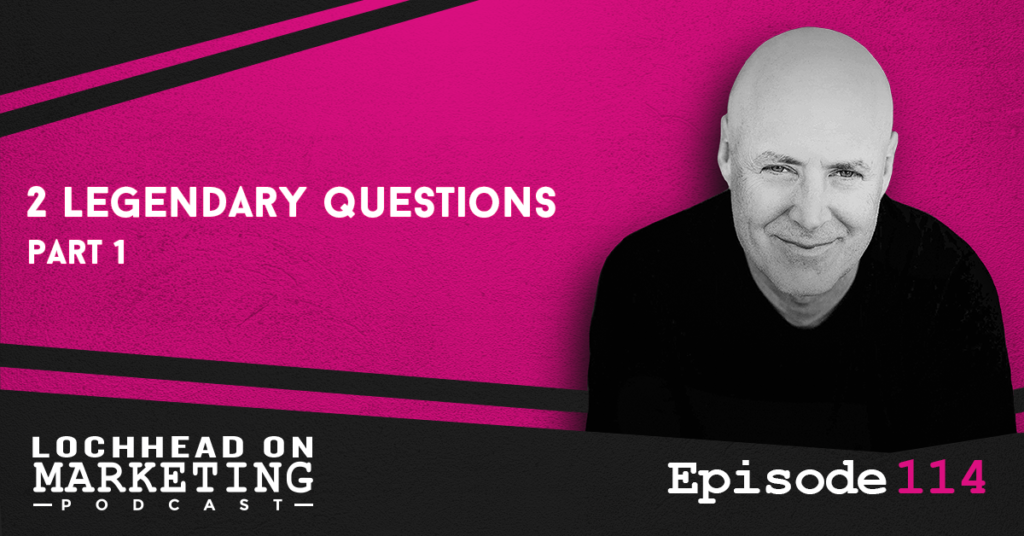 Podcast (lochheadonmarketing): Play in new window | Download (Duration: 10:32 — 7.2MB) | Embed
Subscribe: Apple Podcasts | Google Podcasts | Spotify | Stitcher | RSS | More
Welcome to a special two-part series of Lochhead on Marketing, where I answer two of the most important questions in my life and career. Are you curious as to what those questions are? Stay tuned to find out.
My Favorite Question to Ask
You need a bit of back story for the first question.
In 2006, I was the head of marketing for a software company called Mercury Interactive. By June of that year, we sold the company for Hewlett-Packard for 4.5 billion dollars, which was a sizeable amount back then.
So as part of the transition to HP, our team met with the team in charge of marketing for the announcement of the acquisition. The marketing strategy was being handled by a famous ad agency; one you'd probably recognize if I describe one of their projects.
After we made our introductions, the head of HP marketing asked me if I had any questions before they start with the presentation. So I asked them a question:
"Do you think what you are about to show us is legendary work?"
That question made them pause for a bit, and the head of said ad agency looked at the head of HP marketing and said, "Can we have two more days?"
Good on them for realizing that they could do better, but it would've been better if they gave it their 100% in the first place.
Setting the Bar High
So one of my favorite questions to ask at the beginning of any meeting where somebody is about to show you something. On this case, it was ad creative, but it could be anything. It could be a product prototype, a marketing plan, or a category design. It could even be the justification for why we should buy Company X.
Whatever the thing is that they're about to present, my favorite question to ask before that is, do you think this work? That is to say, the work they're about to show is legendary.
What I learned over time is if you want to set a high bar for excellence in your organization, it's interesting to find out where other people's bar for excellence is. Because if they don't bother to show you their best or legendary self, then why would you want to see it?
Now, it's a different situation when you have something that is a work in progress, and need help in making it legendary. In which case, I ask this question instead: "Do you think we're off to a legendary start?"
Though if you are presenting something that you think is final or close to the final work, you'll always get the same question from me:
"Do you think this is legendary work?"
If you want to learn more about my two legendary questions, listen to this episode and check out part two coming soon!
Bio
Christopher Lochhead is a #1 Apple podcaster and #1 Amazon bestselling co-author of books: Niche Down and Play Bigger.
He has been an advisor to over 50 venture-backed startups; a former three-time Silicon Valley public company CMO and an entrepreneur.
Furthermore, he has been called "one of the best minds in marketing" by The Marketing Journal, a "Human Exclamation Point" by Fast Company, a "quasar" by NBA legend Bill Walton and "off-putting to some" by The Economist.
In addition, he served as a chief marketing officer of software juggernaut Mercury Interactive. Hewlett-Packard acquired the company in 2006, for $4.5 billion.
He also co-founded the marketing consulting firm LOCHHEAD; the founding CMO of Internet consulting firm Scient, and served as head of marketing at the CRM software firm Vantive.
We hope you enjoyed this episode of Lochhead on Marketing™! Christopher loves hearing from his listeners. Feel free to email him, connect on Facebook, Twitter, Instagram, and subscribe on Apple Podcast! You may also subscribe to his newsletter, The Difference, for some amazing content.