156 How to Drive B2B Revenue Now with White Space Marketing
Monday 25th September 2023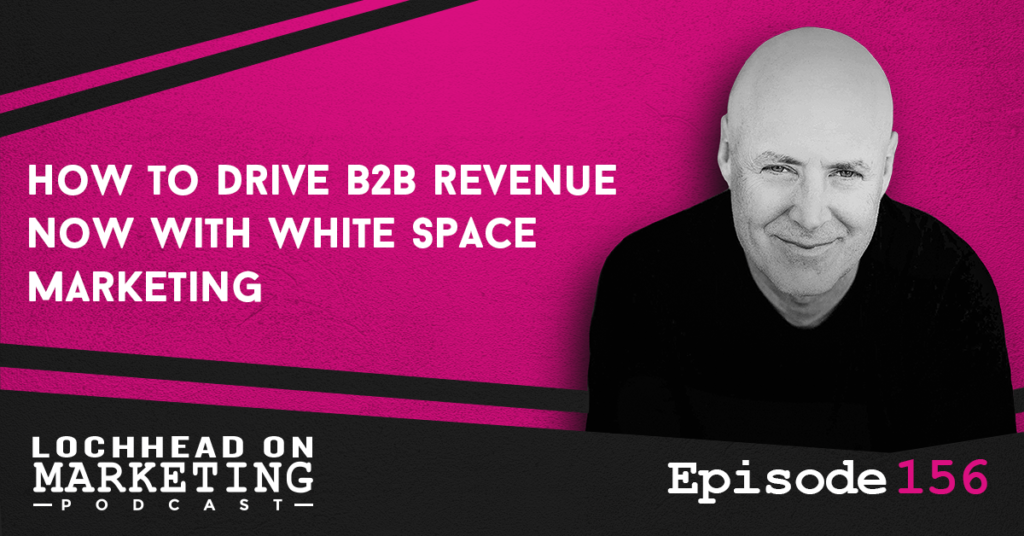 Podcast (lochheadonmarketing): Play in new window | Download (Duration: 12:30 — 8.6MB) | Embed
Subscribe: Apple Podcasts | Google Podcasts | Spotify | Stitcher | RSS | More
On this episode of Lochhead on Marketing, let's talk about how marketing can drive revenue with White Space Analysis.
We talked about how to drive short-term revenue via category design a few episodes ago (LOM 151). Today, we provide you with more options to make that cash register sing as soon as possible.
Welcome to Lochhead on Marketing. The number one charting marketing podcast for marketers, category designers, and entrepreneurs with a different mind.
White Space Analysis & White Space Marketing
Let's talk about White Space Analysis and White Space Marketing. Essentially, it is doing data science analysis on consumers and the product they purchased. From there, you can see what products or services they have not purchased, which is the "white space", so to speak.
Now that you know this information, you can then focus on existing customers that have purchased some of your products, and target them with marketing for your products and services that they have not availed of yet.
This drives revenue quickly for your company, as you provide consumers with a "need" for something they don't have yet.
How Mercury utilized White Space Marketing
Back in my CMO days in Mercury, we had a team led by one of the most legendary executives in the industry, Sue Barsamian. Sue got quite complicated with White Space Analysis; she was able to utilize it in real-time during one of the Big Customer User Conferences.
The team got the data on their big customers and found the products they do not use that go well with the ones they have purchased before from the company. Then, they made sure that the salespeople on the floor have this information, and subtly drove customers to product showcases and panels for the products they do not have.
They made sure to precisely market into that customer's white space, thereby saving time and effort, while having a higher chance of a purchase afterward.
The fastest way to earn revenue
One could argue that doing White Space Marketing is the fastest way to earn revenue, as you are already marketing to existing customers. As we know, if they bought from us once, the likelihood they're gonna buy from us again is very, very high.
So it's surprising that a lot of companies don't employ this strategy, opting to do spray-and-pray tactics rather than doing White Space Analysis and focusing their marketing there.
Once you have this information with you, your company can do a lot of things to funnel revenue and market share to your business.
To hear more about White Space Marketing, download and listen to this episode.
Bio
Christopher Lochhead is a #1 Apple podcaster and #1 Amazon bestselling co-author of books: Niche Down and Play Bigger.
He has been an advisor to over 50 venture-backed startups; a former three-time Silicon Valley public company CMO and an entrepreneur.
Furthermore, he has been called "one of the best minds in marketing" by The Marketing Journal, a "Human Exclamation Point" by Fast Company, a "quasar" by NBA legend Bill Walton and "off-putting to some" by The Economist.
In addition, he served as a chief marketing officer of software juggernaut Mercury Interactive. Hewlett-Packard acquired the company in 2006, for $4.5 billion.
He also co-founded the marketing consulting firm LOCHHEAD; the founding CMO of Internet consulting firm Scient, and served as head of marketing at the CRM software firm Vantive.
We hope you enjoyed this episode of Lochhead on Marketing™! Christopher loves hearing from his listeners. Feel free to email him, connect on Facebook, Twitter, Instagram, and subscribe on iTunes!