110 Category Creation: How To Dam The Demand
Monday 25th September 2023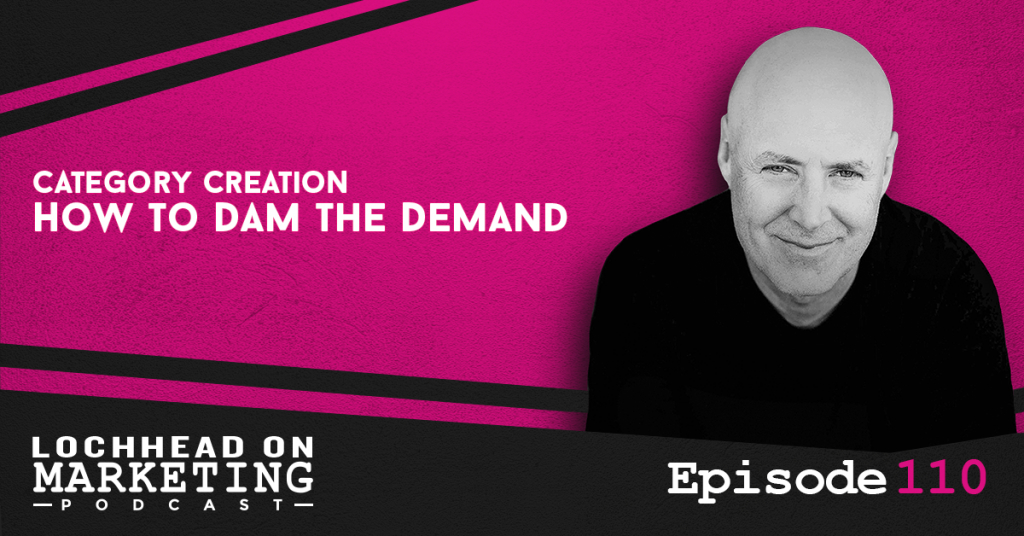 Podcast (lochheadonmarketing): Play in new window | Download (Duration: 11:42 — 8.0MB) | Embed
Subscribe: Apple Podcasts | Google Podcasts | Spotify | Stitcher | RSS | More
With Category Design or Category Creation strategy, we often talk about the distinction between capturing existing demand, and creating new demand.
In this episode of Lochhead on Marketing, let's talk about an in-between strategy that category designers use as a powerful tool in creating demand. That is to dam existing demand and redirect it in their own way, like the way a dam redirects water.
Damming the Demand
Marc Benioff, found of Salesforce.com, used this approach when marketing his new category. Bear in mind that when he launched Salesforce Automation as a CRM, CRM was already an established category. What made Benioff legendary is how he redirected the CRM traffic to Salesforce.
All it took was an idea: Sure, you want CRM, but you don't want one that's only available on-premise. Cloud CRM is where it's at.
By adding a modifier to CRM, he dammed the demand for the old category and redirected it to his own. He's creating a difference that did not exist in the minds of the market. Most importantly, he creates a new choice for them.
Expanding Your Reach
Much like Salesforce, Peloton did the exact same thing and ran away with it. They offered an alternative to boutique fitness in the form of home fitness. Yet again, it's a choice that the market did not anticipate would have a demand. Peloton harnessed that demand and redirected it to their new category.
From there, they expanded it from Spin classes to treads. Eventually, they added home classes for Yoga, Pilates, and other activities usually reserved for group boutique fitness.
The use of the term Home Fitness created a demand that wasn't there before. It's like creating the void yourself and filling it up with your own category creation.
Tried and Tested in Category Creation
It turns out damming demand has been around for a long time. Henry Ford did the same thing with his new category back then. He dammed the demand for a horse and buggy with his new category name.
His new innovative category? It was the horseless carriage.
The same could be said for Marty Cooper and his wireless phone, which lead to the mobile phone category.
"Sometimes, new categories are named by what they are not. And when a category is named by what it is not, the category designer is purposely trying to dam demand." – Christopher Lochhead
While Microsoft did not follow this model, they nonetheless created a new demand from existing categories. They did so by combining their word processor, presentation, and spreadsheet application into a bigger category that is Microsoft Office. Now, you don't have to buy each software separately, and most consumers expect other companies that offer the same services to also have everything in one whole bundle.
So when you're designing a new category, ask yourself: Where is existing demand that we can dam to drive revenue in the near term? Afterwards, how do we leverage the demand in the existing category to expand the demand of our own category design?
Bio
Christopher Lochhead is a #1 Apple podcaster and #1 Amazon bestselling co-author of books: Niche Down and Play Bigger.
He has been an advisor to over 50 venture-backed startups; a former three-time Silicon Valley public company CMO and an entrepreneur.
Furthermore, he has been called "one of the best minds in marketing" by The Marketing Journal, a "Human Exclamation Point" by Fast Company, a "quasar" by NBA legend Bill Walton and "off-putting to some" by The Economist.
In addition, he served as a chief marketing officer of software juggernaut Mercury Interactive. Hewlett-Packard acquired the company in 2006, for $4.5 billion.
He also co-founded the marketing consulting firm LOCHHEAD; the founding CMO of Internet consulting firm Scient, and served as head of marketing at the CRM software firm Vantive.
We hope you enjoyed this episode of Lochhead on Marketing™! Christopher loves hearing from his listeners. Feel free to email him, connect on Facebook, Twitter, Instagram, and subscribe on Apple Podcast! You may also subscribe to his newsletter, The Difference, for some amazing content.