062 How to be a Category Designer | Marketing PodStorm 24
Sunday 1st October 2023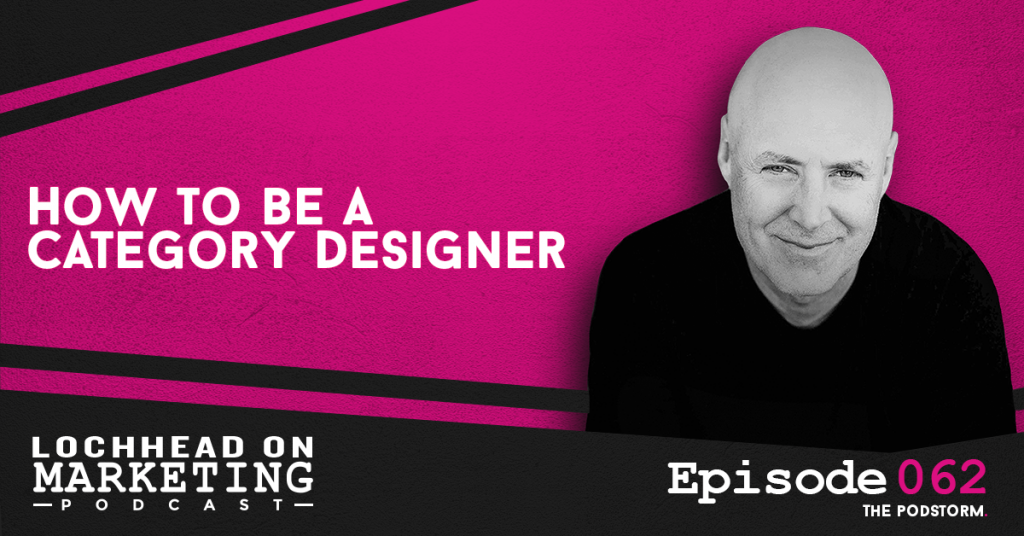 Podcast (lochheadonmarketing): Play in new window | Download (Duration: 16:21 — 11.2MB) | Embed
Subscribe: Apple Podcasts | Google Podcasts | Spotify | Stitcher | RSS | More
In this episode, an incredibly important topic, we discuss how to be a category designer. Moreover, we dig into how to become the person that drives a new strategy for your company and introduces the world to something new, something different, something that makes a giant difference.
Category Design: A Discipline
Christopher narrates a portion of the book Play Bigger which states: "Category design is the discipline of creating and developing a new market category and conditioning the market so it will demand your solution and crown your company as its King."
"A category designer leads a company-wide strategy with the goal of becoming a category Queen of high value, high growth market category of your choosing." – Christopher Lochhead
In the same book, Christopher and his co-authors did research and found out that in the tech space, one company takes two-thirds of the economics. As more and more companies behave like tech companies, more and more companies are taking two-thirds of the market.
Category Design: All-Encompassing
Category design is a discipline and for many a career. Christopher has mastered this discipline and has become a huge differentiator for his career as a 3x CMO and as an advisor.
"A category designer brings together all the critical functions in a business — the key strategic activities across your company, aligning sales, marketing, product development/engineering, and even HR — with the single focus of becoming a category queen." – Christopher Lochhead
Category Design: The Drivers of Change
Category design is a collaborative effort between the CEO and all other Chief Officers of the company. Christopher digs deep into the process and how to go about designing your category.
"Now, category designers bring together the whole business. They help create a blueprint, a visual representation that generates a belief that you have a solution to an urgent problem. So they build this blueprint. They are the creators, and at least co-authors, if not primary authors of the provocative and engaging POV point of view that you're now going to evangelize." – Christopher Lochhead
To know more about becoming a category designer, download and listen to this episode.
Bio:
Christopher Lochhead is a #1 Apple podcaster and #1 Amazon bestselling co-author of books: Niche Down and Play Bigger.
He has been an advisor to over 50 venture-backed startups; a former three-time Silicon Valley public company CMO and an entrepreneur.
Furthermore, he has been called "one of the best minds in marketing" by The Marketing Journal, a "Human Exclamation Point" by Fast Company, a "quasar" by NBA legend Bill Walton and "off-putting to some" by The Economist.
In addition, he served as a chief marketing officer of software juggernaut Mercury Interactive. Hewlett-Packard acquired the company in 2006, for $4.5 billion.
He also co-founded the marketing consulting firm LOCHHEAD; was the founding CMO of Internet consulting firm Scient, and served as head of marketing at the CRM software firm Vantive.
We hope you enjoyed this episode of Lochhead on Marketing™! Christopher loves hearing from his listeners. Feel free to email him, connect on Facebook, Twitter, Instagram, and subscribe on iTunes! You may also subscribe to his newsletter, The Difference, for some amazing content.