076 Fighter or Farmer Chief Marketing Officer
Wednesday 6th December 2023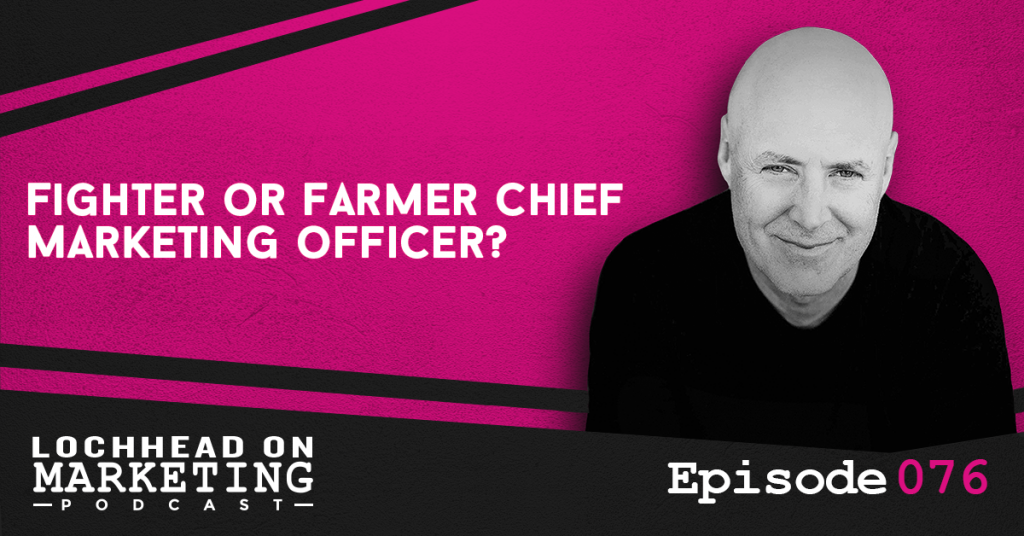 Podcast (lochheadonmarketing): Play in new window | Download (Duration: 10:52 — 7.5MB) | Embed
Subscribe: Apple Podcasts | Google Podcasts | Spotify | RSS | More
In today's episode, Christopher Lochhead's answer addresses a listener question, "what kind of CMO should we hire?" He further discusses what's the difference between a fighter and a farmer CMO and what you, as a marketer, should keep in mind when you plan to pursue this role.
Get Clear On What You Want
Christopher discusses two things: first, identify the background of the CMO. This is highly specific based on the company and the current stage of the company and its category. Secondly, Christopher points out that it's very important that the CMO knows who he is, his strengths and weaknesses, and his specific legendary trait.
"What am I legendary at? What am I not? How do I build a team based on that, that multiplies or amplifies where I'm strong and that compensates for my weaknesses?" – Christopher Lochhead
A Fighter Or A Farmer CMO
If you have identified where your company stands, that is the best indicator of whether you should hire a fighter or a farmer CMO. Chris gives a specific discussion on the difference between a fighter and a farmer CMO in this episode.
"What are the skill sets that you think are critical? That's important, but it's not maybe as important as a lot of people think. Second, are they self-actualized? Self-aware enough to know where they're truly strong and truly weak? Do they have the capability to build a team around their strengths and weaknesses? And probably most importantly, are they a fighter, or a farmer?" – Christopher Lochhead
Advice For Marketers
Chris shares that if you're a CMO yourself, it is critical for you to figure out how to be self-actualized. It is important to realize, are you more of a farmer? Or are you more of a fighter?
"As a marketer, I think you'd have to decide 'who am I,' and again, I don't think there's a right answer, but I think you should know. The worst thing you can do as a CMO, or a wannabe CMO is go take a farmer job in a place that requires a fighter or vice versa." – Christopher Lochhead
To know more about what is a fighter or a farmer CMO, download and listen to this episode.
Bio:
Christopher Lochhead is a #1 Apple podcaster and #1 Amazon bestselling co-author of books: Niche Down and Play Bigger.
He has been an advisor to over 50 venture-backed startups; a former three-time Silicon Valley public company CMO and an entrepreneur.
Furthermore, he has been called "one of the best minds in marketing" by The Marketing Journal, a "Human Exclamation Point" by Fast Company, a "quasar" by NBA legend Bill Walton and "off-putting to some" by The Economist.
In addition, he served as a chief marketing officer of software juggernaut Mercury Interactive. Hewlett-Packard acquired the company in 2006, for $4.5 billion.
He also co-founded the marketing consulting firm LOCHHEAD; was the founding CMO of Internet consulting firm Scient, and served as head of marketing at the CRM software firm Vantive.
We hope you enjoyed this episode of Lochhead on Marketing™! Christopher loves hearing from his listeners. Feel free to email him, connect on Facebook, Twitter, Instagram, and subscribe on iTunes! You may also subscribe to his newsletter, The Difference, for some amazing content.