049 Do A Marketing Stunt | Marketing PodStorm #11
Wednesday 20th September 2023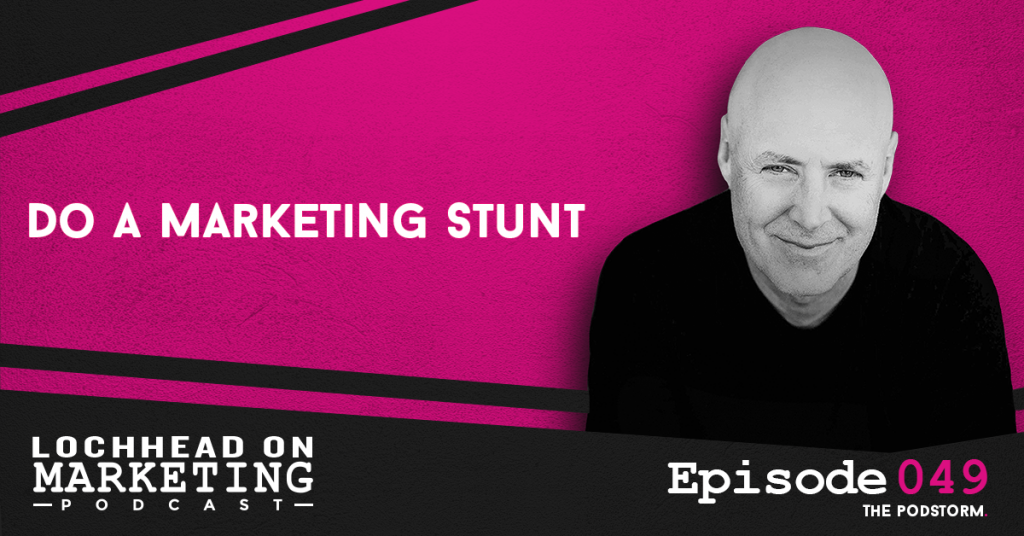 Podcast (lochheadonmarketing): Play in new window | Download (Duration: 8:23 — 5.8MB) | Embed
Subscribe: Apple Podcasts | Google Podcasts | Spotify | Stitcher | RSS | More
In this episode, let's talk about the power of a well-timed stunt to gain attention, rise above the noise, and drive revenue. This is how we get our creative juices flowing. Do something that is maybe a little provocative, maybe a little risque. It should be designed to get a lot of attention, and maybe even drive some PR.
Black Friday Sale, Not!
Christopher shares about different brands and their provocative stunts. Max Temkin, founder of the Cards Against Humanity appeared on Follow Your Different Episode 60. Max and his team probably are the masters in terms of marketing stunts when they jacked up their prices, on Black Friday Sale.
"As a way of sort of doing the opposite of what every B2C company and brand does — and as a way of sort of calling bs on consumerism — they increased the price of Cards Against Humanity on Black Friday, and got a ton of PR for it. People thought it was hysterical. They paid the price. They stood out." – Christopher Lochhead
Sponsoring The Golden Gate Bridge
CarsDirect.Com also pulled off one legendary stunt when they sent out press releases about their proposal to sponsor the Golden Gate Bridge. This press release stirred up a lot of controversies and reaction from the media, but they still ended up getting a lot of publicity for it.
"Now notice, they put forward a proposal, it wasn't actually happening. By putting that press release out, they caused a tremendous amount of controversy." – Christopher Lochhead
Aliens Will Eat Fat People First
Another marketing stunt that got into a lot of controversies is the Ad of 24 Hour Fitness featuring an alien and caption that says, "when they come, they'll eat the fat ones first."
"Their CEO is interviewed on the news. And he was talking about how they're just trying to have fun and shine a light on obesity and that people need to get fit and healthy and the like. And a lot of people were upset and there was all this kerfuffle again, but what were they talking about? 24 Hour Fitness." – Christopher Lochhead
Christopher encourages companies to be provocative, be thoughtful be potentially willing to piss some people off (depending on your brand).
To hear more about doing a marketing stunt, download and listen to this episode.
Bio:
Christopher Lochhead is a #1 Apple podcaster and #1 Amazon bestselling co-author of books: Niche Down and Play Bigger.
He has been an advisor to over 50 venture-backed startups; a former three-time Silicon Valley public company CMO and an entrepreneur.
Furthermore, he has been called "one of the best minds in marketing" by The Marketing Journal, a "Human Exclamation Point" by Fast Company, a "quasar" by NBA legend Bill Walton and "off-putting to some" by The Economist.
In addition, he served as a chief marketing officer of software juggernaut Mercury Interactive. Hewlett-Packard acquired the company in 2006, for $4.5 billion.
He also co-founded the marketing consulting firm LOCHHEAD; was the founding CMO of Internet consulting firm Scient, and served as head of marketing at the CRM software firm Vantive.
Links:
Follow Your Different Episode 60 – Max Temkin
Times Cards Against Humanity Pulled Amazing Publicity Stunts
Our Favorite Crazy Stunts From Salesforce Leader Marc Benioff
WKRP In Cincinnati – Turkey Drop Scene
We hope you enjoyed this episode of Lochhead on Marketing™! Christopher loves hearing from his listeners. Feel free to email him, connect on Facebook, Twitter, Instagram, and subscribe on iTunes! You may also subscribe to his newsletter, The Difference, for some amazing content.