029 Disagree and Commit
Monday 20th November 2023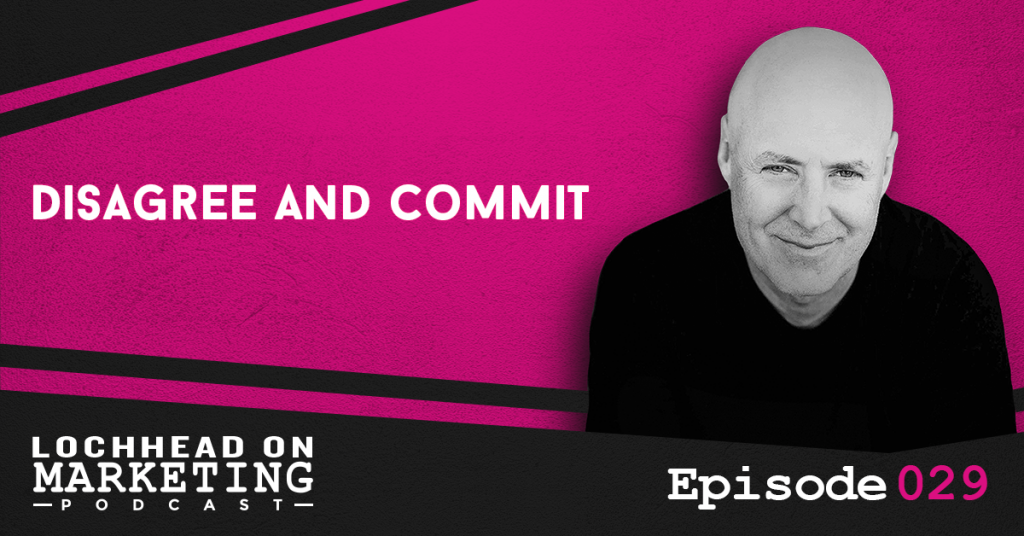 Podcast (lochheadonmarketing): Play in new window | Download (Duration: 10:06 — 13.9MB) | Embed
Subscribe: Apple Podcasts | Google Podcasts | Spotify | RSS | More
Every big decision involves a group of people.and so, in business, if you're going to do something legendary, whether its a strategy or a campaign, it will be a group decision.
In this episode, Christopher Lochhead shares why it is a legendary business trait to be able to get people to disagree and commit.
Everybody has a Marketing Opinion
Recently, Christopher had a discussion on with legendary tech executive Elisa Steele on Follow Your Different Episode 129. She talks about the power of being able to disagree and commit. She also talks about the importance of being a consensus builder.
"Getting people to disagree and commit is one of the most important skills an executive can have. Why? Because everyone has a Marketing Opinion." – Christopher Lochhead
CMO's get a lot of "HELP" from internal stakeholders. Debate, discussion, and disagreement are GOOD, when you are working on strategies, creative ideas, campaign ideas or category design. However, consensus is BAD.
"If everyone agrees, by definition it sucks. If someone isn't scared, upset or at least concerned, it's probably not legendary." – Christopher Lochhead
How Do You Get In Front of This
Christopher advises that from the 1st meeting, tell the people involved the following:
1) we want to do something legendary
2) we want to generate legendary ideas/creative "ideation stage"
3) and when we decide, we are going to execute like "a pack of speedy, crazed wolverines:"
It is essential to lay upfront during the first meeting that the objective is not to please everybody but to create a strategic desition that will reap legendary results. It is also important to address who is the final decision maker.
Strategic Decision Over Consensus
Addressing these concerns from the very beginning will definitely receive negative responses from a lot of people, including some board members or senior executives. Christopher says that "this is okay." We are aiming for strategic decisions, not consensus.
It would be nice to acknowledge that businesses need "feedback." However, it would also be better to get everyone's commitment that they will support and execute the final strategic decision. Be firm on expecting everybody to commit, even if they hate the decision or the direction taken. This trait would separate legendary leaders from the ordinary ones.
To hear more about why it is a legendary trait to learn how to disagree and commit, download and listen to the episode.
Bio:
Christopher Lochhead is a #1 Apple podcaster and #1 Amazon bestselling co-author of books: Niche Down and Play Bigger.
He has been an advisor to over 50 venture-backed startups; a former three-time Silicon Valley public company CMO and an entrepreneur.
Furthermore, he has been called "one of the best minds in marketing" by The Marketing Journal, a "Human Exclamation Point" by Fast Company, a "quasar" by NBA legend Bill Walton and "off-putting to some" by The Economist.
In addition, he served as a chief marketing officer of software juggernaut Mercury Interactive. Hewlett-Packard acquired the company in 2006, for $4.5 billion.
He also co-founded the marketing consulting firm LOCHHEAD; was the founding CMO of Internet consulting firm Scient, and served as head of marketing at the CRM software firm Vantive.
We hope you enjoyed this episode of Lochhead on Marketing™! Christopher loves hearing from his listeners. Feel free to email him, connect on Facebook, Twitter, Instagram and subscribe on iTunes! You may also subscribe to his newsletter, The Difference, for some amazing content.