007 Category Creation is the Strategy
Monday 25th September 2023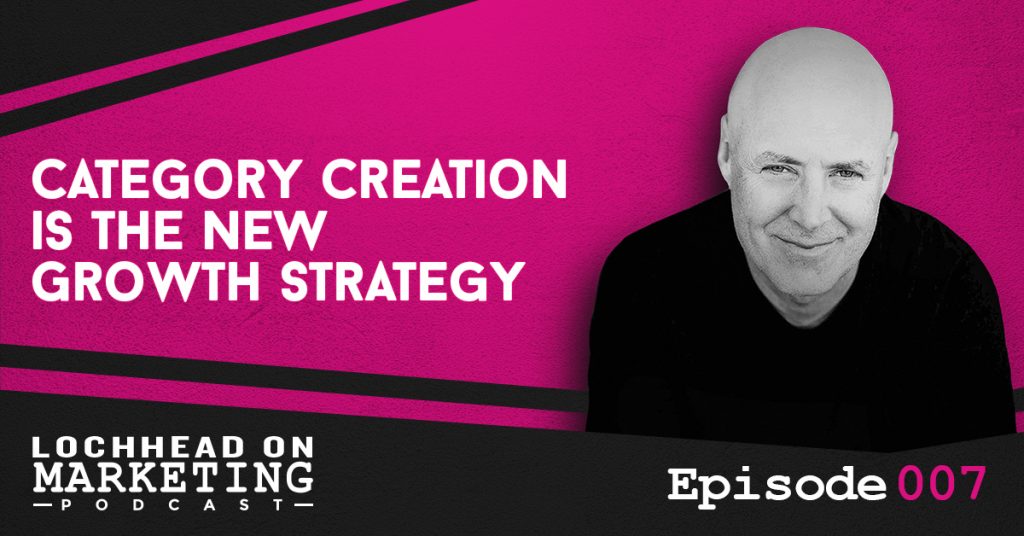 Podcast (lochheadonmarketing): Play in new window | Download (Duration: 17:30 — 16.1MB) | Embed
Subscribe: Apple Podcasts | Google Podcasts | Spotify | Stitcher | RSS | More
In this episode, Christopher Lochhead discusses why category creation is the new growth strategy for legendary marketing.
Great companies do not focus on incremental growth, rather, they focus on being exponentially different. These leading companies introduce people to new businesses and provide them with new ways of doing things.
Making A Different Future
Legendary companies shape our lives and design a different future. They are on a mission to make the future different. Further, these companies create something exciting ⁠— a new way of living, thinking and doing business ⁠— category creation. Through category creation, these companies are pioneering the way to the future.
"Many times they are solving a problem we didn't know we had—or a problem we didn't pay attention to because we never thought there was another way." – Christopher Lochhead
These legendary companies make ordinary companies run for their lives. These ordinary companies want to profit from the world for offering it the same set of products and services.
Big Es and Small Es
Lochhead cites different big enterprises as well as small enterprises as an example. Huge companies now started as small when they changed our way of thinking. Companies such as AirBNB, Google, Amazon, Palo Alto Networks, Cisco and Salesforce not only created great products⁠—they created a good company and a great category.
"They had to courage to stand on their own to create a new category of products / services they niched down. And by designing a different niche, they got to own it."  – Christopher Lochhead
Category First, Brands Come Second
Categories make the company, not the other way around. In relation to this, if we carefully examine big brands, there are no legendary companies in a bad category. There will be no customer-recall of brands if these brands are not tailored to cater to a category.
"Brands only matter if they dominate categories that matter. Category design is a new lens, play with it!" – Christopher Lochhead
To hear more about Category Creation as the new growth strategy and more relevant information from Christopher Lochhead, download and listen to the episode.
Bio:
Christopher Lochhead is a Top 25 podcaster and #1 Amazon bestselling co-author of books: Niche Down and Play Bigger.
He has been an advisor to over 50 venture-backed startups; a former three-time Silicon Valley public company CMO and an entrepreneur.
Furthermore, he has been called "one of the best minds in marketing" by The Marketing Journal, a "Human Exclamation Point" by Fast Company, a "quasar" by NBA legend Bill Walton and "off-putting to some" by The Economist.
In addition, he served as a chief marketing officer of software juggernaut Mercury Interactive ⁠— which was acquired by Hewlett-Packard in 2006 for $4.5 billion.
He also co-founded the marketing consulting firm LOCHHEAD; was the founding CMO of Internet consulting firm Scient, and served as head of marketing at the CRM software firm Vantive.
Link:
We hope you enjoyed this episode of Lochhead on Marketing™! Christopher loves hearing from his listeners. Feel free to email him, connect on Facebook, Twitter, Instagram and subscribe on iTunes!