Posts by LegendsandLosers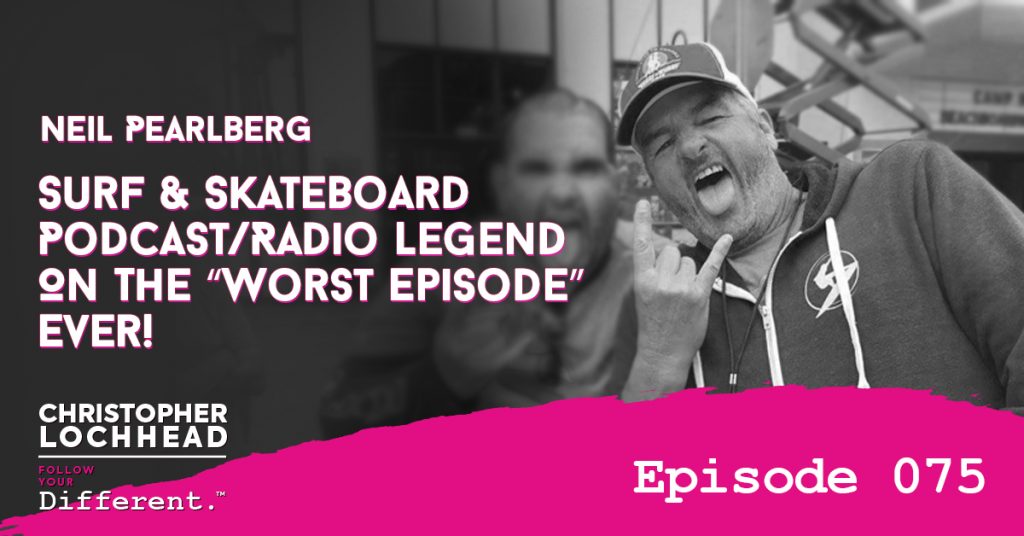 Podcast: Play in new window | Download (Duration: 1:12:17 — 66.3MB) | Embed
Subscribe: Apple Podcasts | Google Podcasts | Spotify | Pandora | Stitcher | RSS | More
Surf and skateboard podcast host Neil Pearlberg joins us today in this special 4th of July episode dubbed as "The Worst Episode Ever!" This is a funny and silly conversation, just like two buddies hanging out over drinks⁠.
We cannot guarantee that you'd find inspiration or motivation in this episode, but we're sure, you'd be laughing your brains off listening to this witty exchange of conversation!
Off The Lip Radio Show
Neil Pearlberg hosts the Off The Lip Radio Show (OTL)⁠— a popular radio show and podcast dedicated to surfing, skateboarding and laid back California lifestyle in Santa Cruz. The show is co-hosted by Terry Campion (TC), a skate-shop owner. The show has a wide array of guests and live-music, peppered with the unique humor of Neil and TC.
"Everybody takes life seriously. The show has to be fun! There's so much seriousness in today's world." – Neil Pearlberg
After Neil's stint as a freelance writer for the Santa Cruz Sentinel, he proposed to KSCO management a program that would cater to the younger generation, since the station's demographic involved very old listeners. They were off into a rought start, as the KSCO management deemed him as an "non-reliable, non-responsible-kind-person" but he proved them wrong.
Lochhead's Guesting at OTL
Rich Novak, the founder of innovative skateboard company NHS Fun Factory, introduced Neil to Chris and they've been buddies ever since. Chris actually guested in OTL Episode #321 where he complained that he was called Chris Lochhard for the whole 50 minutes of the show.
It was a hilarious exchange of conversation as Chris said this is the first time he met people who don't give AF about who he was. He also joked about how it was fun to be "disrespected" at times and be regarded based on your hobbies.
"You pick up absolutely no new subscribers cause everybody was googling Lockhard! I was furious! But we went out for dinner and had a great time!" – Christopher Lochhead on his guesting at OTL
More About The Worst Episode Ever
Neil shares more about the guests, the music and topics they cover on OTL. He said the show appealed to the young and young at heart because of their unconventional format and their IDGAF attitude.
"We used to be prepared. We sit down beforehand and do notes. TC and I start on a nice piece and have booklets, then it went to brown paper bags, then it went to napkins. Now we just drink." – Neil Pearlberg on the preparing for every episode of OTL
He further shared about his fashion sense⁠—the laidback California lifestyle attire⁠—but is now called hobo chic. They teased back and forth about Neil's current relationship, as his girlfriend, Angela was also present during the interview.
To hear more about Neil Pearlberg and why this episode might be the "Worst Episode" ever, download and listen to the episode.
BIO:
Since September 2009, Neil Pearlberg has written over 200 articles covering the sport of surfing, as well as skateboarding, and soccer, for the Bay Area News Group, & Santa Cruz Waves.
He is also the host of the "Off the Lip Radio Show", & Hour Local Radio Show aired on Santa Cruz Radio Show KSCO AM 1080, FM 104.1, ksco.com and streamed on Santa Cruz Waves Facebook Page.
Neil has also had published articles in Adventure Sports Journal, National Geographic, Stand Up Paddle Board Magazine.
Links:
We hope you enjoyed Neil Pearlberg on this episode of Follow Your Different™! Christopher loves hearing from his listeners. Feel free to email him, connect on Facebook, Twitter, Instagram and subscribe on iTunes!