073 Why Dyslexia is a Superpower w/ Gibby Booth Jasper
Monday 25th September 2023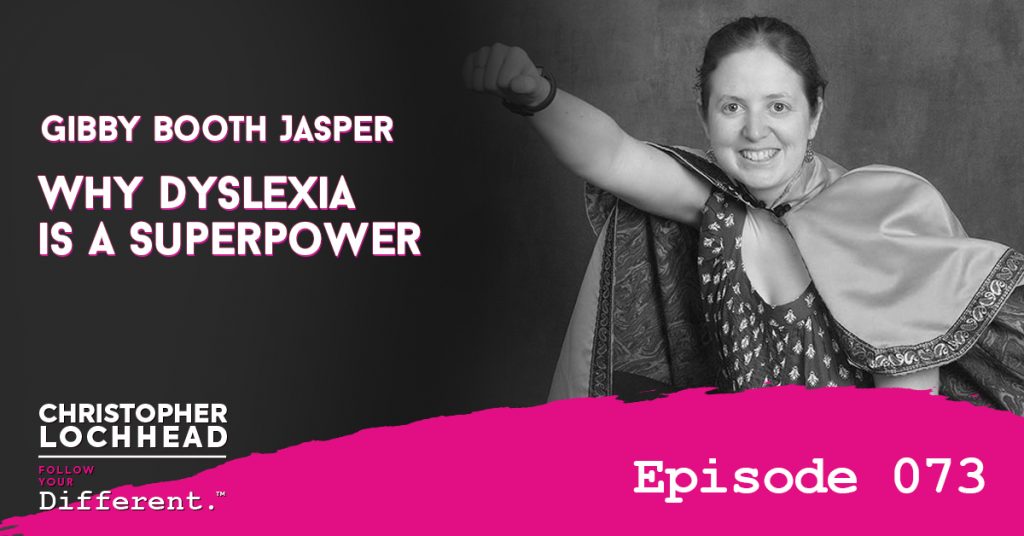 Podcast: Play in new window | Download (Duration: 1:12:20 — 66.3MB) | Embed
Subscribe: Apple Podcasts | Google Podcasts | Spotify | Pandora | Stitcher | RSS | More
Gibby Booth Jasper, host of podcast Dyslexia is a Superpower, joins us today for a powerful dialogue about the learning difference Dyslexia. As a coach and advocate, Gibby talks about real life experiences of Dyslexics as well as the challenges and triumphs that go along with it.
Dyslexia is a Superpower
Gibby Booth Jasper believes that the real value of being dyslexic is the power of having a different mind. Dyslexics look at problems differently. It enables different solutions and in turn develops a person's tenacity and determination.
Many people look at dyslexia as a disability. However, it can be noted that a learning difference is never a hindrance to achieve personal goals. Just look at famous dyslexic people such as John F. Kennedy, George Washington, Albert Einstein, Walt Disney, Richard Branson and Steven Spielberg, to name a few.
"They say everybody has a mountain to climb, but with dyslexia, your mountain has lava flowing, it has wild boars and all these obstacles. When you finally get to the top, you are able to accomplish so much more." – Gibby Booth Jasper
Dyslexics Daily Struggle
Gibby believes dyslexics can connect the dots and solve problems differently. However, society has put on a standard on activities like writing, reading, and solving Math—which makes it hard for dyslexics to cope. Other than that, they do have spatial awareness problems, which is the difficulty of differentiating the left and the right.
Gibby and Christopher exchanged personal experiences, as both are dyslexic themselves. Gibby recounter how traumatized she is with gas stations, as she cannot figure out moving forward and backward with her car. Christopher also shared some experiences, especially in self-check out counters in grocery stores and with tipping and counting money.
"Spatial problems, self-checkout counters, counting money. Those are the kind of things that can be normally linked to dyslexia, so if you do see someone struggling, that might be it. Go help that someone" – Gibby Booth Jasper
Empowering Dyslexics
In dealing with dyslexia, Gibby stated the importance of informing their child that they are unique and different in a good way. Parents must reassure their children that nothing is wrong with them and assist them in building self-confidence.
"I think being able to look at it as 'letting go of things because I can't control them.' Just have a sense of humor, because, in the grand scheme of life, it doesn't matter" – Gibby Booth Jasper on struggles in doing daily activities
The real challenge for a dyslexic lies on their ability to play out strengths and to empower themselves while dealing with the existing society.
We hope you enjoyed Gibby Booth Jasper on this episode of Follow Your Different™! Christopher loves hearing from his listeners. Feel free to email him, connect on Facebook, Twitter, Instagram and subscribe on iTunes!
BIO:
Links: