062 Andre Iguodala NBA Legend
Wednesday 6th December 2023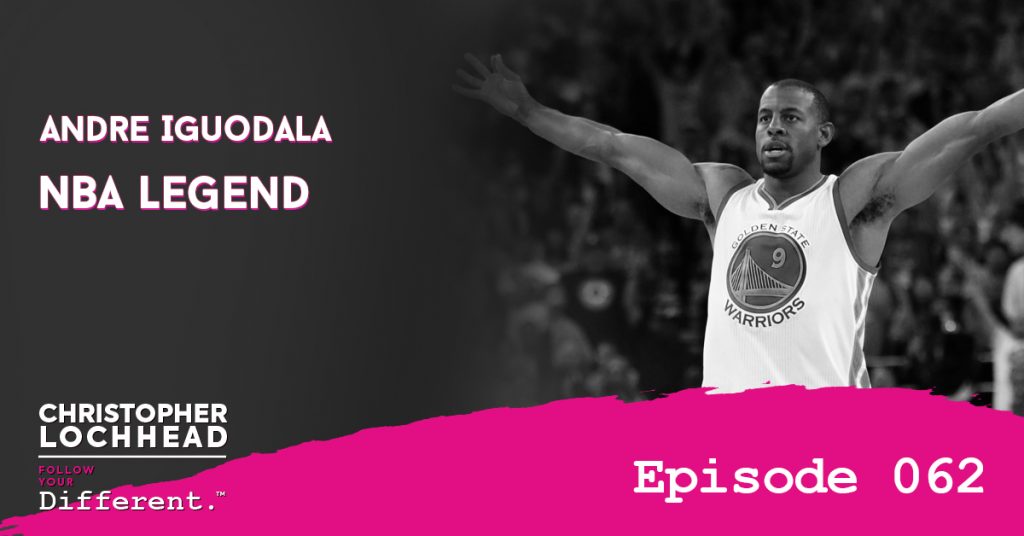 Podcast: Play in new window | Download (Duration: 1:16:46 — 70.6MB) | Embed
Subscribe: Apple Podcasts | Google Podcasts | Spotify | Pandora | RSS | More
We revisit Lochhead's conversation with Andre Iguodala to celebrate the basketball legend's new book, The Sixth Man. What does it take to become an NBA World Champion with a thoughtful life design? The finals MVP of the Golden State Warriors joins us today to give an insider's view.
"How can this one thing turn into everything? How can you build something that hasn't been built?" – Andre Iguodala
Finding His Way to the Bay
Before he joined the Warriors, Andre had seen his fair share of rainy and muggy days. It was during that time that he chose to sit back and watch basketball a lot. Seeing his opponents and the certain kind of joy they had, he soon realized that he wanted to be in a place where he could enjoy basketball.
"I just paid attention and it's kind of being aware of your surroundings. That's what kind of brought me here." – Andre Iguodala
Strengthening the Team's Core
Warriors' head coach, Steve Kerr understood the ups and downs of playing in the NBA. The environment and mood of the team ultimately affect performance on the court. As coach, he gave the players the freedom to enjoy what they do.
Everyone appreciates this mentality that the coach has. He's all about supporting everyone and wanting them to succeed. This strong core enables them to build a culture that is key to their success as a team.
Success from Building Culture
A lot of people would say that in order to have success, you need to have the best talent. This is true. But Andre has seen other teams with strong individual talents that fall apart from the lack of a great match of personalities and well-founded culture.
"You can have all the talent in the world but if you don't have the right culture, their personalities don't fit, there's just gonna be a lot of dysfunction." – Andre Iguodala
There's plenty of factors that come into play when aiming for success. And a team should act like a machine, with its members on the same page, on the same path, and moving at the same pace.
"What the team has been able to do here is find the right personalities to fit the culture that we have built here." – Andre Iguodala on the Warriors
To hear more about the Warriors, Andre's business sense, and his investment in Silicon Valley, download and listen to the episode.
Bio:
Andre Iguodala is a professional basketball player for the Golden State Warriors of the National Basketball Association (NBA). He was an NBA All-Star in 2012 and named to the NBA All-Defensive Team twice.
He won a championship with the Warriors in 2015. Andre was also named the NBA Finals Most Valuable Player that year. He was also a member of the gold-winning national team at the 2010 FIBA World Championship and 2012 Summer Olympics. (Source: Andre Iguodala- Wikipedia)
Links:
Blog on NBC Sports' "Andre Iguodala Doesn't Always Do Podcasts"
We hope you enjoyed Andre Iguodala on this episode of Follow Your Different™! Christopher loves hearing from his listeners. Feel free to email him, connect on Facebook, Twitter, Instagram and subscribe on iTunes!