Posts Tagged 'Athletes/Extreme Sports'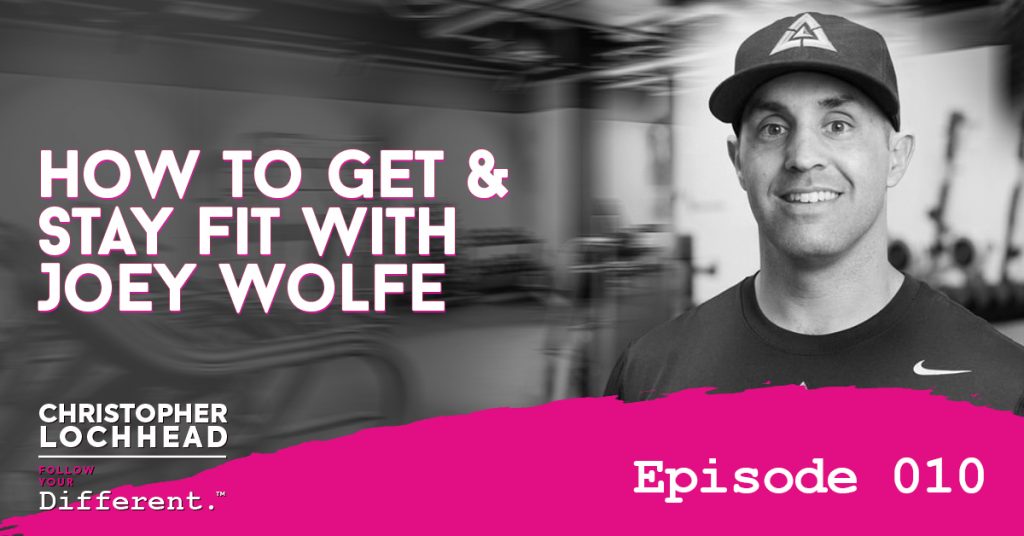 Podcast: Play in new window | Download (0.0KB) | Embed
Subscribe: Apple Podcasts | Android | Google Podcasts | Stitcher | TuneIn | Spotify | RSS | More
New Year resolutions have been made. How do we keep from being part of the 6% of people who can't follow through? Professional athlete turned fitness trainer and entrepreneur Joey Wolfe joins Christopher on today's episode for some practical ideas to make fitness stick in our lives and improve our well-being.
"I was doing all these other stuff more so than putting my health first and that is completely changed, and I honestly don't feel like it's ever going to change again because it's part of who I am now." – Joey Wolfe
Coming Up with a Plan
Joey is the founder of Paradigm Sport in Santa Cruz, California, the gym Christopher personally goes to. Every beginning of the year, new faces fill the gym. Then by February, the same people disappear — a trend across the gym business.
You need to have a plan so you don't become the person that's done by Valentine's Day. Everybody has good intentions at the beginning of the year, but you must be clear on what your goals are. And goals are different from results.
Important Behavioral Changes
When planning your fitness routine, you must focus on the goals and the measures you will have to take to fulfill them.
"What are the behavioral changes we need to make in order to get you to achieve those goals… what are the behavioral changes I can be making to make my goal a reality?" – Joey Wolfe
In order to make these changes, you must get into a routine. This is what most people find most troublesome since routines are difficult to establish.
Workout Buddies and Realistic Plans
Joey has never been a morning person, and it remains true until now. But he found a workout group composed of other goal-driven and like-minded entrepreneurs. They helped him ease into the routine of working out first thing in the morning.
An "accountability partner", along with a realistic plan catered to your fitness level, will help you follow through your plan.
To hear more fitness tips from Joey Wolfe, download and listen to the episode.
Bio:
Joey Wolfe
Founder & CEO Paradigm Sport
Santa Cruz, CA
Joey is a lifelong athlete. Early in his career, he played professional baseball and was on track to be a major league catcher when injuries took him out.
Never a quitter, Joey dedicated his life to empowering others to be fit, healthy and make their athletic dreams come true.
He has trained countless pro-baseball players, UFC fighters, pro-surfers and regular folks who want to take their game up in life.
A native of the Central Coast of California, his talent and passion for baseball took him to the professional level where he worked with some of the country's best trainers. As an ACSM-certified trainer, he now shares his experience and enthusiasm with world-class athletes and fitness clients alike.
Joey has built a business with the goal of bringing the most advanced techniques and the highest levels of individualized athlete training to the Central Coast community.
The local environment has shaped his interests and defined sport-specific training in two disciplines: competitive surfing, for which Santa Cruz is world-renowned; and baseball, which launched his career.
Joey Wolfe's 7 Fitness Tips:
30-minute workouts will suffice.
Share your goals with those closest to you, or if you're up for it share it on social media.
Get a gym membership or outfit your garage with exercise equipment.
Have a large visible calendar or "accountability mirror" to track your workouts in advance.
Have workouts written in advance.
Find a workout partner who can motivate you.
Don't get caught in the mental trap that "going to the gym" is the only way to workout.
Any physical activity will suffice, just make sure you train like it matters!
Links: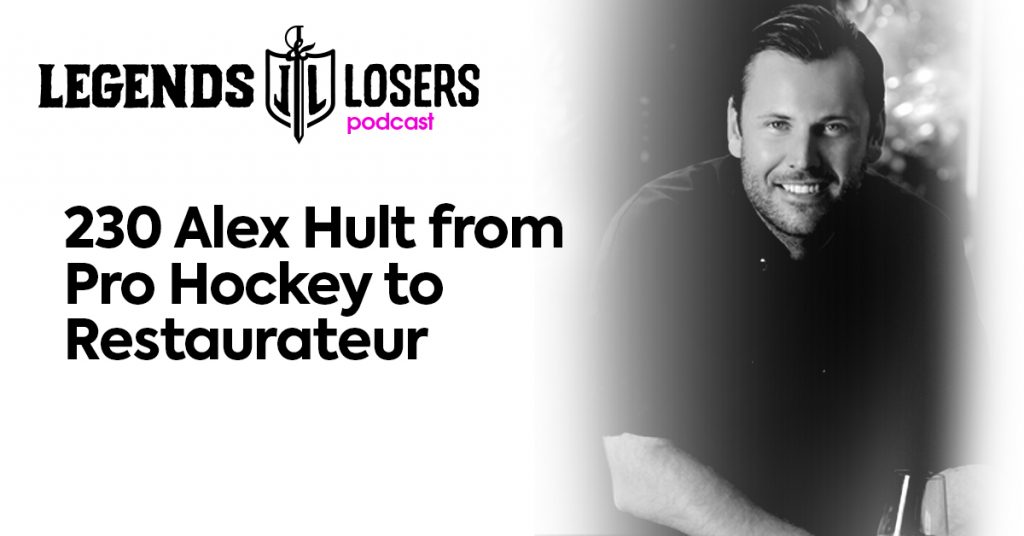 Podcast: Play in new window | Download (Duration: 1:20:49 — 74.1MB) | Embed
What do you do when your dreams get crushed? On today's episode, Alex Hult shares his awesome story of business and life success. He tells us how he rose from a halted hockey career and became a legendary restaurateur.
"My mind was still thinking as fast, everything else was going as fast, but my body couldn't just handle the speed that I wanted to go." – Alex Hult
Three Things We Learned
Alex's promising hockey career
Hockey has been a gigantic part of his life. Growing up in Sweden, Alex was one of the youngest players in the elite league and was ranked second in the country. With a bright career ahead of him, the San Jose Sharks eventually drafted him in 2003.
The injury that stilted everything
Alex Hult got injured the summer right after he got drafted by the Sharks while in a playoff as part of the Swedish team versus Russia. He prematurely got back in the ice a month after the injury. He was late to realize that injury took six to nine months of rehabilitation, and his career took a turn for the worse.
Becoming a restaurateur
After he got married, Alex gave thought to what he wanted to do and the restaurant business sounded fun, so he opened up HULT'S in 2013. On the fourth year of the restaurant, he opened the first Flights location which took off like crazy. At Flights, they serve everything from drinks to food in three different ways.
They give good value to their customers and this commitment shows in how they are full every single day. The massive success birthed a decision to spice things up and remodel the old HULT'S location to become another branch for Flights. Since then, Flights have become one of the most reputable restaurants giving their customers a whole new experience.
Bio:
Alex is a Swedish native drafted in 2003 in the eighth round by the San Jose Sharks of the NHL. After a knee injury sidelined his career in hockey, he retired in 2009 after stints in the Swedish and European hockey leagues.
Alex met his wife, Sarah, who was Miss Nevada 2011 while pursuing a professional career in cards in Las Vegas. The couple married in 2013 and returned to the Alameda CA area where Sarah is from.
Links:
New Flights soars into Los Gatos with fanfare
Hockey player turned restaurateur
Former hockey pro Alexander Hult traded skates for skillets
We hope you enjoyed Alex Hult on this episode of Legends and Losers! Christopher loves hearing from his listeners. Feel free to email him, connect on Facebook, Twitter, Instagram and subscribe on iTunes!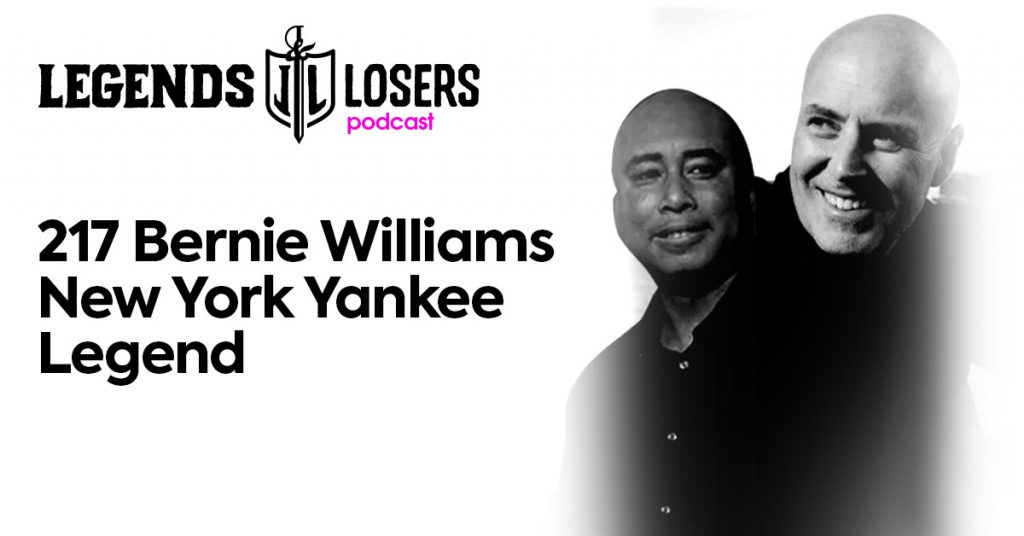 Podcast: Play in new window | Download (Duration: 26:11 — 36.0MB) | Embed
What is the ultimate importance of music and the arts in life? On today's episode, legendary baseball player and jazz guitarist Bernie Williams joins us. He talks about how it was growing up in Puerto Rico, playing for the New York Yankees his entire career, and why he wants kids to love music, too.
"Not everybody's gonna be a virtuoso musician but to use music as instrument for education, I think, is vital for every culture." – Bernie Williams
Three Things We Learned
Making life connections through music
Bernie believes exposing kids to music and the arts helps them make a connection with the world. There is actual scientific evidence that supports the importance of music and the arts to make children well-rounded. He wishes to contribute in having every kid get this opportunity in their lives.
Importance of music and art education
All thriving cultures around the world with great public education systems have their core music, arts and athletics in the forefront. Indeed, mathematics and literature, among other subjects, are important. But there is also the fact that exposure to music and the arts gives better understanding and opportunity to utilize parts of the brain otherwise not used.
A successful life through music, the arts and sports
People often say that a successful life is all about good timing. The same can be said for music and sports: music is about hitting the right note at the right time. Then there is baseball, which is about hitting the ball at the right place at the right time.
At a young age, Bernie was able to make connections with life through music and the arts. In a society where people give the sciences and maths much more importance and leverage, we should also remember that music and the arts feed the heart and soul.
Bio:
Growing up in Puerto Rico, Bernie Williams discovered his love for baseball and music at roughly the same time. At the age of eight, he fell in love with the sounds of a flamenco guitar his merchant-marine father brought home from Spain. He also felt the same exhilaration when he first picked up a baseball bat.
The young student-athlete quickly excelled in both pursuits, going on to attend the special performance arts school Escuela Libre de Musica at the age of thirteen. He became one of the most noted young athletes on the island.
When Williams signed a contract with the New York Yankees at age 17, he brought his love of music with him. In his 16 year career patrolling centerfield for the New York Yankees, Bernie Williams was a four-time World Series Champion and a five-time All Star.
Throughout Williams' years with The Yankees, his passion for music never waned. The sound of a guitar would often be heard emanating from the clubhouse or during team flights.
Whether acoustic or electric, a guitar was a constant presence in the star's locker or equipment bag. In 2003, he demonstrated how serious his musical pursuit was with the release of his first album, The Journey Within.
The record featured fusions of jazz, rock and the tropical rhythms of Williams' heritage. It was met with both strong critical praise and instant chart success- reaching #3 on Billboard's "Contemporary Jazz Chart."
Bernie also co-authored a book in 2011 published by Hal Leonard Books titled, Rhythms of the Game: The Link Between Music and Athletic Performance. The book examines the symbiotic relationship between musical artistry and athletic performance through the eyes of a man who has mastered both.
Links:
We hope you enjoyed Bernie Williams on this episode of Legends and Losers! Christopher loves hearing from his listeners. Feel free to email him, connect on Facebook, Twitter, Instagram and subscribe on iTunes!