010: How To Get and Stay Fit with Joey Wolfe
Sunday 1st October 2023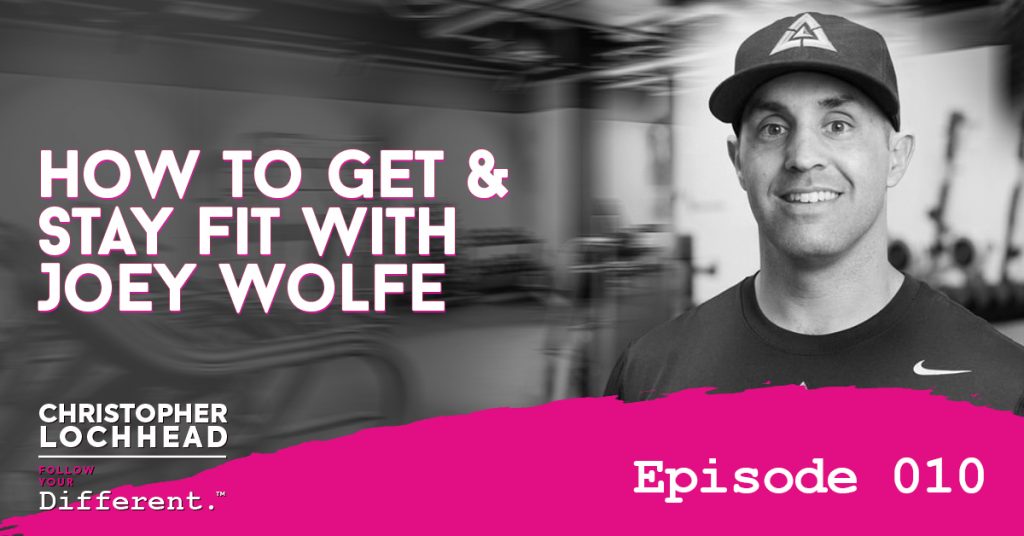 Podcast: Play in new window | Download (0.0KB) | Embed
Subscribe: Apple Podcasts | Google Podcasts | Spotify | Pandora | Stitcher | RSS | More
New Year resolutions have been made. How do we keep from being part of the 6% of people who can't follow through? Professional athlete turned fitness trainer and entrepreneur Joey Wolfe joins Christopher on today's episode for some practical ideas to make fitness stick in our lives and improve our well-being.
"I was doing all these other stuff more so than putting my health first and that is completely changed, and I honestly don't feel like it's ever going to change again because it's part of who I am now." – Joey Wolfe
Coming Up with a Plan
Joey is the founder of Paradigm Sport in Santa Cruz, California, the gym Christopher personally goes to. Every beginning of the year, new faces fill the gym. Then by February, the same people disappear — a trend across the gym business.
You need to have a plan so you don't become the person that's done by Valentine's Day. Everybody has good intentions at the beginning of the year, but you must be clear on what your goals are. And goals are different from results.
Important Behavioral Changes
When planning your fitness routine, you must focus on the goals and the measures you will have to take to fulfill them.
"What are the behavioral changes we need to make in order to get you to achieve those goals… what are the behavioral changes I can be making to make my goal a reality?" – Joey Wolfe
In order to make these changes, you must get into a routine. This is what most people find most troublesome since routines are difficult to establish.
Workout Buddies and Realistic Plans
Joey has never been a morning person, and it remains true until now. But he found a workout group composed of other goal-driven and like-minded entrepreneurs. They helped him ease into the routine of working out first thing in the morning.
An "accountability partner", along with a realistic plan catered to your fitness level, will help you follow through your plan.
To hear more fitness tips from Joey Wolfe, download and listen to the episode.
Bio:
Joey Wolfe
Founder & CEO Paradigm Sport
Santa Cruz, CA
Joey is a lifelong athlete. Early in his career, he played professional baseball and was on track to be a major league catcher when injuries took him out.
Never a quitter, Joey dedicated his life to empowering others to be fit, healthy and make their athletic dreams come true.
He has trained countless pro-baseball players, UFC fighters, pro-surfers and regular folks who want to take their game up in life.
A native of the Central Coast of California, his talent and passion for baseball took him to the professional level where he worked with some of the country's best trainers. As an ACSM-certified trainer, he now shares his experience and enthusiasm with world-class athletes and fitness clients alike.
Joey has built a business with the goal of bringing the most advanced techniques and the highest levels of individualized athlete training to the Central Coast community.
The local environment has shaped his interests and defined sport-specific training in two disciplines: competitive surfing, for which Santa Cruz is world-renowned; and baseball, which launched his career.
Joey Wolfe's 7 Fitness Tips:
30-minute workouts will suffice.
Share your goals with those closest to you, or if you're up for it share it on social media.
Get a gym membership or outfit your garage with exercise equipment.
Have a large visible calendar or "accountability mirror" to track your workouts in advance.
Have workouts written in advance.
Find a workout partner who can motivate you.
Don't get caught in the mental trap that "going to the gym" is the only way to workout.
Any physical activity will suffice, just make sure you train like it matters!
Links: