125 Bas Rutten: How to over-come anything w/ UFC Hall of Famer & O2 Trainer Inventor
Monday 20th November 2023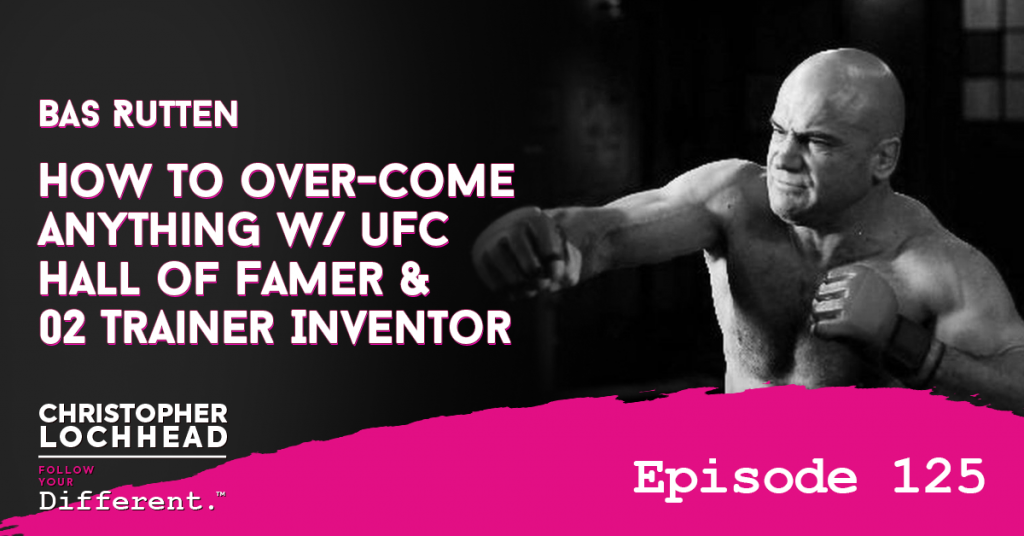 Podcast: Play in new window | Download (Duration: 1:04:04 — 117.4MB) | Embed
Subscribe: Apple Podcasts | Google Podcasts | Spotify | Pandora | RSS | More
One of Christopher Lochhead's hero, UFC Hall of Famer and MMA legend Bas Rutten joins us today for another powerful and insightful conversation. We talk about how as a Dutch Kid, Bas, over-came horrible asthma and eczema, and bullying to become, the "Baddest Man in the World." He shares about his outlook in life, his techniques when learning a new skill and a lot more.
Fun, Playful and Affable
Bas Rutten shares how some people see his life as almost like a cartoon character. He shares how he did a commercial for Cartoon Network focusing on anti-bullying and getting fit. These campaigns were personally moving for him as he was bullied when he was young due to severe asthma and eczema.
"I know people who have asthma 365 days a year. I know people who are covered with eczema. Compared to them, this is not really that bad. That was my outlook always in life. There's always somebody, out there who has it worse than you." – Bas Rutten
Greatest and Most Terrifying
Bas is a Sensei, commentator, and inventor. He is also the former UFC Heavy Weight Champion of the World. He scored 13 knockdowns without getting dropped, become the most accurate striker in UFC history with 70% accuracy and ended his career on a mind-blowing 22-fight winning streak.
"I found out about that [statistics] when I was inducted in the Hall of Fame. That was so cool. That was my fighting style. I don't want to waste things. I like to look for openings. The opponent, most of the time gives the knock out for me. He'll make a mistake, if he punches, the body is open." – Bas Rutten
Overcoming Everything
Non-fans will definitely love this episode and will surely learn a ton from Bas. His mindset around losing, overcoming adversity and the drive to learn new skills, Is something we can all learn from.
Bas is also an entrepreneur and inventor. His new O2 Trainer is fast becoming a must-have for professional athletes, weekend warriors and among people with asthma and breathing challenges. The O2 trainer strengthens the lungs and breathing muscles.
To hear more information about Bas Rutten and to listen to his ideas how to over-come anything, download and listen to the episode.
Bio:
Sebastiaan "Bas" Rutten (Dutch pronunciation: [ˈbɑs ˈrʏtə(n)];) is a Dutch retired mixed martial artist (MMA), Karate and Taekwondo blackbelt, and Muay Thai kickboxer.
He was a UFC Heavyweight Champion, a three-time King of Pancrase world champion, and finished his career on a 22 fight unbeaten streak (21 wins, 1 draw ).
Bas has been inducted to the UFC Hall of Fame in 2015.
He suffered severe asthma in his childhood years and inspired by his struggle breathing developed the O2 Trainer.
When Bas is not teaching at his gym in Westlake Village, he might be working on some acting or commentating at Karate Combat with Kenny Rice.
Links:
Also, special thanks to Luis Congdon for the kind introduction.
We hope you enjoyed this episode of Follow Your Different™! Christopher loves hearing from his listeners. Feel free to email him, connect on Facebook, Twitter, Instagram and subscribe on iTunes! Get amazing, different stories on business, marketing, and life. Subscribe to our newsletter The Difference.