038 Kerri Walsh Jennings Volleyball Legend: An Inspired Life
Tuesday 26th September 2023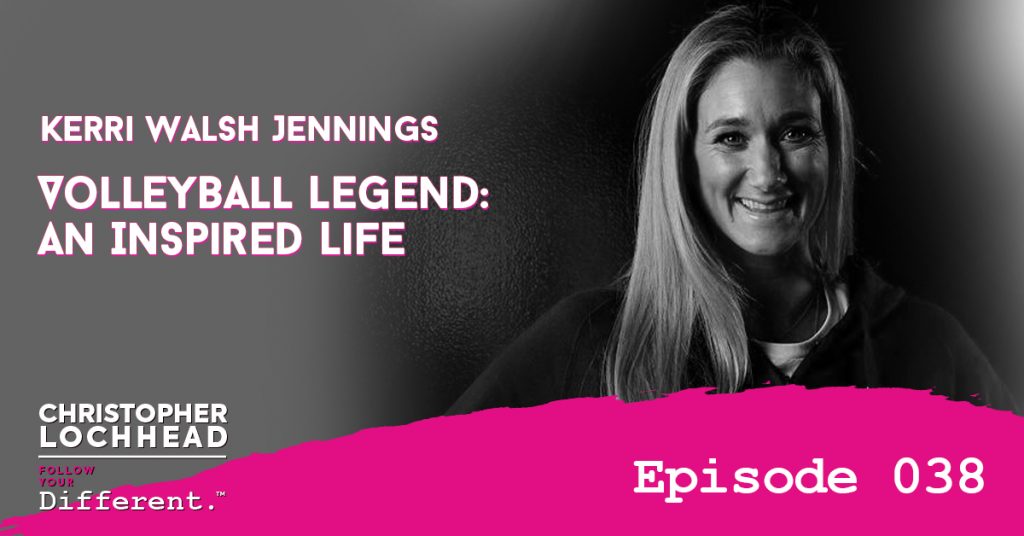 Podcast: Play in new window | Download (Duration: 1:44:07 — 95.5MB) | Embed
Subscribe: Apple Podcasts | Google Podcasts | Spotify | Pandora | Stitcher | RSS | More
What drives a five-time Olympian? Today, we hear from the true legendary champion Kerri Walsh Jennings. The best beach volleyball player in the world sits with us for a conversation all about drive and inspiration.
"My bronze completes me. My dark side completes me… You need to have both." – Kerri Walsh Jennings
Discipline Liberates and Consistency Feels Great
One of Kerri's favorite quotes is Jocko Willink's "Discipline equals freedom." A lot of high-performing people get either flak for being so disciplined or pity for being "punished". But discipline liberates and allows Kerri the space to breathe and accomplish things.
Discipline is all about showing up and doing what it takes on the daily. And it is as beautiful a word as competition despite the negative connotation often attached to the two.
"It makes me feel good to be consistent and to do the hard things when things are hard and to do it until they're done." – Kerri Walsh Jennings
Love for Winning Always Wins
Like most athletes, Kerri loves winning. But her relationship with it is as unique as it could get. The joy of winning motivates and inspires her more than the pain of losing.
People would often say that losing motivates them, but Kerri thinks that losing is like a chronic injury or a weight on one's shoulders. It gets into your psyche in a way that drives you crazy. It is a toxic feeling despite the positives to it.
"I love winning more than I hate losing, which I think is why I'm still going." – Kerri Walsh Jennings
Feeling at Home in the Olympics
With her veteran status in the Olympics, one would think that she felt the pressure of having basically the entire world watching her either win or lose. But not once has this ever occurred to Kerri.
The Olympics is fun, and she has always found it helpful to create a bubble around her to make her feel safe and not get caught in the noise. She has found her home in the Olympics, and not even the millions of spectators would take her off her game.
To hear more about Kerri's distinction between inspiration and motivation and a whole lot more, download and listen to the episode.
Bio:
Kerri Walsh Jennings has been called, "the Best Beach Volleyball Player in the World".
Kerri is a five-time Olympian, three-time Olympic gold medal winner, and a one-time bronze medalist.
She is the beach volleyball career leader in career wins.
And Kerri is half of what has been called "the greatest beach volleyball team of all time," with her longtime partner Misty May-Treanor.
She is currently training and competing with her partner Brooke Sweat to compete in the 2020 Games in Tokyo.
Walsh Jennings is also an entrepreneur. She is the founder of p1440, a beach volleyball event series launched in September 2018 with eight events in the 2018–2019 season, showcasing the best in women's and men's beach volleyball from around the globe.
Links:
Parade – Three-Time Gold Medalist Kerri Walsh Jennings Says Change Is a Process—and an Opportunity
VICE Sports – What Makes Kerri Walsh the Best Beach Volleyball Player in the World?
We hope you enjoyed Kerri Walsh Jennings on this episode of Follow Your Different™! Christopher loves hearing from his listeners. Feel free to email him, connect on Facebook, Twitter, Instagram and subscribe on iTunes!