064 How To Be A Legendary Marketing Leader w/ Sangram Vajre
Monday 20th November 2023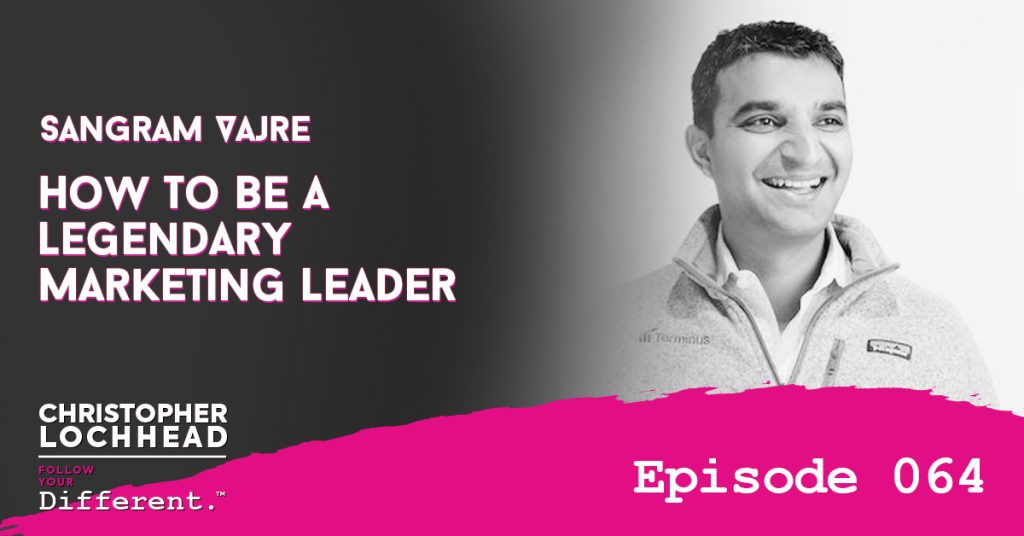 Podcast: Play in new window | Download (Duration: 1:11:32 — 65.5MB) | Embed
Subscribe: Apple Podcasts | Google Podcasts | Spotify | Pandora | RSS | More
On this episode, one of the new modern marketing leaders Sangram Vajre joins Lochhead for a riveting conversation. Sangram shares his takes on consumer and enterprise tech, category design, being an evangelist and so much more.
Boom in Enterprise
About 50 enterprise tech companies have gone public with a median increase of 126% in value since 2016. These numbers eclipse consumer tech companies, which have displayed a median of 15% market value increase. Lochhead and Sangram dish out their own conjectures about this gap between consumer and enterprise tech.
"A theory is that your job depends on it (enterprise tech). Pinterest going up and down doesn't change, really, my job day-to-day… Zoom is a must thing right now for businesses." – Sangram Vajre
Lochhead adds that consumer businesses are hit businesses and more vitamin-esque than aspirin-esque. Founders also tend to build consumer businesses on a short period of time due to the pressure of their predecessors' success stories. In effect, these add to the scrambling and failure to permeate the market better.
From Poison to Accelerator
Pick-and-shovel enterprise tech is a poison that companies can run without back in the day. People knew there were pain points and yet they continued to work around them. But with the dawn of products like Zoom, everything in business has monumentally changed.
"It has gone on from being a poison to an accelerator for our business. I feel like there is something to that—the shovel is now in the house." – Sangram Vajre
It takes a couple of years to build something that a business can run on, even at a small scale. Rather than the hype, enterprise businesses bank on this usability.
To Become an Evangelist
The Chief Evangelist of Terminus says that building a community takes humility and authenticity. It also requires really caring and having an evangelistic view of the problem.
"I will fight until the ends of the earth to fix this problem and even if it's not fixed, I will do my contributions to fix it. And that, to me, is the definition of evangelist in a nutshell." – Sangram Vajre
To hear more about marketing and evangelization from Sangram, download and listen to the episode.
Bio:
Sangram is the co-founder and Chief Evangelist of Terminus, a leader in account-based marketing that has raised over $20 million in funding.
Prior to co-founding Terminus, Sangram ran marketing at Pardot through the acquisition of ExactTarget. Salesforce then acquired ExactTarget for $2.5 billion dollars. He wrote the very first book on account-based marketing (ABM), published by Wiley.
Sangram is an international speaker and host of the top 50 business podcast called #FlipMyFunnel, and has been recognized as one of the top 21 B2B Influencers in the world by DMN Network and 40 under 40 by DMNews.
Sangram aims to build the largest and most engaged community of B2B professionals in the world.
Links:
Amazon – Account-Based Marketing for Dummies
We hope you enjoyed Sangram Vajre on this episode of Follow Your Different™! Christopher loves hearing from his listeners. Feel free to email him, connect on Facebook, Twitter, Instagram and subscribe on iTunes!