004 5 Traits of Legendary Brands
Monday 25th September 2023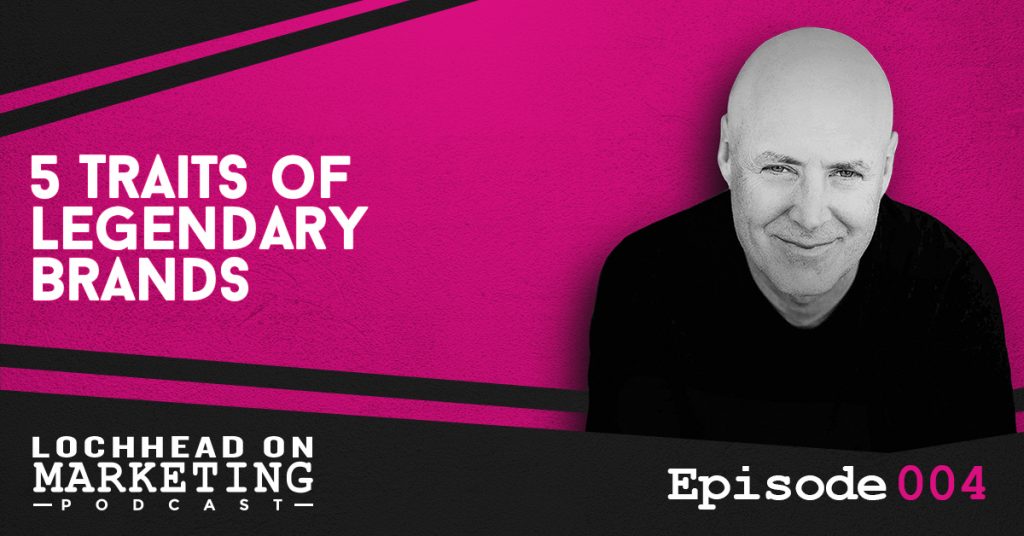 Podcast (lochheadonmarketing): Play in new window | Download (Duration: 12:01 — 11.0MB) | Embed
Subscribe: Apple Podcasts | Google Podcasts | Spotify | Stitcher | RSS | More
In this episode, Christopher Lochhead discusses the 5 traits of legendary brands⁠—different, stands for something, point of view, consistent and prioritizes category creation. We're positive marketers will learn a lot from this mindset-oriented podcast!
1. Be Different  
Legendary brands are unique, interesting and groundbreaking. Marketers must continuously ask themselves how to become different from their existing competitors.
"When you hear most CEOs, CMOs, entrepreneurs, business people, talk about their differentiators⁠—most of what comes out of their mouths is a comparison from their competition⁠—as opposed to a distinction from their competition." – Christopher Lochhead
2. Stand-up For Something
Moreover, legendary brands have a mission, they stand up for something. Interestingly, more legendary companies of today are committed to creating more impact in society. It is often called a "double bottom line", where they also build projects with a social or human impact.
"You got to stand for something or you'll fall for anything." – Christopher Lochhead quoting singer/songwriter John Melencamp
3. Point of View 
Legendary brands have a point of view. A company should have a true north that they believe in. A lot of brands have provocative POV and it has proven to skyrocket their revenues, especially when they associate with personalities who have strong positions and opinions.
4. Consistency
Because POVs don't change, this brings us to the fourth trait, which is consistency. Legendary brands do not deviate from their core, but they can evolve and embrace new things.
"Legendary brands are consistent, their colors, their point of view, and if you will, the place from which they come stays the same." – Christopher Lochhead
5. Category First
Arguably, for Lochhead, the most important trait of a legendary brand is category-first. These brands do not attack the category, in fact, they promote it. They help improve the category by expanding and leading the category in different ways.
"Most legendary marketers know that categories make the brand, not the other way around." – Christopher Lochhead
To hear more about the 5 traits of legendary brands and more relevant information from Christopher Lochhead, download and listen to the episode.
Bio:
Christopher Lochhead is a Top 25 podcaster and #1 Amazon bestselling co-author of books: Niche Down and Play Bigger.
He has been an advisor to over 50 venture-backed startups; a former three-time Silicon Valley public company CMO and an entrepreneur.
Furthermore, he has been called "one of the best minds in marketing" by The Marketing Journal, a "Human Exclamation Point" by Fast Company, a "quasar" by NBA legend Bill Walton and "off-putting to some" by The Economist.
In addition, he served as a chief marketing officer of software juggernaut Mercury Interactive ⁠— which was acquired by Hewlett-Packard in 2006 for $4.5 billion.
He also co-founded the marketing consulting firm LOCHHEAD; was the founding CMO of Internet consulting firm Scient, and served as head of marketing at the CRM software firm Vantive.
Link:
We hope you enjoyed this episode of Lochhead on Marketing™! Christopher loves hearing from his listeners. Feel free to email him, connect on Facebook, Twitter, Instagram and subscribe on iTunes!