152 The Three Stages of a Legendary Career: What Star Wars Can Teach Us
Wednesday 20th September 2023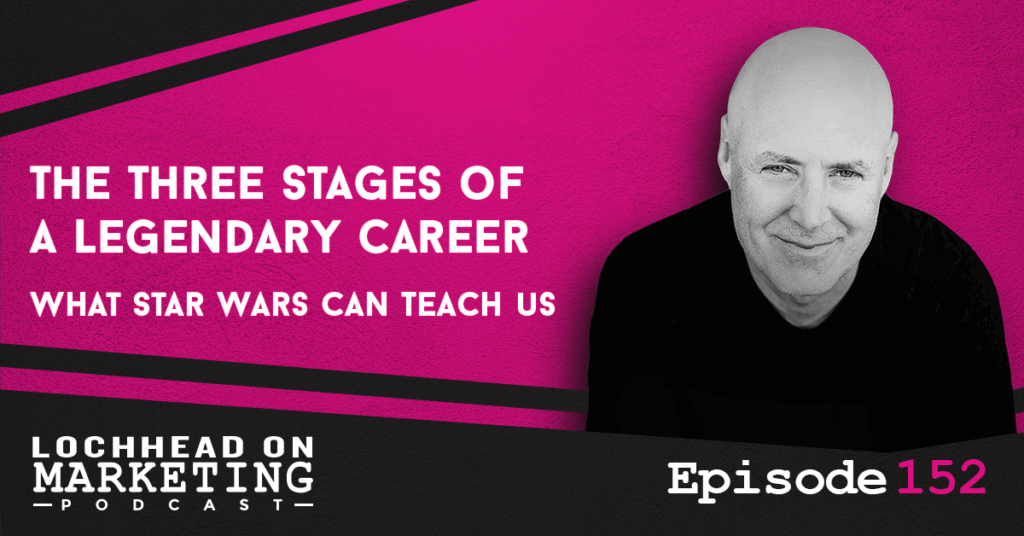 Podcast (lochheadonmarketing): Play in new window | Download (Duration: 17:34 — 12.1MB) | Embed
Subscribe: Apple Podcasts | Google Podcasts | Spotify | Stitcher | RSS | More
On this episode of Lochhead on Marketing, let's talk about the three stages of a legendary career. Let's also talk about the lessons we can learn about it from a source you wouldn't think about at first, Star Wars. Yes, that Star Wars.
Welcome to Lochhead on Marketing. The number one charting marketing podcast for marketers, category designers, and entrepreneurs with a different mind.
Three Stages of Legendary Career: Star Wars Style
So how do we discuss legendary careers using Star Wars?
Well, if you look at it on a higher level, the three stages of having a legendary career follow a Jedi's progression. There's being a Luke / Lucy Skywalker stage, where you are just starting out. If you're lucky and successful, there's the Obi-Wan stage.
And if you are even more successful, and legendary at that, there's the Yoda stage.
Jedi Breakdown
Let us explain even further.
When you're first coming up, and if you are somebody who is gravitating towards the exponential different as opposed to the incremental better, or want to create, design, and dominate new future market categories, as opposed to just somebody who wants to kind of maintain the status quo, you get identified pretty quickly as being high potential. Much like Luke was as a padawan.
If this person is lucky and successful, and becomes a mentor or teacher for other upcoming high potential individuals, they enter their Obi-Wan stage. And if you end up being a legend in your chosen career, much like Yoda, you will have the authority and success that befits the position.
The True Reward
When I myself was a Luke, I thought that the rewards for being a person with high potential who excels and produces great results was that you get the recognition and fame, as well as the riches that come along with it.
But as you progress through the different levels of your career, you realize that while those rewards are worth pursuing, it is not the biggest reward out there.
The real reward is you get to a place in your 40s or 50s, where the world acknowledges you, as a champion, as a legendary Luke / Lucy Skywalker, and you graduate. Now, the world grants you the Obi-Wan status.
To hear more about the different legendary career and Star Wars, download and listen to this episode.
Bio
Christopher Lochhead is a #1 Apple podcaster and #1 Amazon bestselling co-author of books: Niche Down and Play Bigger.
He has been an advisor to over 50 venture-backed startups; a former three-time Silicon Valley public company CMO and an entrepreneur.
Furthermore, he has been called "one of the best minds in marketing" by The Marketing Journal, a "Human Exclamation Point" by Fast Company, a "quasar" by NBA legend Bill Walton and "off-putting to some" by The Economist.
In addition, he served as a chief marketing officer of software juggernaut Mercury Interactive. Hewlett-Packard acquired the company in 2006, for $4.5 billion.
He also co-founded the marketing consulting firm LOCHHEAD; the founding CMO of Internet consulting firm Scient, and served as head of marketing at the CRM software firm Vantive.
We hope you enjoyed this episode of Lochhead on Marketing™! Christopher loves hearing from his listeners. Feel free to email him, connect on Facebook, Twitter, Instagram, and subscribe on iTunes!