154 The Solo Thought Leader with Diego Pineda
Monday 20th November 2023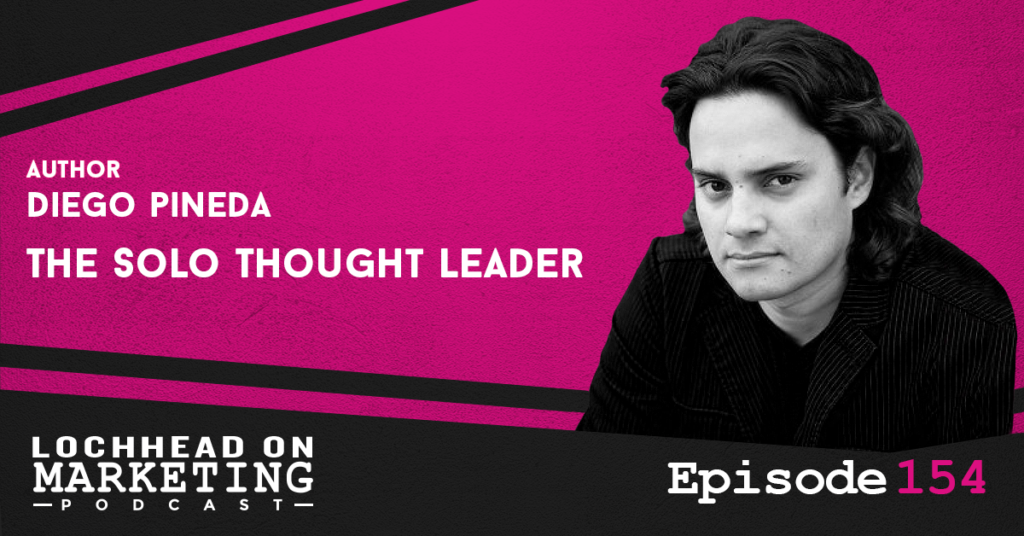 Podcast (lochheadonmarketing): Play in new window | Download (Duration: 1:23:11 — 57.1MB) | Embed
Subscribe: Apple Podcasts | Google Podcasts | Spotify | RSS | More
On this episode of Lochhead on Marketing, let's talk about how you can be a Thought Leader. More specifically, we'll discuss how to be a Solo Thought Leader and build yourself up with our guest, Diego Pineda.
Diego Pineda is the author of the book The Solo Thought Leader: from Solopreneur to Go-To Expert in Seven Steps. Being viewed as a thought leader is a powerful thing. Becoming known for a niche that you own through leading thoughts is one of the most powerful ways to get there to either have a legendary career as a solo creator or a thought leader of some kind.
Welcome to Lochhead on Marketing. The number one charting marketing podcast for marketers, category designers, and entrepreneurs with a different mind.
Diego Pineda on Going Solo
The conversation starts off with the topic of the recent great resignation, or rather the aftermath of it. According to the data gathered over time, it seems that most of the people who resigned went solo or opened their own businesses.
"I actually talked to somebody who does this for a living, like helping people transition from being in a company to going solo. And he said, even just when the pandemic started, it was about 35% of the people were leaving their jobs. He thinks it is much larger than that. So there's a lot of people just going out of their jobs and going solo. So this is a trend. And I mean, I think it's gonna be growing." – Diego Pineda
Why People are Going Solo
When asked why this was the case, Diego explains that it could be due to a number of things.
"I think there's a few things. One is, people during the pandemic just realize what was possible, just working from home, having this freedom. They feel like managing their own time and not having to commute or being an office or all that BS that has to deal with our office politics. They realize there's this option, so why go back?

Second, I think just the technology, the tools, and being able to just reach out people through LinkedIn, through social media and getting clients that way is possible. So people say it's possible, so why not? I can do it. Right. So and then you get people like that on the internet, saying, "Hey, I reached in two years while going solo, I went from zero to a million." Of course, those are some exceptional cases, but then other people will think it's possible. "So why not me? Why not try it?" They just go for it." – Diego Pineda
With new technology and tools being developed at breakneck speed, and existing ones being improved to be more versatile than ever, it's really no wonder why someone would think they could go solo, as long as they learn how to make use of these tools at their disposal.
Be your own Thought Leader
When the topic of influencers and content creators just spewing out the same thoughts of someone who is at the forefront of a certain category, Diego agrees that not only is it not sustainable, but you are also competing for a small piece of that niche.
According to Diego, you need to be your own Thought Leader and come up with your own ideas. If nothing else, have a unique angle that can differentiate you from the rest. One way to do that is to find something that is dogma, or the "best" practice in an industry, and find if there is anything wrong with it. From there, you can come up with ideas that can fix the problem, or maybe come up with something entirely different as a solution.
To hear more from Diego Pineda and how you can be a Solo Thought Leader, download and listen to this episode.
Bio
Diego Pineda is the author of two novels, 9 non-fiction books, and hundreds of articles and blogs as a science writer, a business writer, and a sales and marketing writer.
He started his career as a medical writer while writing fiction on the side.
Diego is also a book coach helping solopreneurs and business leaders write their first book fast so they can become thought leaders in their industries, gain authority and visibility, and make more money.
Links
Connect with Diego Pineda!
The Solo Thought Leader | LinkedIn
We hope you enjoyed this episode of Lochhead on Marketing™! Christopher loves hearing from his listeners. Feel free to email him, connect on Facebook, Twitter, Instagram, and subscribe on iTunes!