036 Small Pond PR Strategy w/ Jeremy Ryan Slate
Friday 1st December 2023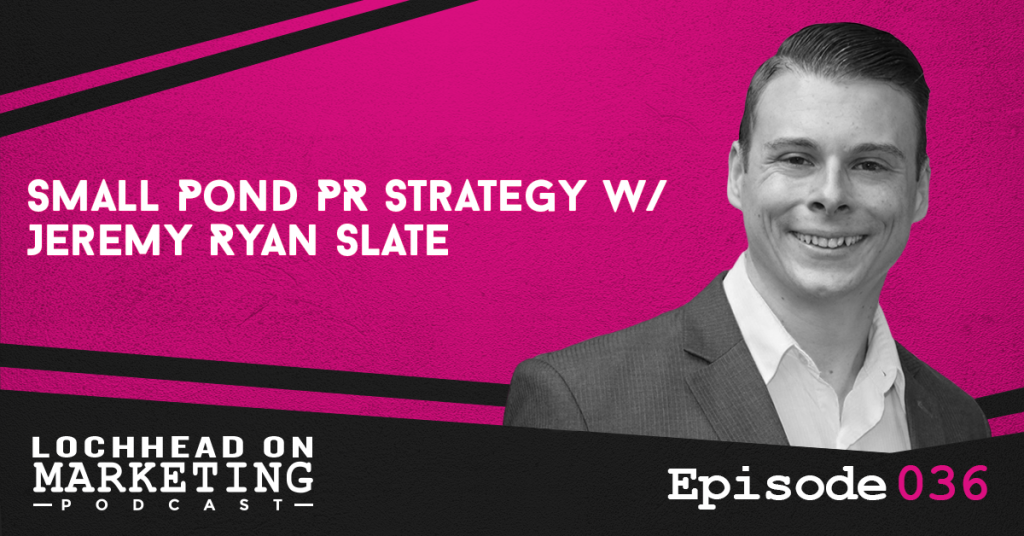 Podcast (lochheadonmarketing): Play in new window | Download (Duration: 19:07 — 13.1MB) | Embed
Subscribe: Apple Podcasts | Google Podcasts | Spotify | RSS | More
In this episode, we have a thoughtful conversation about how to create and execute what Marketing guru and entrepreneurial podcaster Jeremy Ryan Slate calls "A Small Pond PR Strategy." We dig into why you should go small before you go big.
Small Pond PR Strategy
Jeremy is the host of Create Your Own Life Podcast and owner of firm Command Your Brand Media. He is on a mission to help entrepreneurs get their message out though podcast guesting. Likewise, he also helps podcasters become more profitable.
He is also spreading the word about Small Pond PR Strategy
"You have to figure out what's your small area. Honestly, one of the best ways that I found to do that is: start writing press releases to promote to the area because they're hungry for news and you got to tell them about it." – Jeremy Ryan Slate
Start Small Before Going Big
Jeremy shares that oftentimes, people disconnect with their local community and focus on targeting big-time media outlets such as Forbes or INC. It is the belief that a featured article from these big media will move the needle. 
"If you shoot right for that stuff, you have to realize that there are stairs to get in the media and you have to know how to actually get up those stairs and actually get your local areas for you. So, by saying that its a small pond, what I mean is, everybody has a small community group or whatever it may be that they are a part of." – Jeremy Ryan Slate
To cite an example, Jeremy shares he did an exchange with Rotary International, where he spoke in front of 30 different groups in Peru. He was promoted via the newsletter. This is a great avenue to become an opinion leader in a certain field.
Maximize Press Releases
Jeremy also shared about writing press releases and tapping community newspapers. Christopher also said local bloggers who have an enthusiastic following is also a good medium. 
In writing press releases, Jeremy advised to ask these questions:
"What's newsworthy about our business? If you don't have a reason your different, or reason that the media should care—an interesting statistic, an interesting achievement, something that you're doing to help the community."  – Jeremy Ryan Slate
To learn more about Small Pond PR Strategy and more information about Jeremy Ryan Slate, download and listen to this episode
Bio:
Jeremy Ryan Slate is the founder of the Create Your Own Life Podcast, which studies the highest performers in the world. 
He studied literature at Oxford University and is a former champion powerlifter turned new media entrepreneur. 
Specializes in using podcasting and new media to create celebrity and was ranked #1 in iTunes New and Noteworthy and #1 in the business category, as well as ranked # 78 in the iTunes Top 100.
Jeremy was named one of the top 26 podcasts for entrepreneurs to listen to in 2017 + 18 by CIO Magazine, a top podcast to listen to by INC Magazine in 2019 and Millennial Influencer to follow in 2018 by Buzzfeed.  
The Create Your Own Life Podcast has been downloaded over a million times. 
He's also a featured writer for Influencive and Business.com, as well as a contributing editor of New Theory Magazine and Grit Daily. 
After his success in podcasting, Jeremy Slate and his wife, Brielle Slate, founded Command Your Brand Media to help entrepreneurs get their message out by appearing as guests on podcasts and to help podcasters be more profitable.
Links:
We hope you enjoyed this episode of Lochhead on Marketing™! Christopher loves hearing from his listeners. Feel free to email him, connect on Facebook, Twitter,Instagram and subscribe on iTunes! You may also subscribe to his newsletter, The Difference, for some amazing content.