066 Questions and Cocktails: FB Live Q & A (Part 8) | Marketing PodStorm #28
Sunday 1st October 2023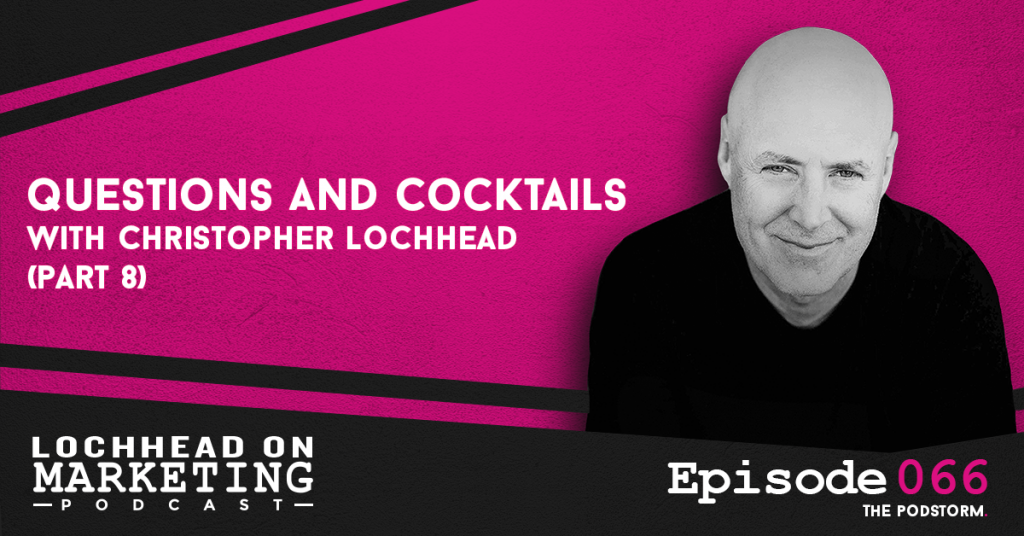 Podcast (lochheadonmarketing): Play in new window | Download (Duration: 20:51 — 14.3MB) | Embed
Subscribe: Apple Podcasts | Google Podcasts | Spotify | Stitcher | RSS | More
During the PodStorm, we're doing a live Facebook Question and Answer session, every Friday, 11:30 a.m. PST. We are now on our last week for PodStorm Q&A and we hope to hear from you if you want us to do more live Q&As!
Today, podcast living legend Jason DeFillippo of Grumpy Old Geeks joins us to answer some questions about the importance of internal communications, how public relations and investor relations should work together, and a whole lot more!
Importance of Internal Communications
One listener asked about Christopher's thoughts on the importance of internal communications and what function inside the company should own it. He narrated how Steve Jobs is the perfect example of this and how his words "there are no phenomenal products in our pipeline" was a self-fulfilling prophecy.
"I think the role of marketing internally is at least equal to the value externally. In some ways more, when people pick up a newspaper or read something online, and they hear, for example, your CEO talking about the company's mission, or talking about a new product that you just launched, and how it's going to transform the category and make a difference to a giant number of people, things along those lines are my favorite examples." – Christopher Lochhead
Public Relations and Investor Relations
Christopher shares candidly that IR and PR, Investor Relations and Public Relations need to be deeply connected. Although it is highly unusual to have IR in marketing since it is always in Finance. However, Christopher shares some instances where Finance would find the Marketing team handy.
"The best CFO I know are way more than accountants. They're strategic minds. They're great at mergers and acquisitions and operations. So a lot of companies, if they're smart, have a very big, big, big time CFO, and I think that's, particularly if you're planning on going public." – Christopher Lochhead
When do we change the logo?
Unless it's ugly and bad, Christopher believes changing the logo is a strategic mistake, particularly in your first six months. It sends a message to a lot of people that you are tinkering with the creative, as opposed to getting deep in the business.
"You don't want to be seen as the moron who's like tinkering with the colors. When there's some big problem that needs to get addressed. Make sure we're getting on with the business at hand. You want to be seen as somebody who's deep in the business, making a giant difference, particularly for the field sales organization, and then the product and engineering organization." – Christopher Lochhead
To hear more about the Facebook Live Q&A with Christopher Lochhead, with Jason DeFillippo, download and listen to this episode.
Bio:
Christopher Lochhead is a #1 Apple podcaster and #1 Amazon bestselling co-author of books: Niche Down and Play Bigger.
He has been an advisor to over 50 venture-backed startups; a former three-time Silicon Valley public company CMO and an entrepreneur.
Furthermore, he has been called "one of the best minds in marketing" by The Marketing Journal, a "Human Exclamation Point" by Fast Company, a "quasar" by NBA legend Bill Walton and "off-putting to some" by The Economist.
In addition, he served as a chief marketing officer of software juggernaut Mercury Interactive. Hewlett-Packard acquired the company in 2006, for $4.5 billion.
He also co-founded the marketing consulting firm LOCHHEAD; was the founding CMO of Internet consulting firm Scient, and served as head of marketing at the CRM software firm Vantive.
We hope you enjoyed this episode of Lochhead on Marketing™! Christopher loves hearing from his listeners. Feel free to email him, connect on Facebook, Twitter, Instagram, and subscribe on iTunes! You may also subscribe to his newsletter, The Difference, for some amazing content.