065 Questions and Cocktails: FB Live Q & A (Part 7) | Marketing PodStorm #27
Monday 25th September 2023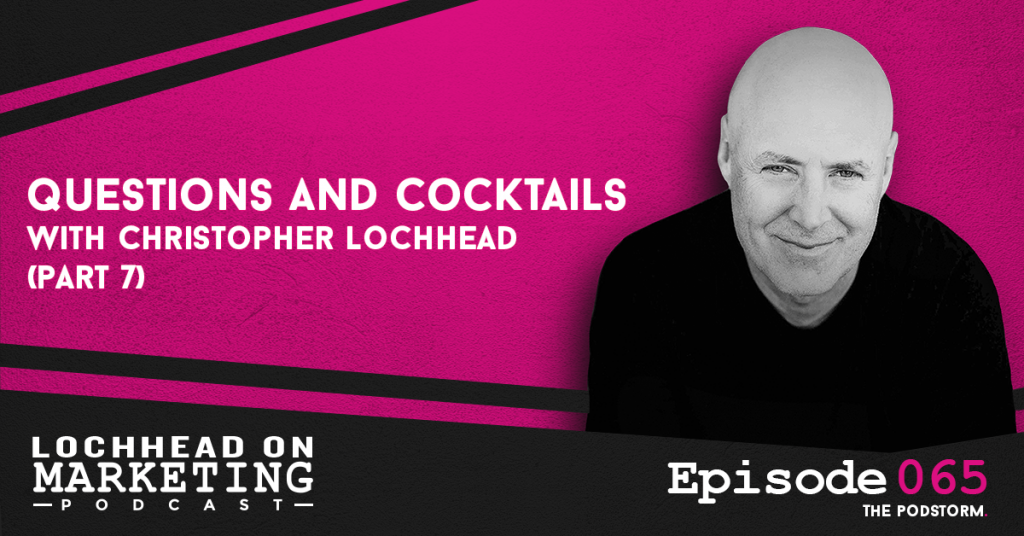 Podcast (lochheadonmarketing): Play in new window | Download (Duration: 18:53 — 13.0MB) | Embed
Subscribe: Apple Podcasts | Google Podcasts | Spotify | Stitcher | RSS | More
During the PodStorm, we're doing a live Facebook Question and Answer session, every Friday, 11:30 a.m. PST. We are now on our last week for PodStorm Q&A and we hope to hear from you if you want us to do more live Q&As!
Today, podcast living legend Jason DeFillippo of Grumpy Old Geeks joins us to answer some questions about social cause marketing, lightning strikes, and a whole lot more!
What have you learned after Calling For Unity?
Christopher shares that he received a number of backlashes after he called for unity on his post A Call For Unity. Likewise, he also received a lot of hugs and support for his cause. This is expected as he believes when try to do something as positive and warm-hearted as possible, you still are going to piss people off.
"The reality is when you say anything, topics like racism, or the police, or society or anything that anybody else might consider political, you're going to piss some people off. But that said, what I'll tell you is, I don't think I've ever done anything that got such an extraordinary overwhelming positive response." – Christopher Lochhead
Can you recap, what is a lightning strike?
Christopher gave a definition and description of what lightning strike is, for new listeners. We live in a world today where we get between 40 to 60,000 marketing messages a day. Reach and frequency is virtually undoable for anybody today, even the biggest marketers.
"A lightning strike is about ⁠— rather than spreading peanut butter reach and frequency style ⁠— we pick maybe one, two, or at most three times a year, a big company might do one a quarter, but something in that range, where for a few days or a week, we are going to go big. If you are in our target audience, our demographic, you are going to hear from us. You are going to know where they are. The thinking is, 'I'd rather be deeply present in front of my core audience, my core target customer for a short period of time and own their mind space for that short period of time than disappear into the noise all of the time.'" – Christopher Lochhead
CEO and CFO don't believe in marketing
The question, which has been asked recurrently, was answered in a different light. Christopher made sure to snide in some personal stories which you definitely need to hear.
"Get out. There's no resolving this. There's no strategy. I've tried this a million times in my life, it's like, we'll just convince these guys to get it with marketing, we'll get them to read such and such a book, or take such and such. They're just some people who think that marketing is bullshit and not worth very much. If you're at a company run by executives like that, you're at a deep, deep disadvantage." – Christopher Lochhead
To hear more about the Facebook Live Q&A with Christopher Lochhead, with Jason DeFillippo, download and listen to this episode.
Bio:
Christopher Lochhead is a #1 Apple podcaster and #1 Amazon bestselling co-author of books: Niche Down and Play Bigger.
He has been an advisor to over 50 venture-backed startups; a former three-time Silicon Valley public company CMO and an entrepreneur.
Furthermore, he has been called "one of the best minds in marketing" by The Marketing Journal, a "Human Exclamation Point" by Fast Company, a "quasar" by NBA legend Bill Walton and "off-putting to some" by The Economist.
In addition, he served as a chief marketing officer of software juggernaut Mercury Interactive. Hewlett-Packard acquired the company in 2006, for $4.5 billion.
He also co-founded the marketing consulting firm LOCHHEAD; was the founding CMO of Internet consulting firm Scient, and served as head of marketing at the CRM software firm Vantive.
We hope you enjoyed this episode of Lochhead on Marketing™! Christopher loves hearing from his listeners. Feel free to email him, connect on Facebook, Twitter, Instagram, and subscribe on iTunes! You may also subscribe to his newsletter, The Difference, for some amazing content.