059 Questions and Cocktails: FB Live Q & A (Part 6) | Marketing PodStorm 21
Wednesday 20th September 2023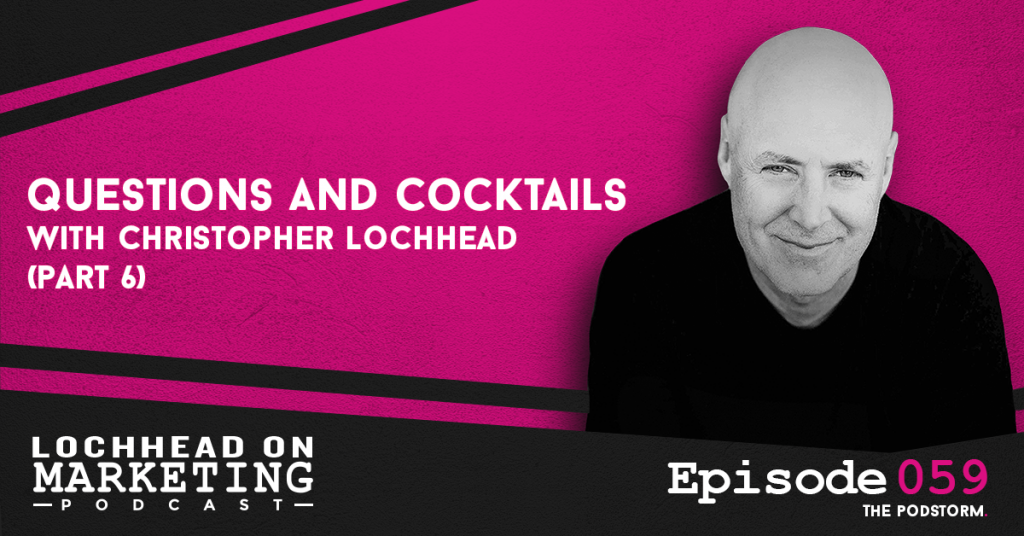 Podcast (lochheadonmarketing): Play in new window | Download (Duration: 24:53 — 17.1MB) | Embed
Subscribe: Apple Podcasts | Google Podcasts | Spotify | Stitcher | RSS | More
During the PodStorm, we're doing a live Facebook Question and Answer session, every Friday, 11:30 a.m. PST. This is the sixth part of the series.
Today, podcast living legend Jason DeFillippo of Grumpy Old Geeks joins us to answer some questions about the gig economy, key traits of a good marketing professional and staging a lightning strike.
Gig economy as displaced creative hubs
The term gig economy has received a lot more negative heat. Christopher says he agrees and disagrees with Jason's opinions, as he stated in his podcast Grumpy Old Geeks about the gig economy. Jason also gave a few insightful comments about developing a sense of community and cooperation.
"We take responsibility for our career. We take responsibility for our financial security, and we decide the kind of work we want to do, with the kind of people want to do it, we decide where the fuck we want to do that." – Christopher Lochhead
Looking to hire our first marketing person
One listener asked what traits should they look for as they are about to hire their first marketing person. Christopher gave a lot of insights here, basically to avoid "suits" and opt for someone well rounded, preferably from Product Development who could help you with Category Design.
"I know you're going to hate me for saying this, but it's a well-rounded marketing executive that can put on a scuba suit and can go deep and can put on a wingsuit and fly high. That is to say, air wars and ground wars strategy and tactics. I hate to say this because I didn't come from this background, but generally, those folks are found more in Product Marketing than in brand, or lead gen, or "corporate marketing," because they tend to have more of a GM General Manager type mentality." – Christopher Lochhead
Lightning Strike, Own Event or Hijack An Event?
Should you try to put on your own event planning capitalize on something else in your space, like in a big convention? What are some examples of lightning strike events for small entrepreneurs worth considering? What are other ways to create a lightning strike, especially if your product is a life event product?
Christopher answers all of these in this episode.
"The other place to look at for things like this, and I don't normally like to talk about it, because it's a secret that I don't like to share, Quora is one of the most under-exploited marketing opportunities out there. Why more thought leaders aren't on Quora? I don't understand." –

Christopher Lochhead
To hear more about the Facebook Live Q&A with Christopher Lochhead, with Jason DeFillippo, download and listen to this episode.
Bio:
He has been an advisor to over 50 venture-backed startups; a former three-time Silicon Valley public company CMO and an entrepreneur. Furthermore, he has been called "one of the best minds in marketing" by The Marketing Journal, a "Human Exclamation Point" by Fast Company, a "quasar" by NBA legend Bill Walton and "off-putting to some" by The Economist. In addition, he served as a chief marketing officer of software juggernaut Mercury Interactive. Hewlett-Packard acquired the company in 2006, for $4.5 billion. He also co-founded the marketing consulting firm LOCHHEAD; was the founding CMO of Internet consulting firm Scient, and served as head of marketing at the CRM software firm Vantive.
We hope you enjoyed this episode of Lochhead on Marketing™! Christopher loves hearing from his listeners. Feel free to
email
him, connect on
Facebook
,
Twitter
,
Instagram
,
and subscribe on
iTunes
! You may also subscribe to his newsletter,
The Difference
, for some amazing content.