052 Questions and Cocktails: FB Live Q & A (Part 4) | Marketing PodStorm 14
Monday 25th September 2023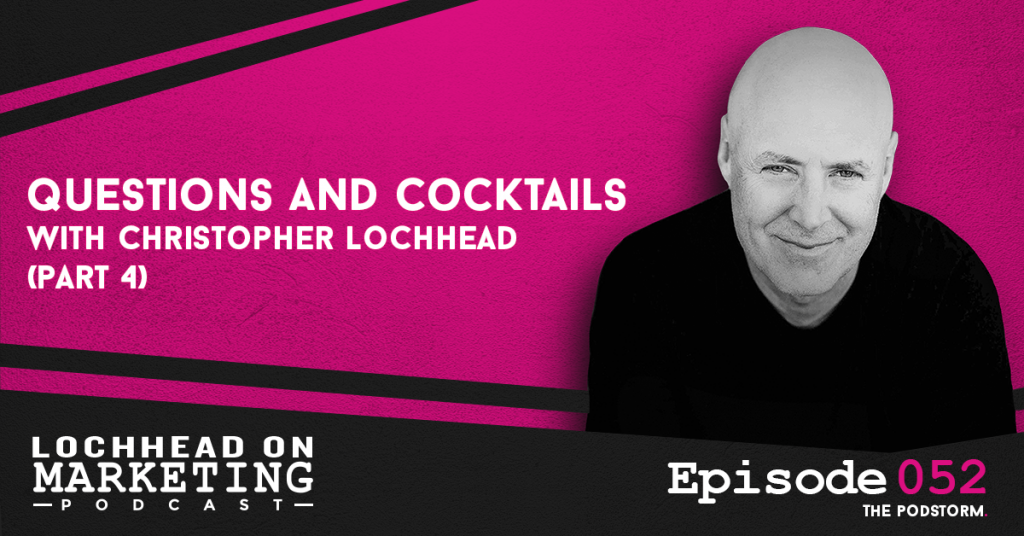 Podcast (lochheadonmarketing): Play in new window | Download (Duration: 18:35 — 12.8MB) | Embed
Subscribe: Apple Podcasts | Google Podcasts | Spotify | Stitcher | RSS | More
During the PodStorm, we're doing a live Facebook Question and Answer session, every Friday, 11:30 a.m. PST. We did our first and second one last week. We're going to share with you our fourth part of the Q&A session in this episode. Today, podcast living legend Jason DeFillippo of Grumpy Old Geeks joins us to answer some questions about lightning strikes, taglines, how to launch a new category, and much more.
How long does a Lightning Strike Last?
Christopher answers this question about marketing lightning strikes: it ranges from a day to a week. He further says that this is a challenge of either rising above the noise or being part of the noise. During a lightning strike, you try to stand out and become undeniable to your target audience
"The key tenants of a lightning strike are maximum impact in minimum time. It's predicated on the premise that you can't peanut butter, your marketing, right." – Christopher Lochhead
How do we come up with a tagline?
Christopher and Jason converses nicely about coming up with a powerful tagline. Christopher says the Grumpy Old Geeks have one of the best taglines in over the web: "What went wrong on the internet and who's to blame?" Christopher gives out other examples in this episode.
"The vast majority of taglines are complete bullshit. The reason they're bullshit is: they're some meaningless thing. Most importantly, they do not tie often to the brand. Category and legendary taglines are representative of a point of view, centered around the category." – Christopher Lochhead
When is a good time to launch a new category?
Christopher gives out a few examples of companies that successfully launched their categories, such as Zoom. Jason chides in with a few more examples such as Reddit. Ultimately, what is worthy to take note are the megatrends that you could take advantage of to build a new category.
"I think it would be silly not to acknowledge the importance of timing, and to some degree, the importance of luck." – Christopher Lochhead
To hear more about the Facebook Live Q&A with Christopher Lochhead, with Jason DeFillippo, download and listen to this episode.
Bio:
Christopher Lochhead is a #1 Apple podcaster and #1 Amazon bestselling co-author of books: Niche Down and Play Bigger.
He has been an advisor to over 50 venture-backed startups; a former three-time Silicon Valley public company CMO and an entrepreneur.
Furthermore, he has been called "one of the best minds in marketing" by The Marketing Journal, a "Human Exclamation Point" by Fast Company, a "quasar" by NBA legend Bill Walton and "off-putting to some" by The Economist.
In addition, he served as a chief marketing officer of software juggernaut Mercury Interactive. Hewlett-Packard acquired the company in 2006, for $4.5 billion.
He also co-founded the marketing consulting firm LOCHHEAD; was the founding CMO of Internet consulting firm Scient, and served as head of marketing at the CRM software firm Vantive.
We hope you enjoyed this episode of Lochhead on Marketing™! Christopher loves hearing from his listeners. Feel free to email him, connect on Facebook, Twitter, Instagram and subscribe on iTunes! You may also subscribe to his newsletter, The Difference, for some amazing content.