075 Movement Marketing w/ David Sacks
Monday 25th September 2023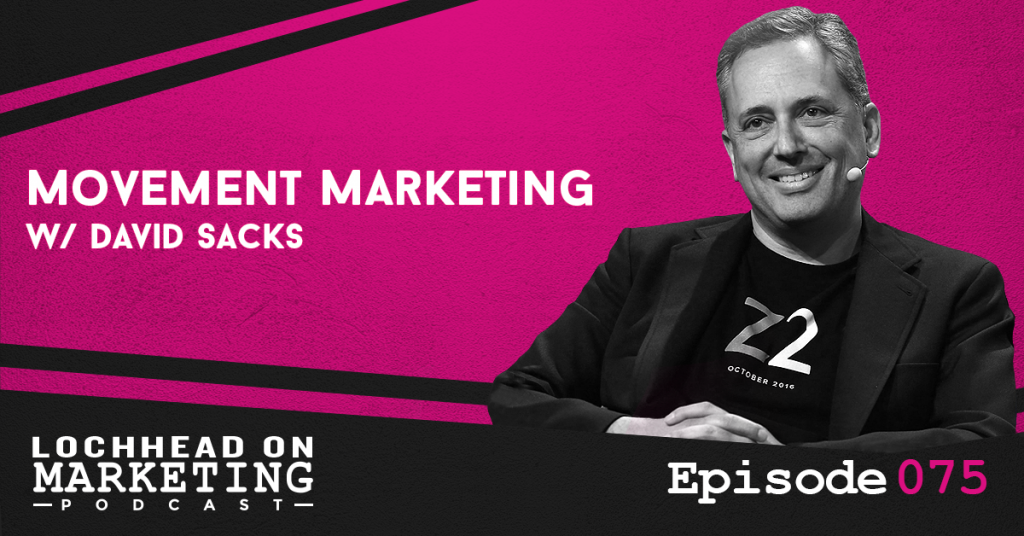 Podcast (lochheadonmarketing): Play in new window | Download (Duration: 1:26:49 — 59.6MB) | Embed
Subscribe: Apple Podcasts | Google Podcasts | Spotify | Stitcher | RSS | More
Today, we go deep on a big powerful idea called Movement Marketing with a legendary entrepreneur, category designer, and company builder turned venture capitalist, David Sacks, from Craft Ventures. 
He's written this blog post recently on this idea and it's a simple, powerful idea that legendary innovators don't just market a company or a product or a service, they create a movement that changes things. Frankly, it's a seminal part of designing and dominating a new category. If you care about changing the future, this episode is pure gold with David. 
Two Sections of Marketing
David likened marketing to LSAT, having math and verbal exams which ultimately give one final result. He says that marketing has a quantitative side, such as spending money on campaigns to generate x number of leads. It also has a qualitative side, which includes messaging, brand, content, press influencers, among others.
"Defining who you are to the world is one of the most important things that a founder can be doing. But the metrics are vague and elusive. So, therefore, because it's hard to measure, I think a lot of founders don't necessarily spend the time on it, they don't really know how to approach it." – David Sacks
Movement Marketing
David shares that the founders who built great companies have done more than just "create a company" or even a category. They have created a movement around their company. He wrote a blog post recently on this idea which went viral. He mentioned some great examples of CEO who have done movement marketing such as Elon Musk of Tesla and Marc Benioff of Salesforce. 
"What I've tried to do is layout the tactics. This area of marketing is typically called earned marketing because you can't just buy it, you have to earn it." – David Sacks
Capturing Vs. Creating Demand
Christopher expounded on what David discuss the parts of marketing and how movement marketing is far from just quantitative and qualitative aspects of marketing. Movement marketing goes beyond capturing existing demand as it creates new demand. 
"You're creating a movement to drive a set of thinking around an idea, around a vision for the future, around a problem that hasn't been addressed or viewed in the way that the founder views it. Or you see a possibility in the world, in the future." – Christopher Lochhead 
To know more about movement marketing, download and listen to this episode.
Bio:
David Sacks is a highly accomplished entrepreneur and investor in internet technology firms.
He is a general partner of Craft Ventures, a venture capital fund he co-founded in late 2017. Previously as an entrepreneur, Sacks was the founding COO and product leader of PayPal (acquired by eBay in 2002 for $1.5 billion) and Founder/CEO of Yammer (acquired by Microsoft in 2012 for $1.2 billion).
In 2016, he led the turnaround of Zenefits as interim CEO.
In 2017, Sacks co-founded blockchain startup Harbor as incubation of Craft Ventures.
His angel investments include Facebook, Uber, SpaceX, Palantir Technologies, Airbnb and Houzz.
Links:
We hope you enjoyed this episode of Lochhead on Marketing™! Christopher loves hearing from his listeners. Feel free to email him, connect on Facebook, Twitter, Instagram, and subscribe on Apple Podcast! You may also subscribe to his newsletter, The Difference, for some amazing content.