074 Marketing is Sales at Scale
Sunday 1st October 2023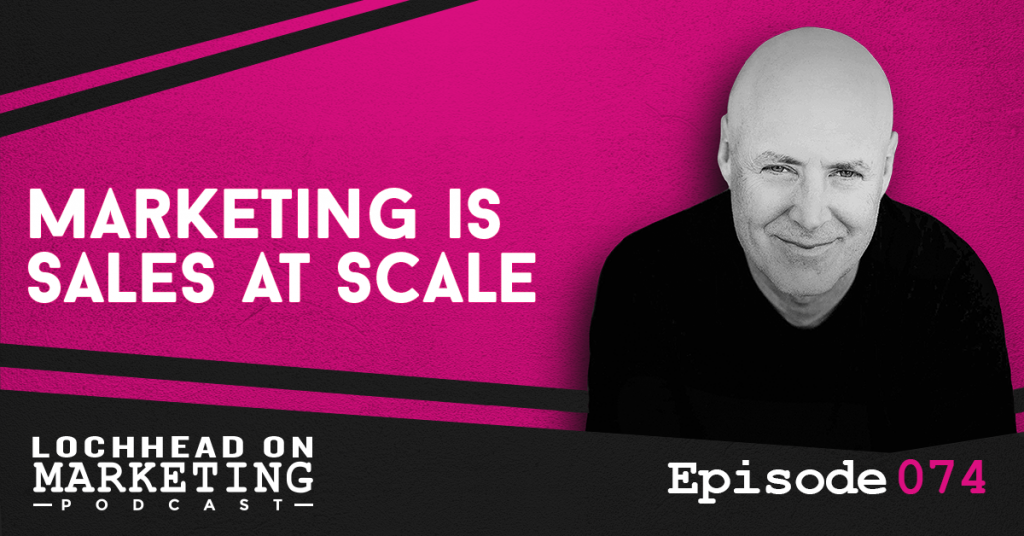 Podcast (lochheadonmarketing): Play in new window | Download (Duration: 7:16 — 5.0MB) | Embed
Subscribe: Apple Podcasts | Google Podcasts | Spotify | Stitcher | RSS | More
Welcome to Lochhead on Marketing. In this episode, Christopher Lochhead answers the question, what is the most important skill for marketers to have?
Sales Skills
Christopher shares that his frequent answer to the most important skill for marketers to have is sales skills. He says that a lot of marketing people have no sales experience at all.
"Marketing is actually sales at scale." – Christopher Lochhead
The Best Marketers Are Salesmen
Christopher recounts that the best marketers he know are those who have sales experience even at a young age.
"I think legendary marketers, and frankly, legendary executives, for that matter, regardless of what part of the business you're in, have a base level of a solid foundation of sales skills. So if you can't sell one on one, then you can't market at scale." – Christopher Lochhead
Marketing People Are A Joke
Second prime importance why sales is the essential skill to have as a marketer, is that many salespeople think marketers are a joke.
"I know this is harsh, but it's true. And the reason for that primarily, is that many people in the sales organization realize that many marketers suck in front of customers. And if you suck in front of one customer, how can you market to thousands or hundreds of thousands of potential customers." – Christopher Lochhead
To know more why marketing is sales at scale, download and listen to this episode.
Bio:
Christopher Lochhead is a #1 Apple podcaster and #1 Amazon bestselling co-author of books: Niche Down and Play Bigger.
He has been an advisor to over 50 venture-backed startups; a former three-time Silicon Valley public company CMO and an entrepreneur.
Furthermore, he has been called "one of the best minds in marketing" by The Marketing Journal, a "Human Exclamation Point" by Fast Company, a "quasar" by NBA legend Bill Walton and "off-putting to some" by The Economist.
In addition, he served as a chief marketing officer of software juggernaut Mercury Interactive. Hewlett-Packard acquired the company in 2006, for $4.5 billion.
He also co-founded the marketing consulting firm LOCHHEAD; was the founding CMO of Internet consulting firm Scient, and served as head of marketing at the CRM software firm Vantive.
We hope you enjoyed this episode of Lochhead on Marketing™! Christopher loves hearing from his listeners. Feel free to email him, connect on Facebook, Twitter, Instagram, and subscribe on Apple Podcast! You may also subscribe to his newsletter, The Difference, for some amazing content.